In This Section
Fashion from the Heart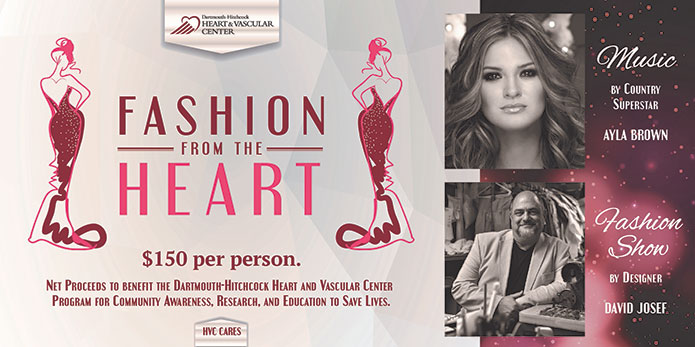 To register and purchase tickets please contact Alanna Mayer at the Heart and Vascular Center at heartandvascularcenter@hitchcock.org. Ticket cost is $150 per person.
Dartmouth-Hitchcock's Heart and Vascular Center (HVC) is a leader in clinical care, education and research. Fashion from the Heart is an HVC fundraising event featuring one of Boston's premier women's fashion designers, which will take place on Saturday, October 19, 2019 at The Hanover Inn in Hanover, NH.
Net proceeds from this event will support HVC CARES (Community Awareness, Research, and Education to Save lives). The purpose of this program is to increase public awareness of heart and vascular diseases, to conduct screening programs for high blood pressure, high cholesterol, diabetes, and vascular diseases, and to provide resources to promote a healthy lifestyle.
To register, contact:
Alanna Mayer
heartandvascularcenter@hitchcock.org
603-650-5711