In This Section
Our Patients. Their Stories. Kenneth Shewmaker
By

Bonnie Barber

Photography by

Mark Washburn

January 19th, 2018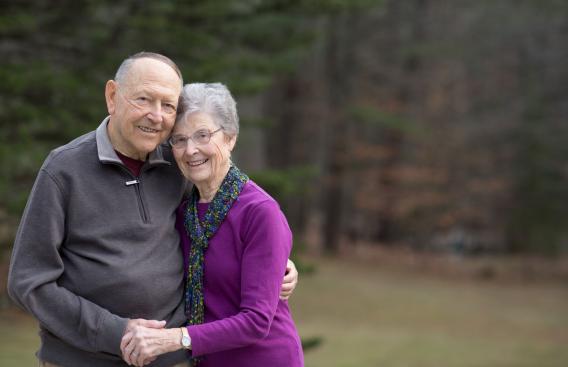 I want to thank my endocrinologists, Drs. Beisswenger and Comi, my technology advisers, Alicia Armstrong and Diane Bilotta APRN, and great nurses such as Gail Isham, LPN. They have all been sources of [Type 1 diabetes] knowledge and support
Ken Shewmaker, Hanover, New Hampshire
For 39 years, Kenneth Shewmaker was a professor at Dartmouth College, specializing in the history of American foreign policy. He was awarded Dartmouth's distinguished teaching award three times, as voted by the students. During his teaching career, he missed only a handful of classes due to illness, despite having what Dartmouth-Hitchcock (D-H) endocrinologist Richard J. Comi, MD, describes as a "difficult to control" case of Type 1 diabetes. "Before I went into any class, I did a blood test and I'd drink orange juice if necessary," says the 81-year-old Shewmaker. "I remember having one reaction in class, but I was able to stop it because I had orange juice with me." 
The Hanover, NH, resident credits his D-H clinicians and care team with enabling him to lead a long and active life with this chronic disease. "I had a very good career at an Ivy League institution that could not have happened without the medical care I received at Dartmouth-Hitchcock," says Shewmaker, who authored or edited four books and many scholarly articles during his teaching tenure. "I've been retired since 2005 and these doctors and their support teams have allowed me to enjoy more years on this earth."
"Twelve more years," pipes in Elisabeth "Liese" Shewmaker, his wife of 57 years. 
"Yes, 12 more years of life that I wouldn't have had without my D-H care team," he says. "And that's been really great."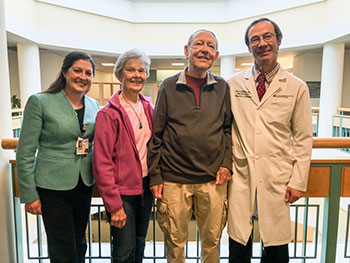 Shewmaker's diabetes journey began in May 1973 when he was initially diagnosed with Graves' disease at Mary Hitchcock Memorial Hospital (MHMH) in Hanover, now Dartmouth-Hitchcock Medical Center (DHMC) in Lebanon. His physician told him diabetes often follows Graves' disease, an autoimmune disorder that causes hyperthyroidism, or an overactive thyroid. A year later, after Shewmaker's blood sugar levels spiked to over 300, he was diagnosed with diabetes. He began what proved to be 38 years of diabetes care with MHMH endocrinologist Paul Beisswenger, MD, who became a good friend.
In the more than 40 years since Shewmaker's diagnosis, diabetes treatment and care has come a long way. He initially tested his blood sugar levels using highly inaccurate urine tests with dip sticks. Then blood tests were combined with dip sticks, followed by blood tests with meters, and now sensors are used to monitor blood sugar levels. Insulin delivery technology has also changed dramatically during this time, from syringes, to insulin pens, to the sophisticated computerized delivery systems used today. 
Shewmaker currently has an insulin pump and a glucose sensor, which have been helpful, says Comi, who took over Shewmaker's care in 2013. "Ken has neuropathies that make it difficult for him to sense his blood sugars, so the sensors give a warning if his blood sugars are getting low," says Comi, noting that Shewmaker will soon receive a state-of-the-art pump/sensor combination device. Ken's diabetes is truly difficult to control in the sense that he can have very rapid, wide swings in his blood sugars. So, this new technology will not only shut off insulin delivery when his blood sugar is low, but also lowers his doses if his blood sugar is too high."
Key members of Shewmaker's D-H care team, such as certified diabetes educator and certified dietitian Alicia Armstrong, RDN, LD, CDE, RYT-500, have taught him how to use these new technologies over the years. "The technology has improved a lot, but these devices are increasingly complicated," says Shewmaker. "The support team is so helpful and will answer my questions either with a phone call or electronically on myD-H." 
Comi says Shewmaker is an excellent patient, due in part to "two unique features. He is very open to change and to trying different lifestyles adjustments, including exercise and making dietary changes. This is not true of all patients and it is very useful when you're a diabetes patient. Secondly, his wife Liese is very involved in his care. That always makes it better because diabetes involves all of your life—eating, exercise, routines—so having a partner who participates in your care makes things easier." 
"Liese has been just incredible," Shewmaker confirms, smiling at his wife. "We're a team and she takes such good care of me. I can't say enough about her love and support." 
Liese notes that her husband's commitment to exercise has also played an important role in his health. A former college basketball player, Shewmaker played squash regularly throughout his teaching years and is an avid fly fisherman, who used to fish in the local rivers. He is so accomplished at tying flies that for about five years, following his retirement, he taught fly tying and fly casting at the L.L. Bean store in West Lebanon, NH. 
While Shewmaker acknowledges the importance of carefully monitoring his blood sugar levels, counting carbs, regular exercise and healthy lifestyle choices, he says the supportive care team at D-H has also been key. "I want to thank my endocrinologists, Drs. Beisswenger and Comi, my technology advisers, Alicia Armstrong and Diane Bilotta APRN, and great nurses such as Gail Isham, LPN, who are on the endocrinology team. They have all been sources of knowledge and support." 
He pauses for a moment, reflecting. "It's been a long trip. I wouldn't still be here to make these comments except for the fine care I've gotten at Dartmouth-Hitchcock. I'm very grateful for that, and that's why I can't say enough good about my entire care team."