In This Section
Adam's Story: Mountaineer Manages Crohn's Disease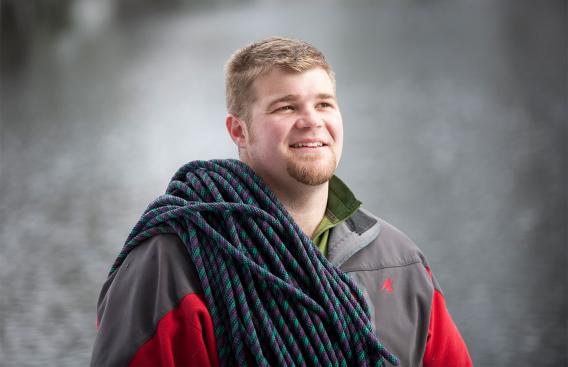 During their first meeting in February, 2009, the conversation between Crohn's patient Adam Diorio and gastroenterologist Corey Siegel, MD, went something like this. "I asked him what his hobbies were, something I always do with new patients in an effort to get to know them and to understand what's important to them," explains Siegel, Director of Dartmouth-Hitchcock's Inflammatory Bowel Disease (IBD) Center.
"He said, 'I'm a mountain climber,'" continues Siegel. "I said, 'Oh, that's cool. Do you go around here?' When he said, 'No,' I thought that maybe the peaks around here were too big for him. But then I asked, 'What was the last thing you climbed?' He said, 'Do you know Mt. Kilimanjaro in Africa?' I said, 'Oh, man – tell me more!'"
Since being under the care of Corey Siegel, MD, and his proactive approach to treatment, Adam has kept his Crohn's disease well under control. He hopes to make climbing expeditions to Mount Elbrus in Russia and Mount McKinley in Alaska in the near future.
Siegel was so impressed with Diorio's high-altitude pursuits, he asked him to speak at the 4th Annual Dartmouth-Hitchcock Patient and Family IBD Symposium held last June. "I was honored to have him come and show how well he's done and to help inspire others who may think that they're doomed because they have diseases like Crohn's and ulcerative colitis," says Siegel.
"I thought the symposium was great, very informative," says Diorio. "And it was nice because afterwards a few other patients and parents of patients came up and talked with me. One parent told me that her son was going to be starting college soon and asked me if I had any suggestions. I shared a few things that had helped me like staying active and being careful with my diet, which I hope will help them."
Diorio has been dealing with Crohn's disease since he was a teenager. "I was in eighth grade when I was first diagnosed," he recalls. "I remember it was tough being younger and not knowing what was going on at the time and having to miss things like baseball games because I was sick. Then, with the help of medications, my disease stayed fairly dormant, and I felt pretty good through high school and my first few years of college."
But towards the end of his senior year at Wentworth Institute of Technology in Boston, Diorio experienced the worst flare-up of his life and had to be hospitalized for three weeks. "Fortunately, I was able to recover in time to graduate with my class," he says. "From that day on, I knew I needed to take more control of my Crohn's."
Diorio and his dad, an experienced mountaineer, had planned a trip to Argentina to climb Aconcagua – South America's highest mountain at 22,840 feet – that summer. "I'd been climbing with my dad in the White Mountains for years and had felt ready for a bigger challenge," he explains. "But my Crohn's had me worried, especially after my hospitalization; and my doctors weren't very excited for me to be on a mountain with no contact for a month. Still, I knew if I didn't go, I'd always regret it. We made it to within 840 feet of the summit; and it was exhaustion that stopped us, not my Crohn's. But I was thrilled; the highest I'd climbed was Mt. Washington at a little over 6,000 feet."
In June, 2008, Diorio travelled to Washington State with his father, sister, brother-in-law and a college buddy to climb 14,000-foot Mt. Rainer, but they ran into one of the worst snowstorms in history and were forced to abandon their attempt at 9,000 feet.
Not long after the Mt. Rainier attempt, Diorio went through a period of depression. "I wasn't taking care of myself as I should have been," he recalls. "I was very stressed with work, and it was affecting my Crohn's. My wife, who's always been really supportive, decided to give me the present of a lifetime – a trip to Africa to climb Mt. Kilimanjaro with my sister and brother-in-law. I vowed not to let my Crohn's stop me; and it didn't, though the exotic foods in Africa didn't make it easy on me. When we got to the top, the sky opened up; and it was just beautiful. To actually stand on the highest point of the African continent at a little over 19,000 feet was an amazing feeling."
Since being under Siegel's care and taking infliximab – an infusion medication that he receives every two months – Diorio feels he is on a healthier track for the future. "I was getting a new doctor in Boston every three years, and they just weren't as responsive as I needed them to be," he says. "The proactive approach that Dr. Siegel has taken with me has been very beneficial."
"One of the most important new advances in Crohn's treatment is what we call 'early intensive therapy,'" explains Siegel. "We've learned through research that if we treat people earlier on with our most effective drugs like infliximab, it increases our chances of making them better. I'm pleased with the way Adam's feeling and how his treatment's going. That said, this is a long-term disease so our goal is to keep his Crohn's as little a part of his life as possible going forward."
It is a perfect approach for Diorio for whom climbing itself has become therapeutic. "Training for expeditions keeps me in top shape, and it's the best stress-reliever I know," he says. "The mountains are where I feel most at peace."