In This Section
Shared Decision Making: How it Helped Keep Warren Jarvis Dancing
By

Beth Carroll

Photography by

Mark Washburn

February 4th, 2015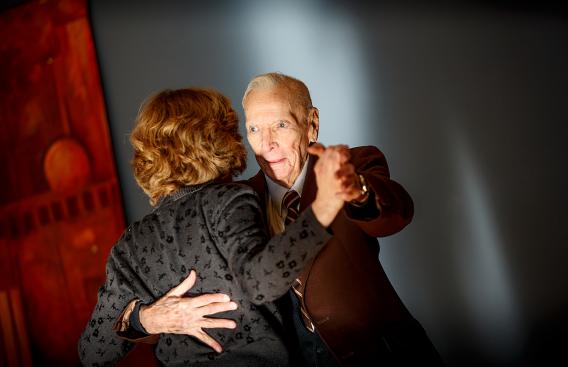 Dancing is a barometer for me. If I can do five to seven dances and I'm not huffing and puffing, I'm doing alright.
Warren T. Jarvis
Warren Jarvis, who turns 88 on Valentine's Day, still has a spring in his step. You can find him most Saturday nights dancing at the VFW hall in White River Junction, VT, in his trademark white shoes and tuxedo-like suit. He's been dancing for 68 years. "I'd rather dance than eat," he says with a broad smile. For Jarvis, dancing has always been a barometer of his health, so when he began to feel tired and short of breath on the dance floor in July 2014, he knew something was wrong. "It's a frightening thing when you don't know where the next breath is coming from," says Jarvis, who was also rapidly losing weight. "I went down to 116 pounds from 159," he says, "and that's when I made an appointment at Dartmouth-Hitchcock."
The Diagnosis
"They looked at my heart in action," says Jarvis, "they found out the left side was not doing its job." He was diagnosed with severe aortic stenosis, where the aortic valve is calcified and limits how much blood can be pumped out of the heart with each beat. Over time this can weaken the heart. "Some of the more common symptoms are fatigue and shortness of breath," says interventional cardiologist Megan Coylewright, MD, MPH, the associate director for the Structural Heart Disease program in the Heart and Vascular Center. "High-risk patients, particularly the elderly," she says, "may have up to three treatment choices available to them: medical therapy to alleviate symptoms, transcatheter aortic valve replacement (TAVR) or the traditional 'gold standard' option of surgical aortic valve replacement."
Shared Decision Making
Faced with multiple options, Jarvis is a good example of how the shared decision making process works at D-H, which has a long tradition of involving patients in their health care decisions. While not appropriate for emergency decisions, shared decision making works well when there are multiple choices available to patients that differ in their risks and benefits. Shared decision making is a "partnership between two experts," says Coylewright. "The clinician is an expert on the data and choices available and the patient is an expert in their values and preferences and how they weigh those choices; both are needed to participate." Using a communication tool designed to elicit patient preferences, Coylewright discussed three options with Jarvis, shared the risks and benefits of each and together they made an informed decision that was right for him. "I analyzed what they told me," says Jarvis. "I asked questions. They answered them truthfully. So, I said, let's do it."
On with the Dance
Jarvis selected the TAVR procedure, which involves inserting a prosthetic valve through his femoral artery at the top of his leg and up through his arteries into his heart, without opening the chest or stopping the heart. "His key priority was getting back on the dance floor as soon as he could," says Coylewright, "and TAVR represented the fastest recovery option for him." Less than a month later, Jarvis was dancing again. "I can still do five to seven dances a night," he says, "and I'm very happy with that."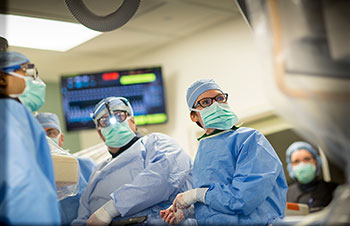 Patient-centered Care
"The focus on patient-centered care that occurs here at D-H is phenomenal," shares Coylewright. "Dartmouth is a leader nationally in shared decision making, and this is evident in both research and clinical care." Coylewright's clinical research focuses on shared decision making in catheter-based interventions for structural heart disease, including TAVR, therapies for mitral valve disease and preventing stroke in patients with atrial fibrillation. Coylewright's research and other studies continue to show that shared decision making increases patient knowledge and improves the degree to which decisions match a patient's values and preferences. Most importantly, patients consistently prefer this style of decision making. That certainly was the case with Warren Jarvis.
A month after his procedure, a grateful Jarvis sent a thank you note expressing gratitude to Coylewright and his entire care team. In it he wrote:
You and your team have made possible a few more elegant dances before the music ends and the lights go out.

Warren T. Jarvis, author of "I'd Rather be Dancing."