In This Section
Tomasz's Story: The Ironman and the Broken Clavicle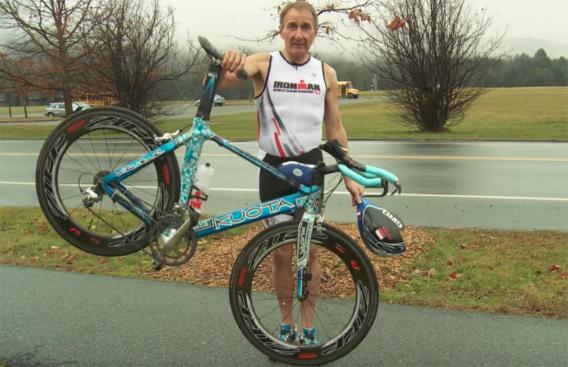 Triathlete Tomasz Jankowski has no memory of the bike accident. It was October 10, a few days before the 2012 Ironman World Championship in Kona, Hawaii, and Jankowski was finishing up a light training ride on a portion of the Ironman course called the Queen Ka'ahumanu Highway.
"I was about two or three miles from where I'd left my car and the last thing I remember thinking was, 'I'm having a great day; it's going to be an awesome race on Saturday,'" he recalls.
Jankowski awoke three hours later at the Kohala Hospital emergency room, having sustained a concussion, a broken collar bone, and multiple deep body abrasions and bruises.
Once home, Jankowski met with Dartmouth-Hitchcock orthopedic surgeon James Ames, MD, MS to review his treatment options. "I asked him a ton of questions and he was able to immediately put me at ease," says Jankowski, who is a Doctor of Physical Therapy. "As a sports medicine specialist who has worked with a lot of athletes, he understood how important it was to me to regain 100 percent of my flexibility and strength so that I could return to Ironman racing."
Jankowski had the procedure done at Dartmouth-Hitchcock's Outpatient Surgery Center. "Both my wife and I were most impressed with the facility itself and the people who work there," he says. "We felt very well attended to by our care team, who provided regular updates to my wife through the 90-minute procedure. The whole care experience was far superior to other surgical procedures I've had in the past."