In This Section
Our Patients. Their Stories. Moshe Gray
By

Tom Haushalter

Photography by

Mark Washburn

July 12th, 2017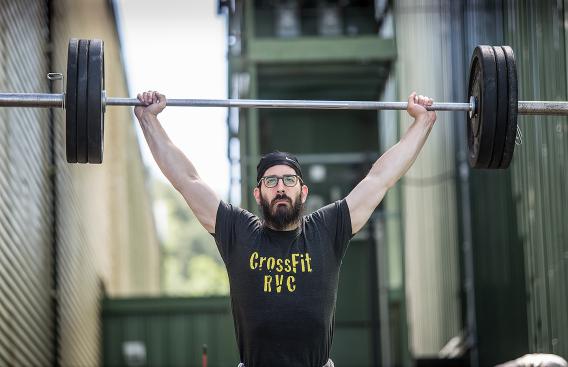 Whatever was in my power to regain strength, I was determined to do.
Moshe Gray
 Rabbi Moshe Gray suffered a serious finger injury attempting a deadlift with a one finger that he saw another weightlifter complete on a video.
Gray, executive director of Chabad at Dartmouth College and a dedicated CrossFit athlete, is a little embarrassed about the decision that nearly caused irreparable damage to his right hand.
As he explains, CrossFit athletes around the world rely heavily on social media to bolster a sense of community, and to share photos and short videos of their sometimes improbable feats of strength and endurance. (Find Gray on Instagram as @CrossFitrabbi.)
"And there's a Russian weightlifter with a strong social media presence," he says, "who posted a video of himself deadlifting." A deadlift is lifting a loaded barbell from the ground to the hips, locking it there before lowering it back to the ground. The goal is to lift the most amount of weight in that one swift movement.
The weightlifter's video, however, showed him attempting to deadlift 100 pounds—with a single finger. "And when I say a single finger," Gray clarifies, "I mean literally lifting the barbell with one finger."
His successful attempt made the rounds among Gray's CrossFit crowd, and one day at the gym a few of them, including Gray, decided to try it. He started with 65 pounds and, he says, "it went up pretty easily! So we slapped on more weight, up to 95 pounds."
He got the barbell about three-quarters of the way up. "And then all of a sudden—you know when you go to open the car door and your finger slips out and it stings? That's what it felt like."
And apparently a noise like that of a rubber band snapping reverberated throughout the gym. Gray tried shaking his hand to get some feeling back in his finger, but the trainers he showed it to recommended he call a doctor.
Gray knows how fortunate he was that fellow "CrossFitter," Dartmouth-Hitchcock (D-H) chair of the Orthopaedics Department, David Jevsevar, MD, MBA, could help. Gray met Jevsevar and his colleague, hand surgeon Lance Warhold, MD, at Dartmouth-Hitchcock Medical Center (DHMC).
"Just by eyeballing my finger," Gray recalls, "Warhold and Jevsevar could tell I tore my flexor tendon. And they warned me that I may never have full use of my finger again."
An X-ray and ultrasound that same day confirmed the doctors' educated guess—and then some. Not only had the flexor tendon, the tissue that controls movement in his finger, torn off, but the bone that the tendon should have been attached to and a part of the joint was also fractured and displaced.
Three days later, Warhold undertook a repair of this complex injury.  He first repaired the fracture of the bone and joint in the fingertip and then reattached the tendon to the bone in Gray's finger. His hand was put into a splint and he was sent his home after the surgery with orders not to use this hand, least of all exercise.
Rehabilitation makes all the difference
Although he remembers it as "extremely tedious," Gray can't emphasize enough the importance of occupational therapy (PT) to the healing and recovery of his finger. Working with Jennifer Chickering, OT, and Jamie Perry, OT, both certified hand therapists at D-H's Heater Road facility, he devoted himself to the two-and-a-half-hours a day of flexing his finger. "I became single-minded about rehabilitation," he says. "Whatever was in my power to regain strength, I was determined to do."
He learned during his four months of physical therapy to "trust the process," and gives a great deal of credit to Chickering for the support and encouragement to keep him "on the straight and narrow" throughout.
He was soon able to reintroduce some fitness into his life jogging on the treadmill and squatting—but it was his six-month checkup that would allow Gray to fully resume his CrossFit life. After an X-ray showed the tendon and bone had healed, Dr. Warhold gave him that long-awaited go-ahead to grip the barbell once again—with both his hands and all his fingers.