In This Section
Our Patients. Their Stories. Nicola Felicetti
Photography by

Mark Washburn

October 6th, 2016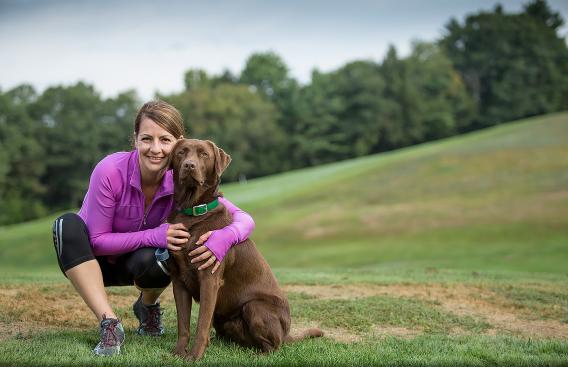 Because many of the nurses knew me, I felt so honored when they would ask, 'Do you mind if I take care of you?' I knew that they truly wanted to help me when I was feeling vulnerable.
Nicola Felicetti
I'm a recreational runner—I love to run in the woods with our dog, Ollie. One early morning in March 2016, I went into part of the woods I hadn't been in because it had been icy. As I was making my way along the terrain, I slipped on some hidden ice and my leg went one way and my foot went the other way. I knew I had a serious injury. Here I was, stuck in the woods at 7 am in 7 degree weather. Luckily, I had cell phone service. I called my husband, Cal. While he called 911 he told my daughter, Charlotte where to find me. Charlotte was the first to reach me down near the river in a precarious spot. It was quite a performance for the Hanover Fire Department to get in and get me out of the woods.
The ambulance brought me to the Emergency Department at Dartmouth-Hitchcock Medical Center (DHMC). I was immediately brought into a trauma area and was assessed by an emergency medicine physician as well as the orthopaedic team. When they showed me my x-rays I couldn't imagine I would ever run again. I had broken the tibia and fibula in my right leg. Surprisingly, the pain wasn't too bad, unless they moved me. To help stabilize my leg, they put me in a full leg cast that ran from my toes to my thigh.
When I saw Dr. Marcus Coe in Orthopaedics a few days later, he was kind, thorough and professional. He never made me feel that my questions were silly. In the end, we both decided that surgery would be the best option as letting the leg heal in a cast may not guarantee that I wouldn't have to have surgery anyway. Dr. Coe explained that the surgery would involve the use of a titanium rod and screws to hold the bones together.
All the while, I still couldn't believe what had happened. I was slowly beginning to understand what it would take to get back to normal life. I wouldn't be able to drive and would have to take three months off from work as a continuing care manager in Care Management at Dartmouth-Hitchcock (D-H).
A week later, I came back to DHMC for the surgery with Dr. Coe. When my husband dropped me off at the entrance, a volunteer, Ed Condict, greeted me and held my hand until my husband came back from parking the car. The nurses and doctors explained everything to me before I went into the operating room. Being a registered nurse, I was very appreciative of the little things the nurses did to make me feel comfortable. For instance, I'd never had an IV and I'd never used a bedpan. These were things I've done for patients thousands of times but to be on the receiving end was so different. Because many of the nurses knew me, I felt so honored when they would ask, "Do you mind if I take care of you?" I knew that they truly wanted to help me when I was feeling vulnerable. After surgery, I stayed for one night at the hospital to make sure that I was stable.
A few weeks later I started rehabilitation at the D-H Heater Road facility with physical therapist Steve Vincente. I'm not very good at sitting still. I was frustrated that I couldn't walk and couldn't put any weight on my leg. Steve was able to maintain the fine balance between holding me back so that I wouldn't re-injure my leg and encouraging me when I really needed it. I saw Steve for six months. He would give me stretches and strengthening exercises to increase my flexibility until I could put more weight on my leg. During my final month of physical therapy, Steve started a sports readiness program with me so that I could get back to running. Thanks to Steve knowing when to hold me back, I can now run again.
As I mentioned, I have been a registered nurse at D-H for the past 13 years and I've worked in all kinds of settings during my 30-year nursing career. However, this was the first time that I was the patient, not the employee. I felt like every person and system that I came in contact with helped to give me the best care. I personally experienced what teamwork really means—my providers, nurses and I, along with my family, made the decisions together. I was treated with respect, kindness, consideration and compassion. I never once felt that I was asking too many questions. And, I didn't feel I was being treated any differently just because I was an employee—not everyone I encountered knew that I was part of the staff. I also got the chance to use systems that I don't usually work with, such as the online patient portal called myD-H. All of this helped me to understand the experience our patients have every day. And, in the end, it helped me to do my job better. I've never been more proud to say that I work at D-H because of the outstanding care I've received from start to finish.