In This Section
Our Patients. Their Stories. Joey and Colin Ala
Photography by

Mark Washburn

March 28th, 2016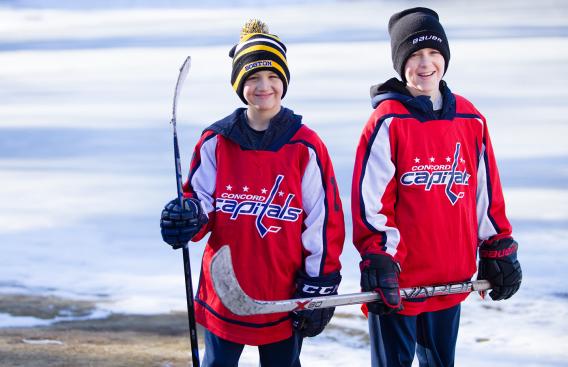 I felt like my children were getting the best care ever.
Stephanie Ala, Joey and Colin's Mother
Joey and Colin Ala have never had a single broken bone. Then, within three weeks, they both suffered injuries while playing hockey.
Joey, age 11, broke his wrist while playing hockey on a Saturday in March 2015. He was seen at a local Urgent Care facility and was scheduled to have a follow-up appointment on Monday. "I was nervous what would happen – his break just didn't seem right," says Joey's mom Stephanie. That night while at a birthday party, Stephanie met Dr. Scott Devanny, an orthopaedic specialist at Dartmouth-Hitchcock Concord. "Dr. Devanny asked us to come in the following day, which was a Sunday. I was glad we did because we were told his wrist needed to be casted right away," Stephanie says. "When you're in good hands, it makes you feel good. You don't want your child to have issues down the road. Dr. Devanny told me when he looked at the x-rays that he would have to snap Joey's wrist back into place. I have never dealt with surgery for myself or my boys. Joey was very nervous too." For Stephanie, she was grateful that Dr. Devanny gave his perspective about what he would do with his own children in this situation.
The next day, Joey went in for surgery and two pins were put in to hold the bones in place. Stephanie says, "It turned out to be a nice experience. The staff made us all feel very comfortable from the surgery to the casting of his arm. We knew what was happening every step of the way."
Colin's turn with Dr. Devanny
Fast forward three weeks. Joey's eight-year old brother Colin collided with another player while playing hockey, resulting in a fractured collarbone. According to Stephanie, "When Colin got hurt it was a no brainer – I called Dr. Devanny's office and said, 'I've got another one.'" Colin's injury was more painful than what his brother had endured. "The staff was fantastic in explaining everything to us, telling us what was going on and helping us to feel at ease, even though Colin was in so much pain," says Stephanie.
"Everyone was fantastic for both of the boys – from Dr. Devanny, to the nurses, to the scheduler," Stephanie says. "In fact, I've already referred two family members to Dr. Devanny. Going through not one but two traumas turned out to be much easier than I could have imagined because I knew my kids were in good hands."