In This Section
Tuck Student is Cancer-free and about to Earn Business Degree
By

Bonnie Barber

Photography by

Mark Washburn

June 23rd, 2015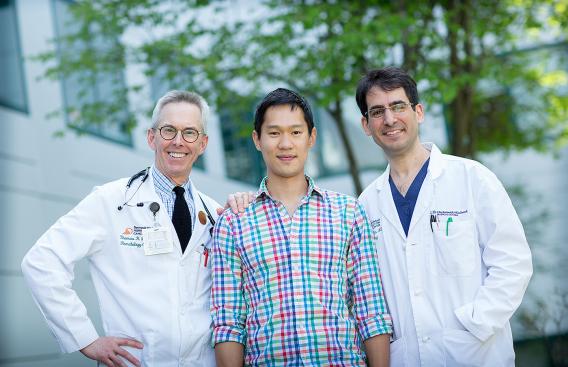 The first year of an MBA program is notoriously demanding. But Eugene Hooi's first year at the Tuck School of Business at Dartmouth was made even more challenging after he was diagnosed with a rare cancer.
The Sydney, Australia, native first noticed a lump in his jaw while vacationing in Africa in 2013, following two years of international development work in Dar es Salaam, Tanzania. He wrote it off as TMJ though, and entered Tuck that fall.
When the lump didn't go away, his mother finally convinced him to see a doctor and Hooi made an appointment in March 2014 at Dick's House, Dartmouth College's Health Service. Virginia Brack, MD, then referred him to Dartmouth-Hitchcock (D-H) Chief of Otolaryngology, Head & Neck Surgery Joseph A. Paydarfar, MD, FACS. After reviewing his scans, Paydarfar decided to operate on Hooi to remove the four-centimeter tumor in his jaw. But after starting the procedure, Paydarfar saw that the tumor was attached to several facial nerves and muscles. He also thought he might be looking at a case of lymphoma, which is rarely treated surgically. So he cut the surgery short and performed a biopsy instead.
When he studied the tumor tissue under his microscope, pathologist and Geisel School of Medicine pathology professor Vincent Memoli, MD, encountered something he had never seen in his more than 30 years as an academic surgical pathologist. After considering radiologic findings, investigating clinical history, reading relevant scientific literature, pursuing additional phenotypic studies on the tumor tissue, and consulting other physician colleagues in the Department of Pathology, he made the highly unusual diagnosis of Epstein-Barr virus-related lymphoepithelial carcinoma of the parotid gland. The lab results surprised Paydarfar and stunned Hooi. Not only was the tumor cancerous (lymphoepithelioma), but it was also in an unusual location—his left parotid (saliva) gland. Worldwide, less than 200 cases of lymphoepithelioma have been reported in this location.
"What made it challenging is that this is a rare tumor and so the best treatment is not really known," says Paydarfar. "Normally, tumors of the parotid gland are removed with surgery first, followed by radiation and possibly chemotherapy if needed. In his case, surgery would have most certainly resulted in significant nerve damage and permanent facial paralysis."
Hooi says that when Paydarfar called to tell him he had cancer, "I was fairly calm but I was pretty shocked. But he told me they were going to get me through it."
Paydarfar consulted with D-H Norris Cotton Cancer Center (NCCC) oncologist Thomas H. Davis, MD, FACP who became part of Hooi's care team. "What we found under the microscope was the kind of cancer we more often find in the nasopharynx, which is at the very back of the nasal cavity and top of the throat," says Davis, who notes that lymphoepithelioma is usually found in people in Southeast Asia. "It is caused by the Epstein-Barr virus. It is extremely rare for this to show up in a saliva gland; in 20 years of practice this is the first time I've seen this."
The physicians ultimately settled on a unique treatment plan that combined chemotherapy at D-H with proton beam radiation at Massachusetts General Hospital in Boston. Proton beam radiation, Davis explains, "is more precise in its focus than the standard photon radiation we have at DHMC." They also felt this treatment would help decrease his long-term side effects.
So Hooi moved to Charlestown, Massachusetts, for eight weeks that summer and received a combination of radiation and chemotherapy at Mass General Hospital. During this time, his girlfriend and fellow Tuck student Christine joined him and his parents came over from Australia to help care for him. Hooi's spirits were also buoyed his Tuck classmates and many faculty members, who visited and sent cards.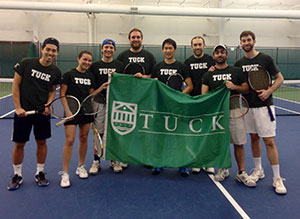 "You hear that the Tuck community is special and really supportive and it's very true," says Hooi. "It was really nice to have friends and classmates show their support, especially since I'm not from around here."
When he returned to Tuck last fall, Hooi took half the typical courseload and completed two more cycles of chemotherapy under Davis' care at D-H. After finishing these treatments, he doubled up on classes during the winter term to catch up academically. Then in March 2015, Hooi marked two important milestones—his engagement to Hou and a scan that came back cancer-free.
To show his gratitude to D-H and NCCC, Hooi in February organized two Tuck tennis teams to participate in the first annual Team Tennis to Smash Cancer Tournament at Dartmouth's Alexis Boss Tennis Center. He and his seven Tuck teammates—Todd Levy, Nick Bazarian, Tanya Gulnik, Ben Grant, Tiago Ohori, Sean Vander Linde, Ian Bomberg—were among the 95 participants who netted close to $30,000 in donations to fund cancer research and patient services at NCCC.
As he starts a job in the San Francisco office of investment bank Goldman-Sachs on June 1 and prepares to graduate from Tuck on June 14, Hooi says he is thankful for the care he received at D-H.
"There are definitely better times to get diagnosed with cancer, like age 95," Hooi says, laughing. "But I can't think of a better place or a better community to have had around me while going through something like this.
"And I'm so glad that I got to say goodbye to my doctors Joe and Tom before I graduate from Tuck because they became friends during my treatment," he says. "I always felt that they wanted the best for me and they did so much liaising with the doctors in Boston. I will be eternally grateful to them for helping me through this process."