In This Section
Easing Pain, Restoring Lives: Dartmouth-Hitchcock Pancreas Program Offers Help and Hope to Patients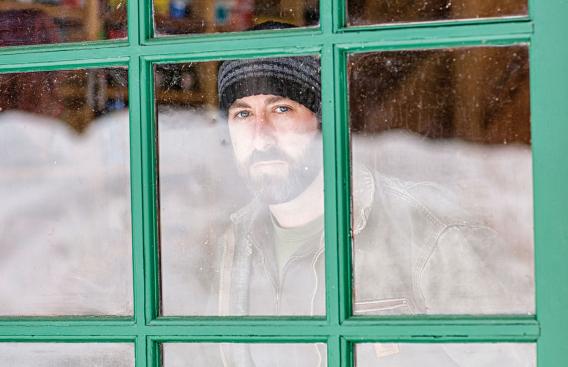 Patients who suffer from chronic pancreatitis, a long-lasting and progressive inflammation of the pancreas—a large gland located behind the stomach and next to the small intestine—often live with severe abdominal pain that prevents them from eating, working and living productive lives.
Josh Stone, a construction worker from Middlesex, Vermont, learned just how debilitating those symptoms could be on a July morning back in 2011. "It literally hit me in a day," recalls Stone, who, at age 34 had enjoyed good health up until that point. "I woke up with a slight discomfort in my stomach, which grew worse and worse. I ended up lying on the bathroom floor, trying to make myself throw up to get some relief—it was excruciatingly painful."
Stone called his parents, who lived nearby, and his father took him to the emergency room at a local hospital, where he underwent a number of tests and was admitted for seven days. "They asked me to follow up with my primary care provider," he says. "But I kept having problems. I was constantly in pain, constantly hunched over, especially after I ate. I went from about 180 pounds down to 116."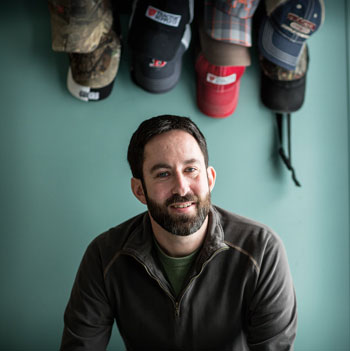 Only the strong pain medications he was prescribed provided some relief. "They weren't a cure-all, but they allowed me to work a few hours here and there and to sleep a little better at night," says Stone, who, after several trips back to his provider got a referral to see a gastroenterologist at CVMC. "He did an MRI [magnetic resonance imaging] test, and immediately referred me to Dartmouth-Hitchcock [D-H]."
Stone met gastroenterologist Timothy Gardner, MD, and general surgeon Kerrington Smith, MD, whose expertise includes pancreatic disorders and who understood all too well the journey that he was now on.
"Over time, patients with chronic pancreatitis lose the function of their pancreas, which makes the enzymes the body needs to digest food, as well as hormones like insulin that help the body control how it uses food for energy," explains Gardner. "Eventually, some patients get to the point where they are in constant severe pain and are unable to maintain their weight, which obviously can have a devastating effect on their lives."
In a lot of cases, all physicians can do is treat the symptoms and that mostly involves prescribing narcotic pain medications, which have their own set of issues, explains Smith, who heads the Division of Surgical Oncology at D-H. "The only 'cure' is to take the radical approach of surgically removing the pancreas, but that leaves the patient with lifelong diabetes. So you're essentially swapping one debilitating disease for another. For many people, a real sense of hopelessness sets in."
Auto Islet Cell Transplantation
But Gardner and Smith, in collaboration with David Axelrod, MD, section chief of Transplantation Surgery at D-H, and colleagues from Massachusetts General Hospital (MGH), were working on a solution—an innovative procedure called auto islet cell transplantation that is offered by only a few centers nationally.
"The procedure involves removing the entire pancreas and spleen, preserving the blood flow to the organ until the last minute," explains Axelrod. "The pancreas is then cooled with organ preservation solution to protect the islets and transported to Boston where the islets are removed from the pancreas." A few hours later, the islets cells are returned to D-H, and "are then transplanted into the liver through its blood supply, where they survive and make insulin for the patient."
When Stone was given the opportunity to be the first patient to receive the procedure at D-H in May of 2012, he didn't hesitate. "I liked Dr. Gardner and Dr. Smith right away," he says. "They were straight shooters, they explained things really well to me and they both had excellent bedside manners. I actually felt very confident about it because I could see how confident and passionate they were about the process."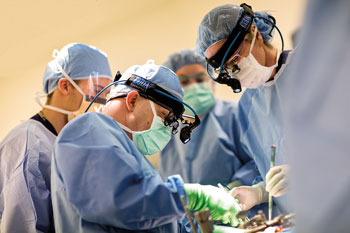 After having the procedure, which involved removing two-thirds of his pancreas, as well as his spleen, Stone has made a very good recovery. "I took enzymes for a little while to help me digest food," Stone says, noting that he now weighs 185 pounds and has no limitations in his work or in his life. "I do take a diabetic tablet every day to help keep my blood sugar in the normal range, and I still see an endocrinologist on the team, Dr. Sushela Chaidarun, who goes over my blood work to make sure I'm staying healthy. I couldn't be happier with the result, or with the care I've received at Dartmouth-Hitchcock."
Since 2012, a total of 24 patients have undergone the auto islet transplant procedure at D-H with excellent results. "Our outcomes have been consistent with what we see at the top centers nationwide," says Gardner. "Most of our patients have had a consistent reduction in their pain and we've had only a few patients develop diabetes. Without the islet cell transplant option, all of our patients would be diabetic after having their pancreas removed."
In the near future, D-H will be able to significantly expand the services it provides to patients with pancreas disorders, thanks to the remarkable generosity of donors Walter and Carole Young."It's going to allow us to do the entire auto islet transplant process here, in one procedure (versus two)," explains Smith. "That will mean less risk for patients, as well as savings in time, worry and costs. And it will mean that we can help many more patients in need, right here in our own region."