In This Section
Our Patients. Their Stories. Cassidy Hankins
Photography by

Mark Washburn

February 1st, 2018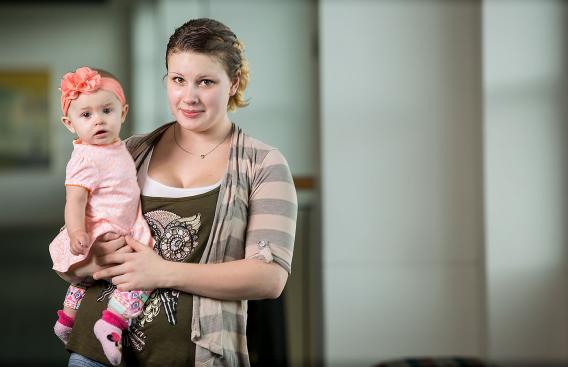 My baby makes me want to keep having a better life. For myself and for her. I don't ever want her to go through what I did.
Cassidy Hankins, Canaan, NH
"I'd heard all the bad stuff they tell you in school—like 'Don't do drugs,'" says Cassidy Hankins of Canaan, New Hampshire. "But no one actually sat down and explained to me what can really happen if you take this stuff."
Hankins' addiction to Percocet, a painkiller generically known as Oxycodone, started at 16 when her boyfriend at the time introduced it to her.
Soon she learned the dangers of using it. "I knew what a high felt like," she says, having smoked marijuana, "but this is like a hundred times more. Percocet makes you just sit there and you can't really move or do anything."
Her boyfriend the introduced her to heroin, which she experimented with by snorting it rather than injecting it intravenously with a hypodermic needle. While the high was more intense, her fear of needles kept her from experiencing an even bigger high. "I've seen people who shoot it, and they look instantly dead," she says.
A month later, she broke up with her boyfriend and no longer had access to heroin, but a new boyfriend led her right back to taking Percocet. Regular access to the 30 mg pills, among her friends wanting to have a good time, made Hankins' habit difficult to break.
"It turned into an everyday thing," she says, "I took Percocet for so long that my body got used to it and needed it. After a while, you don't get high from it anymore. You need it just to feel normal, to do whatever it is you need to do."
When pills became scarce, withdrawal symptoms like hot and cold sweats and existing chronic back pain set in. "It was unbearable. I couldn't move, couldn't sleep, couldn't do anything," she says. "It's like someone was literally sticking a knife in my back."
The Percocet abuse continued for five years, then Hankins began a relationship with a man who understood how difficult it would be to quit, having gone to rehab to overcome his own addiction. "Being with someone who understood and who was clean was a step in the right direction for me," she says.
He stuck by her as she endured cycles of continued drug misuse withdrawal and relapse, eventually getting to a point, she says, where neither she nor her boyfriend could take it anymore. She briefly entered a local rehab program and started on a prescription of Suboxone, a medication that helps reduce opioid withdrawal symptoms and cravings.
"I got clean," says Hankins, "and out of nowhere I got pregnant. It was weird and happy and crazy at the same time. It came out of nowhere."
About a week before her due date, at the encouragement of an old friend, Hankins attended her first group therapy session with Dartmouth-Hitchcock's (D-H's) Moms in Recovery Program, previously known as the Perinatal Addiction Treatment Program.
The program started in 2013 to begin to close a gap in care for pregnant women and new mothers who struggle with substance use disorders. An integrated team of care professionals, provide a range of services that include obstetrical prenatal care, psychiatric evaluation, individual and group counseling and medication-assisted treatment of opioid dependence.
"I'm very glad I got into the program," Hankins says. "In the group, you can vent and no one judges you. Everyone there wants to help you, not because they have to, but because they want to."
Plus, she adds, "Being with other mothers is helpful, and you get to see all kinds of cute babies."
Now, with her daughter Paige, Hankins sees a better version of herself, and feels the hard times she went through have given her wisdom. Knowing the difference, she believes, is important. "My baby makes me want to keep having a better life. For myself and for her. I don't ever want her to go through what I did."
A better life, she knows, is far from a perfect one. "Your addiction's always there, every day," she says. "It's something I'll fight for the rest of my life not to go back to."
Having courage and the support of her partner, her mother and her therapy group at D-H, Hankins works hard to stay positive. "Because being positive," she says, "helps me move along and helps life get a little better."