Photography by

Mark Washburn

December 26th, 2013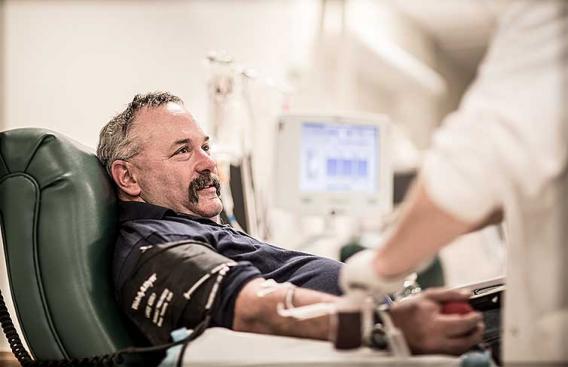 It's a good feeling; someone you don't know or will never hear from will get to go on and play hockey, go skiing, or play with their grandchildren - or grow up to have grandchildren.
In this season of giving, meet those who give throughout the year.
In part three of our series, we continue to highlight just a few of the names, faces and lives that are represented in each drop of the precious lifesaving donations.
Come back over the next few weeks and meet the remaining Dartmouth-Hitchcock Blood Donor Program dignitaries.

Name: Steven Marshall
Age: 53
Profession: Chief of the Washington, NH, Police Department
Status: Married to Karen; father of two, three grandchildren.
Donates: platelets, double donation
Frequency: every month
History: I first gave blood in high school, when I was 17, but learned about platelets in the mid-eighties and switched over to giving them. I've been a regular donor for the last 25-30 years. I was one of the first donors to start giving blood at D-H when they were still using an outside vendor. I had a history with D-H even before I was donating here. When the hospital moved to Lebanon in 1991 they did a video. I'm the EMT in the back of the ambulance taking the first patient to the new hospital, saying, "See you in Lebanon."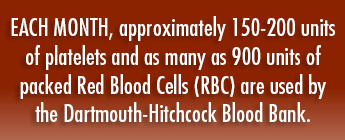 The process of giving: There is no pain at all … except when they take the tape off the hair on my arms. The staff is just wonderful and they're very skilled. They have all become my friends as well as my caregivers in a sense. When I came in close to my birthday or a milestone like my 300th donation, they got me cupcakes and flowers and balloons. They personalize it.
Another advantage, with the field I am in, is that this is the only chance I get to sit back. It takes me about 111 minutes. I bring my laptop, plug in a DVD, and I get to watch a movie, and chill out for a while.
Why do you donate, and why should anyone else? So I can sit back and watch a movie and know when I'm done that my blood is helping ta least three other people, for surgeries and cancers and other illnesses. It's a feeling of knowing that while I'm not doing anything at all, I've made someone else's life or family a little bit more secure or stable; put a little hope into them.
It's a good feeling. Someone you don't know or will never hear from will get to go on and play hockey, go skiing, or play with their grandchildren—or grow up to have grandchildren. 
Close to home: I've been very blessed with great health—no meds and a great platelet count. My background is in helping other people. A close friend of mine had cancer, and currently a friend of mine has developed breast cancer. I don't know, but maybe my blood has gone to them.
Other thoughts: The opportunity to take your good health and share it with someone else, without any effort except to drive up here, is a no-brainer. It's fun. It's painless. No matter if it's whole blood, plasma, or platelets. If you have the opportunity here, or elsewhere, to share your good health through donation, take advantage of it. Share what you have.