Photography by

Mark Washburn

January 8th, 2014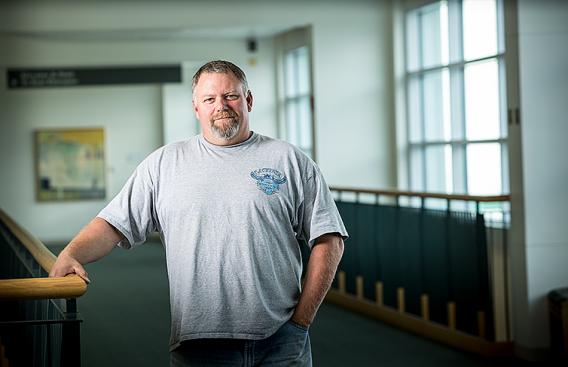 How can helping to save somebody's life not be the greatest thing in the world? When you think about these people, children and adults who need this …how can it not be a priority?
As we move into a new year, we look forward to the possibilities and revel in new opportunities. Blood donors don't need a resolution, or a season; they just do it.
Winston Churchill and Kahlil Gibran may or may not have been blood donors, but they share the same spirit of giving as those who roll up their sleeves and give life to others. With that in mind, we open part four of our five-week series with their words:
"We make a living by what we get. We make a life by what we give." - Winston Churchill
"You give but little when you give of your possessions. It is when you give of yourself that you truly give." - Kahlil Gibran

Name: Terry Sams
Age: 53
Profession: Heavy equipment mechanic; driver
Status: Married to Margaret; father of two
Donates: Platelets and whole blood
Frequency: Every two weeks
History: I've been donating for about 20 years. I donated when I was in the service, and then missed a few years, but I knew I wanted to start doing it again regularly. For the last two years I've been donating at the Dartmouth-Hitchcock Blood Donor Program (BDP) because I wanted to give locally and I knew the blood stayed within the community. It's important to me to help people around me who need it. When I was there I saw a pamphlet on giving platelets, and when they told me how great the need was I started doing that. So I switch back and forth, depending on what is needed most at the time.
The process of giving: It's not painful at all. There's the initial stick of the needle, I don't know how many people like getting a needle, but it's not bad at all. The staff is so professional and good at what they do that in an instant it's over, and then it's an hour sitting or lying back in the chair. You can watch TV, but I talk – they can't shut me up. So the hour goes fast, real fast. They're always there asking 'Can I get you something? Do you need a drink or a snack? How are you feeling?' If you have any questions they answer them. It's never a stressful thing to do. It's just easy. And the gratification is tenfold. They always work with my schedule, like 'what can I do to make this work for you?'
When I started going to D-H to donate I didn't know what to expect. Now, those people there are all like a second family to me. They make you feel so comfortable, and they have a great sense of humor. It's not just to go there and give blood; they make you feel wanted and that they are really thankful that you are there and doing this for everybody. I look forward to it, not just to give the blood, but also to see them. It really makes it worth so much more and makes it so much better.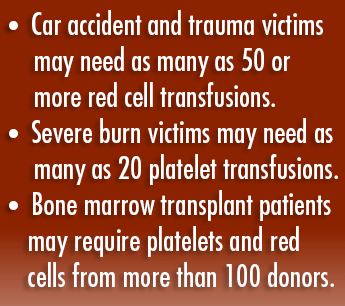 Why do you donate, and why should anyone else? How can helping to save somebody's life not be the greatest thing in the world? When you think about these people, children and adults who need this, and how important it is, how can it not be a priority? I think everyone needs to think about that and to do this. Nothing feels better. You're actually really helping somebody. It takes an hour out of your life. Knowing the good it does, oh yes.
Think about it: God forbid somebody in your family needs it. That is what often wakes people up. When you hear somebody has cancer and needs platelets and you can do it and you're healthy and can actually help somebody, I don't understand why people don't. I want somebody there if I need it. I want to know somebody stepped up and said "I'll help you."
Close to home: My grandfather and my wife's side of the family needed platelets, so that was when I found out how important it really was. You never really think about it until it hits home.
Other thoughts: As long as I'm alive, this is one thing I can do; it's my way to pay it forward. I just hope people know how easy it is, and for platelets it's just an hour. Whole blood takes less time. I can't believe there are ever shortages; the program should have more than it can handle if more people donated. I know a lot of people can't for various reasons, but still there is no excuse why we wouldn't have enough from healthy, able people. I think about if something happened to my family, my kids, I'd want somebody to step up. I hope a lot more people just listen and do it.