Photography by

Mark Washburn

January 17th, 2014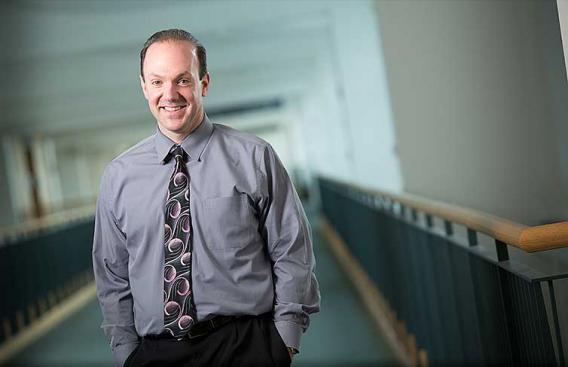 I know if there was a situation where my family members or I were in need of blood or platelets, it's people like me who make that happen.
Richard Peck thinks that people shouldn't consider all the reasons why they can't make the time, but how they can. In the last of our five-week series we want to say "Thank you!" to each and every donor who has walked through our doors, had a seat, and saved a life.
And thank you to our readers for taking a moment to consider stopping by for visit when you're waiting for a friend or relative at the hospital, or on a more regularly scheduled basis.
We hope that these donor dignitary stories have been able to show how easy, rewarding and necessary blood donations are to the lives of our patients. The recent cold weather has caused a shortage in blood donations, and the need is always urgent. January is National Blood Donor Month; please make a definitive resolution to make a difference.

Name: Richard Peck
Age: 44
Profession: Director of Gift Planning; Interim Director of Individual Giving
Status: Married to Claudette; father of two
History: I started in college, then stopped for a while: I got busy, things happened. Once I was hired here in May, 2009, I made a commitment to myself and I've stuck to it. I set a goal that I would donate five gallons of blood by about the time I'm 48. Since I fundraise for the hospital, somehow I just felt that I needed to do it. It was just a feeling that 'hey, the hospital is right here, why don't I just do it?'
The process of giving: I'm a busy person and have a lot of things going on in my life, but it's important to me to make that time because it saves lives … and they give me snacks. I sit and do email. The process takes about an hour and a half, from needle in, to needle out. For whole blood it's like 10 minutes. And everyone's really friendly. It's always great, they are very competent. I never worry about any issues or infections. These are people at the top of their game and they make it easy for me. They move me through the process; they are always on time; I don't feel like there is any time wasted at all. They're always respectful and it's a pleasant experience.
It's also a positive loop, in that they get to know me and my commitment, and I admire their commitment. It's an understanding that they need blood and platelets and I give it to them. It's all good. They are doing their job, and I'm doing my part. It's like they are all watching out for you.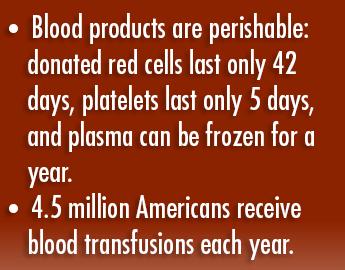 Why do you donate, and why should anyone else? I do it for the genuine satisfaction of knowing that I am helping other people. It's as simple as that. I don't meet these people, I don't know these people. I know if there was a situation where my family members or I were in need of blood or platelets, it's people like me who make that happen. We understand there's a need, and the best way to fill that need is for healthy donors to give. I'm doing something good; it didn't cost me anything and I can. I do it because my understanding is that you can save anywhere from two to three lives per donation.
When I heard about how few people were donating blood and platelets, I thought it was kind of tragic. If you look at the minimal time commitment, it's really sad. I thought 'I can do this and I will. I'll fit it into a convenient time of day for me.'
My question to others would be: 'Why are you not thinking about it?' There are blood drives and signs all over the place. So I would ask, if you know there's a need, why don't you help? What's your obstacle? It could be fear of needle or they're too busy, but I would say consider it. Think of how important it is to do it. And that you yourself may be in need one day, and it's donors who help make the difference. There always seems to be a shortage and there's always a need. I think there is a genuine misunderstanding in the general public of how desperate the need is.
Close to home: I think about the thousands of people every day in hospitals, and if that doesn't drive you than maybe nothing will. It might have to be a personal experience, like a mother, father or brother.
Other thoughts: Consider how you can do it and the powerful impact that many people can make if we increased our donor base just by 10 percent: what kind of an impact that would make on the patients of D-H? I look at it like recycling; if everybody was doing it to their greatest capacity, what kind of a difference would that make?
Try to get on a schedule. One-offs are fine, but because you can give every eight weeks and it's not too taxing and maybe even a pleasurable experience, try to get on a schedule. You're making an impact with one donation, but imagine the impact if you do it six times a year.
One thing that keeps me motivated is that I want to be a role model. I love to tell everybody that I do this and I want lots of people to join me. It just has to be a priority for you or you won't do it.
I'm healthy and will do it as long as I stay healthy. It's close by and it's the right thing to do.