In This Section
Dartmouth-Hitchcock, March of Dimes Produce New Toolkit to Help Moms and Babies with Substance Use Disorders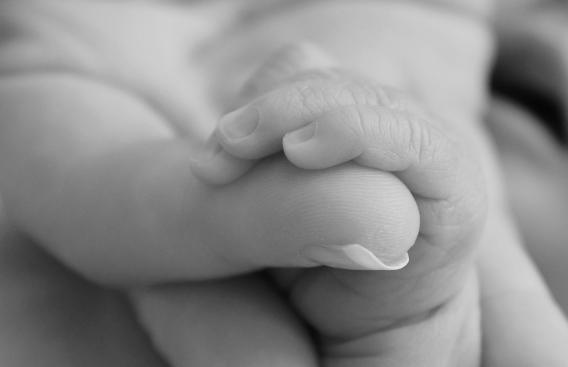 As the national opioid crisis worsens, eight community health practices and regional hospitals in northern New England have teamed up to produce an online toolkit to help maternal child health providers keep women with histories of substance use and their babies healthy. This resource is the result of collaborative work funded by a three-year grant that March of Dimes awarded in 2016 to the Northern New England Perinatal Quality Improvement Network (NNEPQIN) and Dartmouth–Hitchcock's (D-H) Department of Obstetrics and Gynecology.
The project team concluded its second year in January 2018, after pilot testing the toolkit in six health care facilities in New Hampshire and one each in Vermont and Maine. The resulting 15-chapter toolkit helps maternity care practices provide coordinated and compassionate care, and is now available on the NNEPQIN website.
The toolkit will also be used by D-H's Center for Addiction Recovery in Pregnancy and Parenting (CARPP), a program that recently was awarded a $2.7 million grant from New Hampshire's Department of Health and Human Services to help seven maternity care practices around the state implement effective screening and treatment for pregnant women with opioid use disorders. This funding is part of a $3.1 million federal grant that New Hampshire received as part of the 21st Century Cures Act, which is provided through the State Targeted Response to the Opioid Crisis Grants program.
The number of newborns with neonatal opioid withdrawal syndrome (NOWS) has increased dramatically throughout the region as the number of mothers suffering from substance use disorders has grown. Babies prenatally exposed to opioids typically have longer hospital stays, are at increased risk for lower birthweight (less than five pounds, eight ounces) and have breathing and feeding problems, according to March of Dimes. A joint study, released in January 2018 by the University of New Hampshire and New Futures Kids Count, found that in New Hampshire alone the number of NOWS cases has grown from 52 in 2005 to 269 in 2015. In 2016, opioid use disorders among pregnant women in Maine, New Hampshire and Vermont affected six to eight percent of all births in those states.
The goal of the online toolkit is to help practitioners provide evidence-based care for women with substance use disorders that is consistent with national guidelines, says certified nurse midwife and women's health nurse practitioner Daisy Goodman, DNP, MPH, CNM, WHNP-BC, who is leading the March of Dimes project for D-H. These guidelines include the recent Clinical Guidance for the Treatment of Pregnant and Parenting Women with Opioid Use Disorder and their Infants, which was released by the Substance Use and Mental Health Services Administration (SAMHSA) in February 2018.
The toolkit includes:
a one-page care provider checklist that can be incorporated into a patient's electronic medical record
information on key elements of care and specific lab tests to order for this patient population
reminders about patient education and care coordination.
patient education pamphlets and website links with information about quitting smoking, hepatitis C, medication-assisted treatment with buprenorphine and safe breastfeeding (many believe, incorrectly, that this patient population should not breast feed).
The focus of the program's second year was to operationalize these strategies to improve safety and quality in the care of pregnant women with substance use disorders. After analyzing monthly, anonymous patient data collected from the eight pilot sites over the past year, Goodman says they have already seen improvements. More women were screened for hepatitis C, received tobacco cessation treatment, and were given access to the lifesaving drug Naloxone (Narcan). Newborn birth weights also increased, and the preterm birth rate went down at participating sites, although these changes were not large enough to be statistically significant, she says.
"However, while we did a good job of providing patients with nicotine replacement, we didn't have much success in getting them actually to quit smoking," says Goodman, who also directs women's health services for D-H's Moms in Recovery program. "That's an area we'll be focusing on intensely in year three of the project."
"It's critically important that health care providers share and implement best practices for treating pregnant women and women of childbearing age, who often have very different needs from their other patients," said Stacey D. Stewart, president of March of Dimes. "March of Dimes is committed to educating medical professionals on known solutions to improve the care that moms and babies receive. We are pleased to work with the collaborative to help give more moms healthier pregnancies."
This past year, additional project funding was provided by the New Hampshire Charitable Foundation. This has enabled the development of more content around alcohol use prevention, as well as content for clinicians about screening, brief intervention and referral for treatment (SBIRT). In the SBIRT model, providers use evidence-based techniques to screen for drug and alcohol use, and employ motivational interviewing approaches to help patients recognize unhealthy substance use patterns.
"Women with substance use disorders have more needs than just medical care," says D-H maternal-fetal medicine specialist, Emily Baker, MD, who serves on the project's advisory board and is also one of the project's consultants. "Having a multidisciplinary team improves our ability to help engage them in their care. This dramatically improves the chance of our helping them to succeed."
Goodman notes that the New Hampshire Charitable Foundation has agreed to add funding to the March of Dimes grant for the third and final year of the project. "In year three, we will be helping sites implement an SBIRT screening approach," says Goodman. "We are also planning to increase the number of toolkit sites by at least six in New Hampshire, which would give us, at minimum, 12 sites in the state."
While working with pregnant patients who suffer from opioid use disorders can be emotionally challenging because their needs are so great, Goodman says the project participants provide support to one another. "The energy and enthusiasm of the sites, their concern about this maternal-child health crisis and our ability to share strategies and learn from each other has been wonderful," she says. "It's really about mutual aid. It's much better to do this in a group than to do it alone. This is also the rationale for the larger work of NNEPQIN, our regional perinatal quality improvement network.
"Ultimately, it's the patients that keep you going," Goodman continues. "Our partner sites are all in this to make a difference for women and their infants. I believe we're doing a better job at this because we're doing it together. It has been a true privilege working with this great group of colleagues across our three states, and all of the sites wanted to keep participating in year 3. We've improved the care we're providing and demonstrated that this is clearly a feasible and scalable project."
About March of Dimes 
March of Dimes leads the fight for the health of all moms and babies. We support research, lead programs and provide education and advocacy so that every family can have the best possible start. Building on a successful 80-year legacy of impact and innovation, we stand up for every mom and every baby. Visit marchofdimes.org or nacersano.org for more information. Visit shareyourstory.org for comfort and support. Find us on Facebook and follow us on Instagram and Twitter.
About Dartmouth-Hitchcock
DARTMOUTH-HITCHCOCK HEALTH (D-HH), New Hampshire's only academic health system and the state's largest private employer, serves a population of 1.9 million across Northern New England. D-H provides access to more than 2,400 providers in almost every area of medicine, delivering care at its flagship hospital, Dartmouth-Hitchcock Medical Center (DHMC) in Lebanon, NH. DHMC was named in 2019 as the #1 hospital in New Hampshire by U.S. News & World Report, and recognized for high performance in 13 clinical specialties and procedures. Dartmouth-Hitchcock Health also includes the Norris Cotton Cancer Center, one of only 51 NCI-designated Comprehensive Cancer Centers in the nation; the Children's Hospital at Dartmouth-Hitchcock, the state's only children's hospital; affiliated member hospitals in Lebanon, Keene, and New London, NH, and Windsor, VT, and Visiting Nurse and Hospice for Vermont and New Hampshire; and 24 Dartmouth-Hitchcock clinics that provide ambulatory services across New Hampshire and Vermont. The D-H system trains nearly 400 residents and fellows annually, and performs world-class research, in partnership with the Geisel School of Medicine at Dartmouth and the White River Junction VA Medical Center in White River Junction, VT.