In This Section
Dartmouth-Hitchcock Awarded $2.7 Million Grant to Treat Pregnant Women Who Use Opioids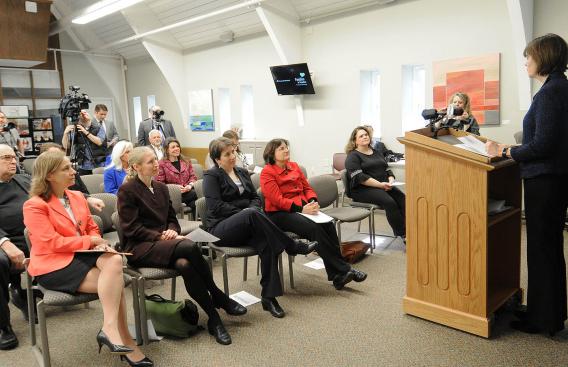 Dartmouth-Hitchcock (D-H) has been awarded a $2.7 million federal grant under the 21st Century Cures Act to provide support to obstetrical practices across New Hampshire in implementing effective screening and treatment for pregnant women with opioid use disorders.
In 2015, 7.8 percent of newborns to New Hampshire residents at Dartmouth-Hitchcock Medical Center in Lebanon were diagnosed with Neonatal Abstinence Syndrome (NAS), and rates of NAS in New Hampshire hospitals have increased nearly fivefold over the past 10 years. Untreated, perinatal substance use is associated with significant morbidity and mortality for women and their infants, including infectious disease, premature birth, poor fetal growth, and neonatal withdrawal leading to prolonged hospitalization.
D-H's Center for Addiction Recovery in Pregnancy and Parenting (CARPP) will use its skills and experience to implement and nurture high-quality integrated services for this population across the state. CARPP will provide implementation support, a toolkit of resources for practices, some initial behavioral health staffing support, and ongoing clinical consultation to bolster practices as they get their programs started.
"Our goal is to take our experiences at Dartmouth-Hitchcock over the past five years and help other health care providers to build treatment capacity across the state so women can receive high quality evidence-based treatment in their own communities," said Dr. Julia R. Frew, director of D-H's CARPP and Moms in Recovery program.
The two-year federal grant – disbursed to D-H through a contract with the NH Department of Health and Human Services and approved by the New Hampshire Executive Council in late January – allows D-H to assist seven maternity care practices around the state in developing their own integrated Medication Assisted Treatment (MAT) programs within the maternity care setting, serving pregnant and newly postpartum women. The funding continues through June 2019.
Cheshire Medical Center/Dartmouth-Hitchcock in Keene is the first site and has already been offering components of such a program. Other maternity care sites include D-H clinics in Nashua and Bedford, as well as non-D-H practices in Berlin, Laconia, Littleton, and Dover.
Each program will provide MAT with buprenorphine (Suboxone), group and individual addiction treatment, psychiatric consultation, recovery coaching, and case management services. "While this is not a telemedicine program, we plan to also offer consultation to other hospitals and clinics through teleconferencing which will allow us to conduct learning collaboratives, and to provide consultation to providers at each practice regarding complex cases," Frew added.
"This grant is another recognition of the critically important work being spearheaded by Dartmouth-Hitchcock providers," said D-H CEO and President Dr. Joanne Conroy. "The opioid crisis continues to impact our state, and initiatives like our CARPP program are making a tremendous difference in the lives of mothers who struggle with substance misuse, and their children.
"I'm very proud that D-H was awarded this major funding and grateful to our federal delegation in Washington, who lobbied on behalf of this program, and to the State for its continued confidence in Dartmouth-Hitchcock."
Moms in Recovery, D-H's addiction treatment program in Lebanon for pregnant and parenting women, serves as a model for the statewide program. Moms in Recovery offers clinical services including integrated substance use, mental health, obstetric, and pediatric services. The goal is to support obstetrical practices in the identification of opioid use in the women they serve and the subsequent treatment to help them on a path to recovery.
"Moms in Recovery is saving lives from the grips of substance use disorders every day, and I'm thrilled that federal resources are helping expand this program across the state," noted U.S. Sen. Jeanne Shaheen (D-NH). "This is why I fought for funding to be included in the CURES Act for opioid response efforts so that programs like this could be ramped-up to deliver lifesaving care to those who need it most. This is an example of federal dollars being put to good use. There's much more work to be done, which is why I'm continuing to work across the aisle, particularly with Senators from other states severely impacted by the opioid epidemic, to secure additional federal resources for treatment, prevention and recovery efforts."
"Dartmouth-Hitchcock is doing incredible work to support women through the Moms in Recovery program who face enormous challenges overcoming substance use disorder," added Rep. Ann McLane Kuster (D-NH2). "I recently had the opportunity to speak with some of these young women and was struck by their determination and resolve to create a better future for their babies, families, and themselves. Support and long-term recovery is critical to helping these women, and I commend Dartmouth-Hitchcock for their efforts. I'm proud that the funding we fought so hard for in the 21st Century Cures Act is being put to good use here in New Hampshire, and I'm committed to continuing to advocate for the resources the Granite State needs to tackle the opioid epidemic."
Since its inception, the program has served 120 pregnant women, the vast majority of whom began treatment during pregnancy and have continued in the program postpartum. Outcomes for program participants and their newborns have been excellent, dramatically improving the health of both mothers and babies, reducing the number of days in the hospital and cutting costs by more than half.
"The addiction epidemic affects thousands of Granite Staters every year – it's a crisis that ignores age, address and occupation," said Manchester Mayor Joyce Craig. "But, with programs like Moms in Recovery, we can work to solve this epidemic together. We must give our best collective effort to make progress on this issue, and I'm thankful for Dartmouth-Hitchcock for continually working to bring help to those in our community."
Dartmouth-Hitchcock has also been the recipient of grants from the New Hampshire Charitable Foundation and the March of Dimes to develop programs and materials to treat pregnant women with opioid use disorders.
About Dartmouth-Hitchcock
DARTMOUTH-HITCHCOCK HEALTH (D-HH), New Hampshire's only academic health system and the state's largest private employer, serves a population of 1.9 million across Northern New England. D-H provides access to more than 2,400 providers in almost every area of medicine, delivering care at its flagship hospital, Dartmouth-Hitchcock Medical Center (DHMC) in Lebanon, NH. DHMC was named in 2019 as the #1 hospital in New Hampshire by U.S. News & World Report, and recognized for high performance in 13 clinical specialties and procedures. Dartmouth-Hitchcock Health also includes the Norris Cotton Cancer Center, one of only 51 NCI-designated Comprehensive Cancer Centers in the nation; the Children's Hospital at Dartmouth-Hitchcock, the state's only children's hospital; affiliated member hospitals in Lebanon, Keene, and New London, NH, and Windsor, VT, and Visiting Nurse and Hospice for Vermont and New Hampshire; and 24 Dartmouth-Hitchcock clinics that provide ambulatory services across New Hampshire and Vermont. The D-H system trains nearly 400 residents and fellows annually, and performs world-class research, in partnership with the Geisel School of Medicine at Dartmouth and the White River Junction VA Medical Center in White River Junction, VT.