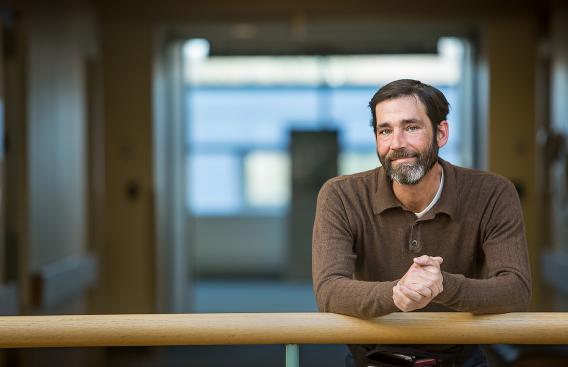 Believe in yourself. If you don't have confidence in yourself, no one else will.
Steven Tassinari
Steven Tassinari, can call up the date like it happened yesterday.
"May 31, 1989. Three o'clock. A Thursday."
Living in Florida at the time, he was employed as an ironworker, and on that day he was on a sheet metal rooftop, under the hot sun, finishing a job with his head down as he hung slightly over the edge of the roof. "I stood up and I passed out. I must have woke up on the way down and put my arms out because I broke both of my wrists," he says.
He also sustained a significant impact to his head. Tassinari was airlifted to a hospital in Miami, where doctors stabilized him and, to relieve brain swelling, drilled a hole into his skull. He lay in a coma for three days, but eventually made a full physical recovery.
Because seizures are not uncommon following a brain injury, his doctors prescribed a medication to help prevent their occurrence. "They said if I go a year without a seizure, they'll start reducing my medication," he says. "Once they started reducing them, three months later, I had my first seizure."
Tassinari's seizures increased in intensity and frequency for nearly a decade. With each seizure, his driver's license was legally suspended until he could go a full year without another seizure.
In 1998, Tassinari called his father, who was living in New Hampshire, to ask, "Dad, can I come live with you? I need some help." He had heard that he might get the kind of care that he needed in New Hampshire.
Tassinari contacted and applied for acceptance to Easterseals, a national organization offering a range of services to children and adults with disabilities or special needs. With the help of Easterseals, he received speech, physical and occupational therapy, earned his General Education Degree (GED) and found independent housing and employment opportunities. Yet the seizures continued and seemed to worsen. "While I was at Easterseals," he says, "the topic of brain surgery came up."
Tassinari remembers his first time through the doors at DHMC. "It overwhelmed me how big this place is." Tassinari learned from his Neurology care team about his limited treatment options and their narrow chances for success. In collaboration with his team, the decision was made to perform a front right temporal lobectomy, where brain tissue is removed in the temporal lobe, an area that is often the focal point of seizures. "For about ten years, I had no problems. I didn't have any seizures or the symptoms that come with them," he says.
His life returned to normal. He got his driver's license back, began working at the local church and volunteering with the Nashua, NH police department and eventually, he was able to reduce his medications.
At one point, he had a seizure while behind the wheel of his car, causing an accident. "That was when I said no more driving for me. They didn't have to revoke my license. I just turned it in."
Tassinari was grateful to be in the ongoing care of Karen Secore, MS, APRN (Secore retired from D-H in December 2017). "When I see her, the first thing we do is run and hug each other," he says.
Secore has helped him to find the right level of medication, track seizure occurrences provide guidance on how to minimize re-occurrences. "Stress and anxiety causes seizures," he says. "So my big thing now is keeping things calm, cool and collected and my structured routine going."
That routine includes continuing to do volunteer work. To be able to help others affirms his faith in God, who, he says, "can use all things for good."
Tassinari cannot predict if and when he will have another seizure but he is not fearful. "Enjoy each day as much as you can," he tells himself and others. "Believe in yourself. If you don't have confidence in yourself, no one else will."