By

Tom Haushalter

November 7th, 2017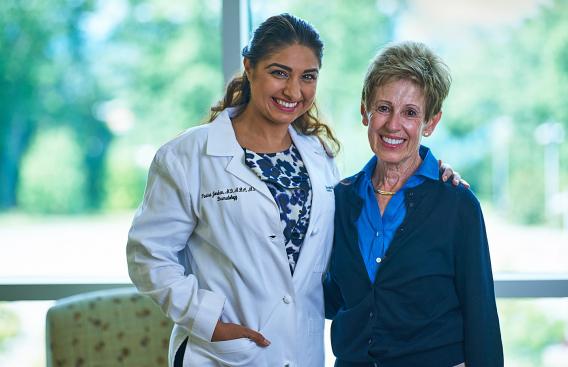 I will be indebted to Dr. Jordan forever. She saved my life.
Linda Robinson
When she discovered an unusual black streak under the nail of her big toe, it wasn't a case of Linda Robinson of Amherst, New Hampshire, needing finally to be convinced to have it examined.
"I go in every year for a dermatological checkup," Robinson says. "Last year, the spot wasn't there."
Still, because it was behind her toenail, she imagined a simple explanation. "I go to the gym often, and I'm a runner and always walking the dog, but I'm not very good about changing sneakers when they wear down," she says. "So I thought it was a bruise."
Even Robinson's pedicurist noticed the spot, but shrugged it off the same, brushing right over it with nail polish.
For her next annual dermatological appointment, Robinson would be seeing a new dermatologist, after the one she'd seen for years relocated elsewhere. In September 2016, she met Parisa Jordan, MD, MS, MBA, in Dermatology at Dartmouth-Hitchcock (D-H) of Nashua, who complimented her responsible use of sunscreen and saw nothing of any concern. "Until she got to my left foot," says Robinson.
Whether because a fresh pair of eyes examined her skin or because Jordan is, as Robinson says, "so eagle-eyed," the spot, now barely visible behind a sparkly pink nail, piqued Jordan's curiosity.
Linda's Words of Wisdom
Make sure you use sunscreen, and put it everywhere, even your feet.
While you run, golf or garden, wear a hat.
Be cognizant of strange marks on your body. If you see something odd or different from what it was, get it checked out.
Get a yearly dermatological checkup from a board certified dermatologist. You may look at yourself and think everything is fine, but a dermatologist is trained to find things that we often can't. It is recommended that people have a baseline skin exam and then a yearly check after that.
Removing the nail polish, Jordan asked to retrieve a small sample to look at under the microscope, hoping to find traces of blood that would indicate a bruise. Several minutes later, she came back to confirm the sample had blood, but suggested a biopsy anyway.
David Court, DPM, in Podiatry at D-H Nashua performed the biopsy on Robinson's toe on a Friday, and the following Tuesday evening, Robinson recalls, the phone rang. "Dr. Court said, 'Linda, it's a melanoma.'" Court confirmed that Robinson had a melanoma in situ, or a Stage 0 melanoma, which is a malignant tumor still confined to the skin's epidermis, or upper layers. The cancer cells had not yet grown any deeper—a cause for optimism.
Jordan, too, remarked on the cancer's unusual, even elusive nature. "Linda had a rare type of melanoma under her toenail called subungal melanoma, with an incidence between 0.7 percent and 3.5 percent of all melanoma cases," Jordan says. "Starting out as a small dark spot under the nail that does not heal, it's often misdiagnosed at first, delaying treatment and resulting in a poor prognosis." Fortunately, Linda's melanoma was recognized and diagnosed early.
In November, Robinson had surgery which resulted in a positive outcome.
While Robinson's recovery was more painful than she imagined and kept her from exercise for a period of months, she feels fortunate now to be looking back on what was a scary episode. "I've learned that cancer isn't a death sentence," she says, "and that I'm stronger than I thought I was, even as I limped around the house for many weeks."
An advocate for regular dermatological checkups even before her melanoma, Robinson has her friends and family going one step further. "Ask your doctor to check your feet and nails, too!"
And she recommends one "eagle-eyed" dermatologist at D-H Nashua in particular. "I will be indebted to Dr. Jordan forever. She saved my life."