In This Section
D-H CEO and President Joanne M. Conroy, MD, Named One of 50 "Most Influential" Leaders by Modern Healthcare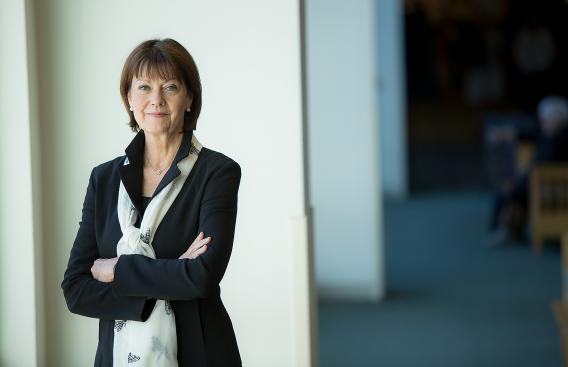 Dartmouth-Hitchcock Health and Dartmouth-Hitchcock CEO and President Joanne M. Conroy, MD, has been named one of the 50 "Most Influential Physician Executives and Leaders" by Modern Healthcare magazine.
Conroy, who arrived a little less than a year ago and has ensured the $58 million turnaround in the health system's finances, is featured in the June 18 issue of the magazine, along with leaders of the nation's top health system, government agencies and foundations. She was noted not only for the financial success, but also for the system's solid bond rating reviews and efforts to improve staff engagement and retention.
"This is such an incredible honor. It goes without saying that being listed among such an impressive list of my fellow physician leaders is humbling. I'm very proud to have been selected last year as the CEO and President of Dartmouth-Hitchcock, to lead an organization with great promise to transform health care for our nation. This recognition by Modern Healthcare further validates that we as an organization are doing the right thing for our patients and the communities we serve."
The "50 Most Influential Physician Executives and Leaders" list is an annual recognition program honoring physician executives working in all sectors of the healthcare industry who are steering their organizations and the healthcare delivery system through dynamic, challenging times. These physician leaders stand out for the scope of their executive responsibilities, personal achievements, innovation and commitment to their communities. Others named to the "50 Most Influential" list this year include FDA Commissioner Scott Gottlieb, Mayo Clinic President and CEO John Noseworthy, Dana Farber Cancer Institute President and CEO Laurie Glimcher, Assistant HHS Secretary Elinore McCance-Katz, and United States Senator Rand Paul.
"From the opioid crisis to dramatic changes in public policy to a shifting reimbursement model, health care organizations are facing significant challenges. The physician executives on this year's list are at the forefront of driving change in the health care industry," said Matthew Weinstock, Modern Healthcare's managing editor. "The list includes physician executives who are influencing health care both locally and nationally. We had an impressive list of nominees this year and getting it down to 50 was not easy, but we believe this list is representative of the transformation that's taking place in the industry." 
Modern Healthcare is a leading source of health care business and policy news, research and information, reporting on important health care events and trends, as they happen, through its weekly print magazine, websites, e-newsletters, mobile products and events.