Photography by

Mark Washburn

October 3rd, 2016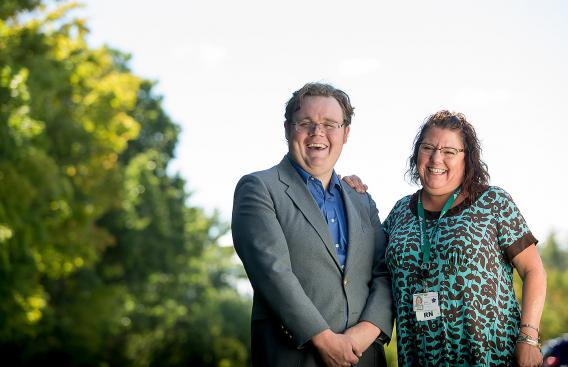 I truly believe the reason I've been so successful is because of all of my great friends and co-workers here at the clinic.
Nick Schaefer
Nicholas (Nick) Schaefer, 29, works part time as a member of the Facilities team at Dartmouth-Hitchcock (D-H) Concord. Schaefer came to D-H through Project SEARCH, an innovative education program offered at D-H that provides workplace training for young adults with intellectual or development disabilities. "Five years ago I graduated from Project SEARCH—a program that helps people find employment. As part of the training you learn all about interviewing and you get to do three great internships to test out different kinds of jobs", Schaefer says and adds, "My favorite internship was transporting patients at Concord Hospital.
"Right after I graduated from Project SEARCH, D-H Concord was looking for someone to do all of kinds of things part time, Monday through Friday for three hours a day. I thought it was the perfect fit for me. It almost felt too good to be true. I'm able to walk to and from work every day, even during the tough winter months, because I live only about a mile away.
"My job is to empty the green and blue barrels—the green one is trash, the blue one has confidential papers. I get to talk with everyone around the clinic. I love that everyone knows me."
Schaefer's care coordinator in Primary Care at D-H Concord, Julie Percy, RN, says , "He's a jokester - he is famous here."
He also has a passion for music. "I volunteer at an assisted living facility in Concord called Granite Ledges. I share my music with the residents, playing my keyboard and singing. I've been into music my whole life. My favorite types of songs are by Disney, Rogers and Hammerstein and Mr. Rogers. I'm also experimenting with letting people take a trip with their imaginations as they listen to my music. I take them to all kinds of places through my music like to China and to Disneyland. I act as a tour guide so the residents at Granite Ledges can imagine themselves going somewhere fun because they can't travel."
In June of 2016, Schaefer received difficult news. Jasmine Shah, MD, Nick's primary care doctor, diagnosed Schaefer with diabetes, putting him immediately on a twice-daily medication. Percy and other nurses counseled him about dietary changes he could make and taught him how to use a glucometer. "When I found out about it, I thought I couldn't do the things Dr. Shah was asking me to do to help myself. But I knew that I had to change things so I completely gave up junk food," Schaefer says.  Giving up candy, pizza, chicken nuggets and fries has helped him to get off his medication within two months of his diagnosis. "Also, he's lost 60 pounds – going from 300 pounds to 240. "I now eat more tofu and I've been adding my veggies to my chicken dishes. Just recently, I went out with my friends and instead of ordering a hamburger with fries and a milkshake, I ordered a chicken Caesar salad and it was excellent! I'm figuring out what is best for me as I do more research, such as the 10 calorie pasta that I really like. And, in addition to walking to work every day, I also found a way to exercise when I'm emptying the barrels. I use them like weights to work my arm muscles!"
Schaefer is down to testing his blood sugar once a week from three times a day "Dr. Shah said if things look good with my numbers, I won't have to test at all anymore! It is people like Dr. Shah who are my heroes. She helps me understand what I need to do to change my health."
Dr. Jasmine Shah is equally pleased with Schaefer's progress. "Nicholas is an example of what a person can achieve for his health through lifestyle changes. He took responsibility and did wonders—he ate healthy, exercised and made a complete turnaround. He brought his A1c level down from 9.5 to 4.9 with healthy choices. He has lost weight and managed to improve his stamina in the process. I am fortunate to work with him in his journey towards better health," Dr. Shaw comments.
He continues to see Percy and others on the care coordination team regularly. "He comes to check in every day and tells me what his sugar was, what he had for dinner the night before and if he has lost any more weight. We have offered him support and encouragement but this young man has done this himself. After just a little practice with the glucometer and a few guidelines to adjust his nutrition, he has taken off. Nick is living proof that if you lose 10-20 percent of your body weight you can turn around the diagnosis of diabetes," Percy says.
Schaefer credits Percy and others with his success. "I truly believe the reason I've been so successful is because of all of my great friends and co-workers here at the clinic."
For those who may have a diabetes diagnosis, Schaefer offers these words: "My advice, completely give up one piece of junk food each week. Change your habits a little at a time. That is how I continue to do it. For instance, when we were just recently celebrating my brother-in-law's birthday, I chose pudding instead of cake. I want to give people hope that they can do what I've done. My motto is if you believe, you will achieve."