In This Section
Dartmouth-Hitchcock Named "Frontline Healthcare Worker Champion"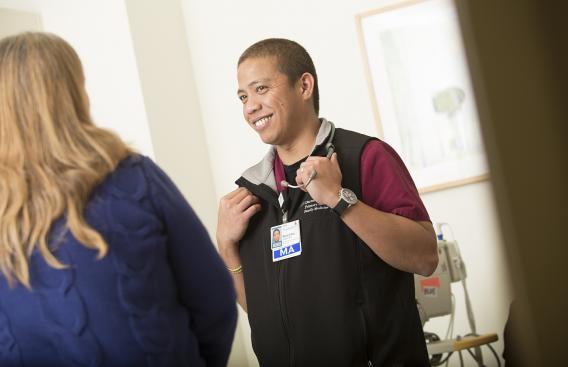 Dartmouth-Hitchcock (D-H) has been selected by CareerSTAT, an employer-led initiative of the National Fund for Workforce Solutions, as one of four healthcare employers named 2018 Frontline Healthcare Worker Champions. The announcement of the four Champions and three Emerging Champions coincides with Workforce Development Month.
Health care organizations are recognized by a committee of their peers for their commitment to practices that are proven to benefit employers, employees, and patients. This year's champions have demonstrated a range of practices that support the growth and development of the frontline workforce, which includes everyone from nursing aides and substance abuse counselors to food service workers, housekeepers, and receptionists.
Like many employers, D-H faces a significant talent gap, and its workforce development programs are an essential business strategy to address the growing regional workforce gaps. To address workforce shortages, D-H established a workforce development department that has grown to a seven-member team and evolved into the Dartmouth-Hitchcock Workforce Readiness Institute, which is a licensed career school with the NH Department of Education.
The Workforce Readiness Institute has trained and hired more than 350 people through nine distinct programs. An additional 78 people participated in programs that engage youth and people with intellectual disabilities to develop the job skills needed to succeed in the workforce. The focus on workforce sustainability allows programs to grow, meet evolving needs, and build and maintain numerous local and regional partnerships.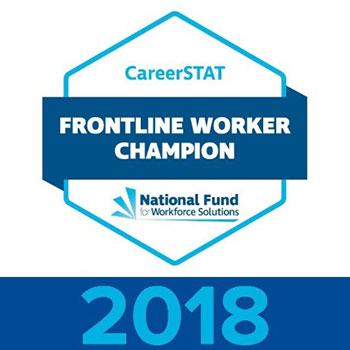 "To address our workforce challenges, Dartmouth-Hitchcock is delivering programs and registered apprenticeships through our Workforce Readiness Institute that empower us to think creatively about how to identify, attract and to train new sources of talent," says Joanne M. Conroy, MD, CEO and President of Dartmouth-Hitchcock. "It is our belief that these programs are an investment in our Dartmouth-Hitchcock family, as well as in our community."
Now in its fifth year, the recognition program is just one of the ways that CareerSTAT, a network of more than 250 healthcare and workforce leaders, supports healthcare organizations. In addition to Dartmouth-Hitchcock, District 1199C Training & Upgrading Fund of Philadelphia; East Alabama Medical Center of Opelika, Alabama; and Washington Association of Community and Migrant Health Centers in Olympia, Washington, are being recognized as Champions. The 2018 Emerging Champions are Southeast Louisiana Veterans Healthcare System of New Orleans; Loretto of Syracuse, New York; and Staten Island Performing Provider System of Staten Island, New York.
All seven organizations will be honored in October at CareerSTAT's Healthcare Connect conference in New Orleans. Detailed profiles of the organizations, along with further information on their skill and career development programs, are available on the CareerSTAT website. More information about the best practices and programs of all 43 Frontline Worker champions can be found in the CareerSTAT Guide to Investing in Frontline Health Care Workers.
About Dartmouth-Hitchcock
Dartmouth-Hitchcock (D-H) is a nonprofit academic health system that serves a population of 1.9 million in New England. D-H provides access to more than 1,000 primary care doctors and specialists in almost every area of medicine, delivering care in Lebanon, NH at its flagship, Dartmouth-Hitchcock Medical Center; the Norris Cotton Cancer Center, one of only 45 Comprehensive Cancer Centers in the nation; the Children's Hospital at Dartmouth-Hitchcock; affiliate hospitals in Lebanon, Keene, and New London, NH, and Windsor, VT, and through the Visiting Nurse and Hospice for Vermont and New Hampshire; and at 24 Dartmouth-Hitchcock clinics that provide ambulatory services across New Hampshire and Vermont. The D-H system trains nearly 400 residents and fellows annually, and performs world-class research, in partnership with the Audrey and Theodor Geisel School of Medicine at Dartmouth and the White River Junction VA Medical Center in White River Junction, VT. In 2016, Dartmouth-Hitchcock Medical Center was named one of "100 Great Hospitals in America" by Becker's Hospital Review.
CareerSTAT
Career STAT is a network of healthcare leaders promoting investment in the skills and careers of frontline workers. It supports healthcare organizations in using workforce development programs to increase business impact, improve health outcomes, and provide good jobs. CareerSTAT promotes innovative practices and policies for advancing frontline workers, produces an array of resources on the benefits of skill and career development, recognizes organizations leading the industry as Frontline Healthcare Worker Champions, and supports organizations developing investment programs. CareerSTAT is an employer-led initiative of the National Fund for Workforce Solutions and is generously supported by The Joyce Foundation and the W.K. Kellogg Foundation. To learn more about CareerSTAT and its partners, visit: www.nationalfund.org/careerstat.
The National Fund for Workforce Solutions
The National Fund for Workforce Solutions is a national network promoting economic opportunity and prosperous communities through investment and innovation. Based in Washington D.C., the National Fund partners with philanthropy, employers, workers, public and private community organizations, and more than 30 regional collaboratives to invest in skills, improve systems, and generate good jobs. The National Fund supports civic and business leaders in promoting evidence-based practices and policies that build shared prosperity. Learn more about the National Fund and its local partners at www.NationalFund.org.