In This Section
Anesthesiology Technique Helps to Eliminate Pain from Surgery
By

Bonnie Barber

Photography by

Mark Washburn

September 26th, 2018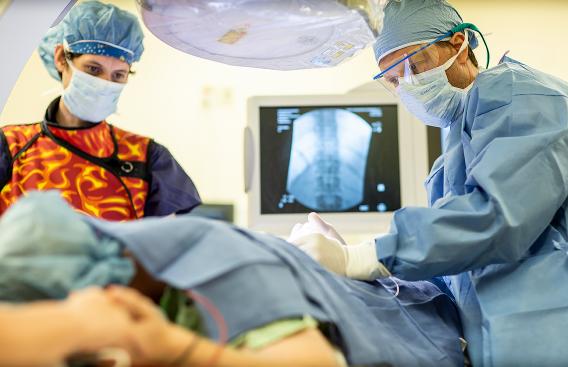 Over the last 12 years, Wendy Cunningham has had nine surgeries to repair recurring hernias. These surgeries were all performed at a hospital close to her home in North Hero, Vermont. When she required a tenth hernia surgery, however, she sought care at Dartmouth-Hitchcock Medical Center (DHMC) in Lebanon, New Hampshire, more than two hours away. What drew Cunningham to DHMC? Skilled surgeons who could handle her complex case and the promise of far less post-surgical pain, thanks to an innovative anesthesiology technique used at DHMC.
"My original hospital didn't think they could fix my complicated case, so I came to DHMC after having a consult first with Dr. [Brent] White and then with Dr. White and Dr. [Gary] Freed, a plastic surgeon," says Cunningham. "When I learned about the epidural pain treatment at DHMC, that was an added bonus. I embraced the treatment as soon as it was offered because I knew just how much pain I was in for."
Brian D. Sites MD, MS, director of DHMC's Acute Pain Service, explains that DMHC has a state-of-the-art procedure room that enables anesthesiologists to place epidurals to exact spots in the spine using fluoroscopic X-ray guidance. Most people are familiar with epidurals (soft catheters that are placed near the spine through a needle to administer numbing medicine), which are typically used when women are in labor. But D-H is one of the few hospitals nationwide that is routinely utilizing fluoroscopic X-ray to place epidurals for other surgeries, including major abdominal and thoracic surgeries, as well as cancer cases like pancreas, gynecologic, colorectal and partial and complete lung resections.
"This precise pinpointing helps to eliminate pain from surgery," says Sites, who is also director of Orthopedic Anesthesiology. "It's known that pain has a negative impact on your ability to recover and to leave the hospital. With DHMC's unique approach to placing epidurals, patients experience an optimal environment to minimize pain, stress and complications."
Sites notes that the vast majority of hospitals are still placing epidurals using the traditional method of feel and palpation, which has been the standard of care for over a century. With the traditional approach, practitioners rely on the "feel" of the needle to confirm that it is in the epidural location and then a catheter is blindly advanced into the body.
"These blind epidural placements have failure rates as high as 30 percent," Sites says. "Because we can see exactly where the needle and catheter are going, our fluoroscopic X-ray guided epidural service results in a failure rate of only around one percent. Patients that come to Dartmouth-Hitchcock (D-H) experience both the benefit of advanced technology to minimize pain as well as the support from compassionate nurses and doctors who staff the Acute Pain Medicine Service."
"Pain Right After Surgery is Really Traumatizing"
After undergoing nearly a dozen abdominal surgeries that were particularly painful, Cunningham was eager to avoid post-operative pain. "The pain right after surgery is really traumatizing, especially after you've experienced it over and over again," she says.
So, when she came to DHMC at the beginning of July for her hernia repair surgery with White and Freed, she was extremely anxious. "I knew this was a big surgery and my anxiety leading up to it was quite high because I was going in for something that wasn't going to be pleasant and I was in for a long recovery," says Cunningham. "But this epidural procedure made a huge difference and I had relief that was so much different from my previous surgical experiences."
Cunningham stayed at DHMC for five days following her surgery and the epidural remained in place for four days to control her pain level. After her previous surgeries without an epidural, she experienced both worse pain and negative side effects from opioid pain medications. Cunningham reports that after this surgery she was more awake and alert, with no "loopiness," and slept much better. "The epidural provided relief and I was able to get some rest. I had a little bump in the road when they tried to take me off the epidural, so they started the medicine again for one more day at the lowest setting and then I got off the epidural pump on the next day. The team was really responsive to my needs."
Improving Pain Control and Reducing Reliance on Opioids
As interim chair of DHMC's Anesthesiology Department Simon Hillier, MD, explains the Acute Pain Service uses innovative techniques and a multidisciplinary team approach to help patients navigate from the operating room to hospital discharge. "Our cutting-edge techniques are designed to improve pain control while reducing side effects and ultimately improving patient satisfaction," he says. "X-ray-guided epidural catheters make epidural pain control more reliable, safer and more effective."
Hillier adds, "This and other advanced anesthesiology techniques are intended to reduce our reliance on strong pain-killers such as opioids. If we can use these advanced innovative techniques to reduce opioid needs then our patients will require less opioids when they leave the hospital, thereby reducing the chances that they will become reliant upon strong pain-killers."
Now that she has experienced surgery with this pain alleviating technique Cunningham is sold. "This made major surgery pleasant, as much as it can be made pleasant," she jokes. "I can't stress how much easier it made my recovery. This tool acts like a security blanket during those first few days, allowing you the time to rest without feeling the intensity of pain. And everyone I met at DHMC was very responsive. They are caring, empathetic professionals with a high level of skill and a wonderful bedside manner. I will definitely look to Dartmouth-Hitchcock for any future surgical needs."