In This Section
Helping People Live as Well as They Can for as Long as They Can
By

Bonnie Barber

Photography by

Mark Washburn

September 26th, 2018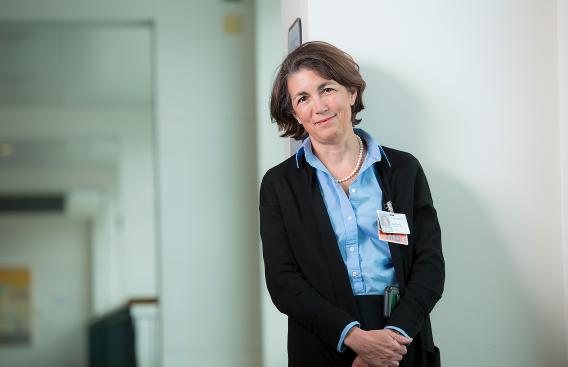 "A lot of people think palliative care is for people who are at the very end of their lives or who are dying. In fact, it is really more about helping people with serious illnesses, often advanced serious illnesses, live as well as they can for as long as they can," says Kathryn Kirkland, MD, Section Chief and Director of Palliative Medicine at Dartmouth-Hitchcock (D-H).
Since transitioning from being an infectious disease physician to D-H's Palliative Care Program six years ago, Kirkland and her team have been building partnerships with D-H clinicians and departments, as well as with community hospice organizations, to provide that "extra layer of support" as patients contend with the symptoms of serious illnesses. With the opening of the Jack Byrne Center for Palliative & Hospice Care in December 2017, Dartmouth-Hitchcock Medical Center (DHMC) now has an inpatient facility in Lebanon for hospice patients whose symptoms are too severe to be managed at home, or who need short-term respite care, and inpatients at DHMC who are dying but too unstable to leave the hospital.
Kirkland, who is also the Dorothy and John J. Byrne, Jr., Distinguished Chair in Palliative Medicine at Dartmouth's Geisel School of Medicine, explains that the Palliative Medicine service is often part of the care team when patients are diagnosed with advanced cancer, advanced heart failure, advanced lung disease and many other chronic illnesses. "Some are getting treatment specifically to try to control their disease and some have reached a point where the disease-directed treatments are no longer working or are too difficult," says Kirkland. "For those people, we may become their primary health care team."
Among the Palliative Care Program's areas of expertise are:
Management of physical symptoms such as pain, shortness of breath, nausea and/or delirium that may be associated with advanced illness or with some treatments.
Support for the patient and the family's emotional, psychosocial and spiritual needs through the experience of serious illness.
Support for planning for the future, and decision-making to ensure that care is aligned with the patient's values and preferences.
Kirkland notes that their interdisciplinary team uses a whole-person approach to tend to the physical, spiritual and emotional aspects of the experience of illness. This includes utilizing D-H's Healing Arts and Creative Arts Programs, which are collaborations between D-H Arts, Norris Cotton Cancer Center Support Services and Palliative Care.
"As we get to know patients and families and what's important to them, we can help match their priorities with what's medically possible and help them to get as much of what they want as possible and avoid treatments or interventions that may prolong their lives, but not in a way they want to live," says Kirkland.
The Palliative Care Program provides inpatient consultation services and also has an outpatient clinic where Kirkland says they often see people in conjunction with their other providers. She notes that patients with serious illness don't need to be referred by their physicians; they may call and make their own appointments with the Palliative Care team. "There's a lot of uncertainty involved in serious illness and so having someone to help you navigate it can be really helpful," says Kirkland, adding that they also offer patient and family education, as well as telephone and bereavement support.
When patients decide to stop receiving disease-directed treatments because the treatments are not working or are too physically difficult, Palliative Medicine often suggests that they shift their care to a local hospice agency. They then can receive care either in their home or wherever they are living. "People are typically in their last six months of life by the time they are in hospice care and they really want to focus on quality of life," Kirkland says.
The Jack Byrne Center fills an important palliative care need for patients, especially those whose symptoms are escalating while they are receiving hospice care at home, by providing inpatient level acute care in a beautiful building that was designed to feel like a "home away from home." According to Kirkland, the Jack Byrne Center helps patients and their families by:
Treating patient symptoms that have become too difficult to manage at home, even with expert hospice providers coming in to help.
"Previously, patients would have to make a choice of going back into the hospital to get more advanced symptom management using IVs and other interventions or staying at home without adequate symptom control," Kirkland says. "Many people want to die at home, so this was a difficult choice that people were having to make at the end of life: 'Should I go back into the hospital where I really didn't want to die, but they're the only ones who can control my symptoms?' or 'Should I stay at home even though I'm in a lot of pain?' At the Jack Byrne Center, patients have access to physicians and nurses with specialty training in state-of-the-art intensive symptom management."
Providing respite care for hospice patients for up to five days so that family caregivers may have a break.
"Taking care of people with advanced serious illness is hard on families, so this is an opportunity for patients who are enrolled in hospice to give their caregivers a break," Kirkland says. "They will get expert and compassionate nursing care while their caregivers go away for a vacation or take care of personal matters. Or the caregivers can come to the Jack Byrne Center and stay with the patient in the room if they want, but they don't have to provide the care."
Providing care for patients who have been admitted to DHMC, perhaps to the Emergency Department or the Intensive Care Unit, and for whom recovery is not possible.
She notes, however, that the Jack Byrne Center is neither a long-term nursing facility nor a residential hospice facility. "It's licensed as an inpatient unit of Dartmouth-Hitchcock (licensed under Mary Hitchcock Memorial Hosptial) and is designed for the short-term care of patients who have a serious illness and who are close to the end of their lives and need inpatient care focused on comfort and dignity," says Kirkland. "Some people are so close to the end when they come in to the Jack Byrne Center that they transition to the end of their life there. But if they stabilize and improve enough for discharge, then we work to get them back home with hospice support, or to nursing homes or other residential facilities in the area. In just a short time, the Jack Byrne Center has had a profound impact on the experiences of patients and families facing the end of life and our Palliative Care team is honored to be a part of their journeys."