By

Bonnie Barber

Photography by

Mark Washburn

October 16th, 2014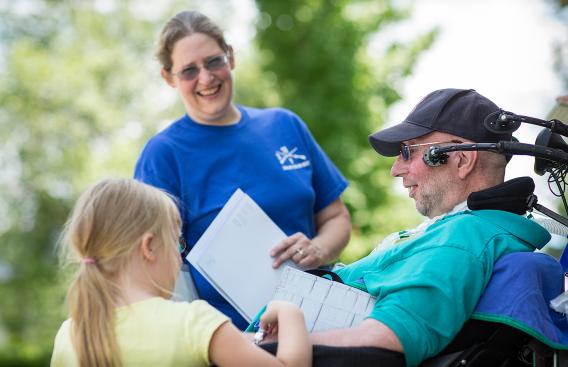 Ron has a good outlook on things," says his wife Anita. Like baseball legend Lou Gehrig, who delivered his famed "luckiest man" speech after his 1939 retirement due to ALS, Pelchat considers himself "one of the lucky ones!
Like most grandfathers, Ronaldo "Ron" Pelchat loves to play with his four grandchildren. So as 5-year-old Lilianna pedaled her tricycle around the driveway of his Lancaster, NH, home on a June afternoon, Pelchat raced after her.
Even though the 57-year-old ran two Boston Marathons and climbed Mount Washington several times, he did not race Lili on foot. Instead, Pelchat chased her in a motorized wheelchair that he operates with a head array, a halo-like device connected to his wheelchair that he controls by moving his head. The ravages of amyotrophic lateral sclerosis (ALS, known as Lou Gehrig's disease) have left him with muscle function only in his face, neck and shoulders and confined the now-retired high school social studies teacher to a wheelchair or hospital bed.
Additionally, the tracheostomy he underwent in December 2013 has meant full-time ventilation and a feeding tube. It's also robbed him of his voice. A DynaVox Vmax+ speech-generating device is Pelchat's primary way of communicating. To speak, he moves his head and a dot on his glasses selects letters or prepared phrases for him on the screen, allowing him to type sentences that are spoken by the DynaVox.
A life-saving choice
Anita Pelchat, his wife of 30 years, calls the tracheostomy a "life-saving choice" since her husband was losing his ability to breathe on his own and would have died without the procedure. But the trach has made more difficult the long drive to Dartmouth-Hitchcock Medical Center (DHMC) for appointments with Pelchat's neurologist Jeffrey Cohen, MD.
"We need to travel with someone who monitors the trach now," Anita explained. "And the roads are bumpy, especially in the winter, so it jostles him all over the place. It's a couple of hours driving there, a couple of hours at the appointment, a couple of hours to drive home and then right to bed. And toileting and eating are not easy on the road. It's an exhausting day."
Pelchat has been Cohen's patient since his ALS diagnosis in August 2009, but had not seen him since July 2013 due to the challenging drive. However, in May and July, he had appointments with Cohen via a telemedicine consult connecting Cohen at DHMC in Lebanon, NH, to Pelchat at Weeks Medical Center in Lancaster, NH, less than a mile from his home. The Dartmouth-Hitchcock Center for Telehealth had equipped Weeks with telemedicine carts in February 2014, thanks to funds provided from a United States Department of Agriculture rural health care grant. These carts enable D-H rheumatologists, dermatologists and psychiatrists to conduct real-time video consults with Weeks' patients. Now the neurology department at Dartmouth-Hitchcock utilizes them for Pelchat and for a TeleStroke program that launches at Weeks this fall.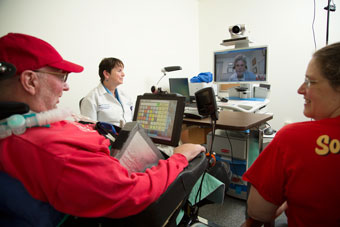 Telemedicine "made perfect sense"
"With the difficulty of long-distance travel, teleconferencing made perfect sense both physically and financially," Pelchat said. "For people in rural areas, or those with severe travel difficulties, it's an efficient and advantageous way to gain and maintain access to specialized care."
"These telemedicine appointments have been really helpful," Cohen said. "It's great to be able to interact with Ron. This is not an acute medical situation. It's more of a support situation as we help him through this stage of the disease. But it's very helpful to see him, talk to him and answer any questions that he and Anita have."
The home team
Anita Pelchat is thrilled that telemedicine gives her husband access to Cohen again, minus the challenging drive. "The whole telemedicine piece allows us to have a complete ALS clinic team without having to travel more than a quarter mile. The pulmonologist goes to Weeks and everyone else—the speech pathologist, the occupational therapist, the physical therapist, they all come to our house. So the only piece we were missing was Dr. Cohen."
"We've created our own clinic team," her husband added. "It sounds daunting but it can be done, especially with the help of your local home health care agency. For us, Dr. Cohen completed the link." Pelchat paused, grinned and then resumed selecting letters. "Can we call Dr. Cohen the missing link? Ha, ha, ha!"
Clearly, Pelchat has not lost his sense of humor despite this difficult disease. "He has a good outlook on things," Anita confirmed. As Pelchat posted on his Facebook page in early August, the average life expectancy for those diagnosed with ALS is two to five years. "I'm five plus and still going," he wrote. "That makes me a Lou Gehrig—one of the lucky ones!"
Teaching a new subject
Pelchat still enjoys teaching and conducted trach training recently at a local nursing home where their daughter Leah Milligan is a nurse. He also instructed a speech pathology graduate student on the DynaVox's many features. Pelchat said he would not have undergone a tracheostomy if not for this device and the numerous communication abilities it affords him. Besides giving him a voice, the DynaVox lets him use the Internet, access his computer and write a weekly column for the Coos County Democrat, and maintain his website, where he shares advice on living with ALS.
It troubles him that many DynaVox users, who don't have supplemental health care coverage like him, can't afford to access the Internet on the device because of Medicare cutbacks. "Medicare will no longer cover the computer aspect," he said. "But Internet is so important for independence. It's wrong to take it away. "
Living with ALS
Pelchat perseveres in the face of this deadly disease, thanks to the love and support of family and friends. "Being close to grandkids, friends and family allows for me to feel some sense of normalcy and maintain some pride in who I am when this disease strips the human dignity and normalcy away."
He refers to Anita as his "caregiver extraordinaire," and daughter Leah and son Nate, an IT specialist at Weeks, also provide assistance. And when the Pelchats needed a van modified for wheelchairs, this tight-knit North Country community helped raise $16,000.
"We lived a respectful life, so in a sense, we earned it," said Pelchat, who taught at Groveton High School and Lancaster Elementary School for 26 years, worked as a lifeguard at the local recreation center, and was a youth sports coach and referee. "But it's still amazing."
Ever the teacher, Pelchat was eager to help others by sharing his story. "It's very important that people don't feel helpless. You can live with ALS. It's not easy, but you can do it."
Note: When we first began talking to Ron Pelchat for this article in May, the ALS ice bucket challenge had not yet been created. But since mid-July, when the first videos began appearing on social media of people pouring buckets of ice over their heads, the challenge has become a viral sensation, raising both awareness and money. As of August 24, funds donated to the ALS Association had reached $70.2 million.
A number of D-H employees, including Patricia Henegan and Kristin Blair who work with ALS patients in the DHMC Neurology department, have shared their ice bucket challenge videos on the D-H Facebook page. View these videos and others on Facebook, and share your videos or photos in the comments section! And as Ron Pelchat recently posted on his Facebook page, "I want to thank those all over the world learning about, promoting and contributing to the cause of ALS!"
For more information, visit the Dartmouth-Hitchcock ALS Center.