In This Section
U.S. Surgeon General Tells Dartmouth-Hitchcock Forum Stigma and Ignorance Are Biggest Killers in Opioid Crisis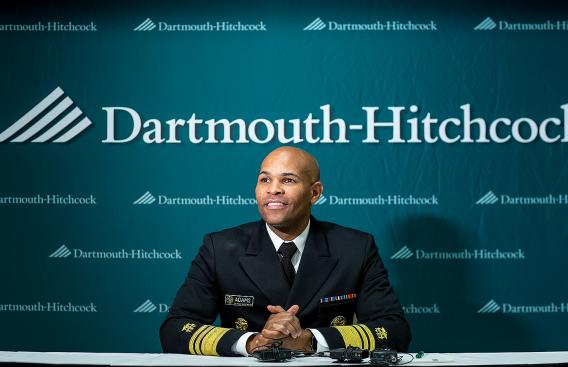 U.S. Surgeon General Vice Admiral Jerome M. Adams, MD, MPH, told participants in the forum, "Our Families, Our Children, Our Future," that "drug addiction is a chronic disease and not a moral failing."
Dr. Adams, an anesthesiologist, told the forum that stigma and ignorance are the greatest killers of the opioid epidemic. He spoke of the pain of having his youngest brother serving a prison sentence for crimes committed to support his addiction. Nearly every family is affected by addiction or mental illness.
"While New Hampshire has among the highest opioid overdoses in the U.S., you also have taken steps to overcome the problem in response to the epidemic," Dr. Adams said. "At the end of the day we all have blame but also have a role in overcoming the epidemic."
Dr. Adams pointed to his recently released digital postcard about the opioid crisis. He suggests talking about the problem, being safe in the use of prescription drugs, understanding pain, knowing addiction and being prepared to help someone who has overdosed.
U.S. Rep. Anne Kuster (D) said that New Hampshire failed to see the opioid crisis coming because many mental health and addiction services were underfunded over many years. Now, the state is in the forefront of responding to the opioid crisis largely because of bipartisan congressional legislation and funding.
"Addressing this crisis means educating everyone, especially our youth, but also our providers and prescribers," Rep. Kuster said. "Going forward, we need to have certainty that the funding continues and grows." She noted that ongoing funding, perhaps billions of dollars, may come from an emerging class action lawsuit similar to the tobacco settlement.
Jeffrey A. Meyers, commissioner of the NH Department of Health and Human Services, provided an update on the state's new opioid crisis response plans using federal grants.
Meyers noted some major strides, including that during the past two years the use of Narcan has saved an estimated 3,600 lives in New Hampshire. Last week the Executive Council accepted $20 million in federal funds for opioid programs and approved a new contract to start adolescent substance treatment at the Sununu Youth Center in Manchester.
"Now that we have a funding stream coming over the next two years, we need to augment the system and tie it together across the state, so that anybody can access care in their community," Commissioner Meyers said. "We need to know what's working."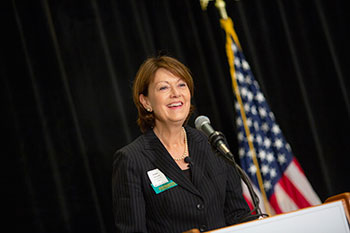 There are three federally mandated goals for the state's $45 million hub-and-spoke grant, Meyers explained: expand availability and access to medication-assisted treatment; reduce critical service gaps and unmet needs; and reduce overdose fatalities statewide. "The challenge is to take this money and make sure we ensure the success of this effort and treat the people who need it," he concluded
The morning opened with remarks by Dartmouth-Hitchcock CEO and President Joanne Conroy, MD, and New Hampshire Governor Chris Sununu, who both highlighted the importance of collaboration in addressing the opioid crisis, and focused on clinical treatment programs for addiction, especially for pregnant women and children, while the afternoon session focused on public policies, funding and programs.
"The opioid crisis continues to take a fierce toll on New Hampshire," Conroy said. "The devastation it has wrought on children and families is breathtaking. The serious implications for the youth of our communities are only beginning to reveal themselves and will continue being seen for many years to come. Progress is being made and I am proud of the work that Dartmouth-Hitchcock and our fellow healthcare providers throughout New Hampshire and beyond are undertaking to confront these issues … driven by our collective need to care for the youngest members of society."
Today's event is the first in a series of forums in Dartmouth-Hitchcock's Solutions to Opioid Addiction & Recovery (SOAR) Opioid Collaborative Series. The series will focus on critical issues surrounding the opioid crisis in New Hampshire. Dartmouth-Hitchcock and a broad group of community partners, regional health care organizations, and individuals, are leading important discussions, sharing information and informing the public about evidence-based and innovative solutions and programs that are happening locally, regionally and nationally.
(EDITORS: News media needing additional information about "Our Families, Our Children, Our Future" should contact Rick Adams at (603) 650-5000 pager 6115 or rick.adams@hitchcock.org.)
About Dartmouth-Hitchcock
DARTMOUTH-HITCHCOCK HEALTH (D-HH), New Hampshire's only academic health system and the state's largest private employer, serves a population of 1.9 million across Northern New England. D-H provides access to more than 2,400 providers in almost every area of medicine, delivering care at its flagship hospital, Dartmouth-Hitchcock Medical Center (DHMC) in Lebanon, NH. DHMC was named in 2019 as the #1 hospital in New Hampshire by U.S. News & World Report, and recognized for high performance in 13 clinical specialties and procedures. Dartmouth-Hitchcock Health also includes the Norris Cotton Cancer Center, one of only 51 NCI-designated Comprehensive Cancer Centers in the nation; the Children's Hospital at Dartmouth-Hitchcock, the state's only children's hospital; affiliated member hospitals in Lebanon, Keene, and New London, NH, and Windsor, VT, and Visiting Nurse and Hospice for Vermont and New Hampshire; and 24 Dartmouth-Hitchcock clinics that provide ambulatory services across New Hampshire and Vermont. The D-H system trains nearly 400 residents and fellows annually, and performs world-class research, in partnership with the Geisel School of Medicine at Dartmouth and the White River Junction VA Medical Center in White River Junction, VT.