In This Section
Orthopaedics Residents Expand Horizons through India-D-H Exchange
By

Bonnie Barber

October 9th, 2018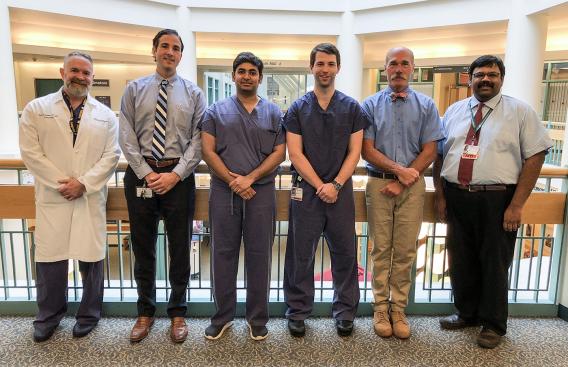 When Peter Shaughnessy, MD, left for a month-long residency program at Sri Ramachandra Medical Center in India this past July, he wasn't sure what to expect. The fourth-year resident in Dartmouth-Hitchcock Medical Center's (DHMC) Orthopaedics Department was going from Lebanon, NH, with a population of roughly 13,500, to Chennai, India's fourth largest city with a population of 7.08 million. After returning in mid-August, Shaughnessy says he had a "fantastic experience" during his four-week rotation.
"In India, we saw patients, procedures and pathologies that we wouldn't ordinarily see," he says of the unique international Orthopaedics exchange program, which DHMC launched in 2016. "A lot of the trauma cases there are often treated similarly in the U.S., but there are pathologies that we just don't encounter, such as a girl who had a shoulder infection that they thought was likely to be tuberculosis (TB). It's definitely a worthwhile rotation and was a once-in-a-lifetime opportunity."
As Shaughnessy was returning to the Upper Valley this summer, Sri Ramachandra Medical Center resident Praveen Ramia Govardhan, MBBS, was just wrapping up his five-week rotation at DHMC. During his rotation, Govardhan observed Orthopaedic surgeons Marcus Coe, MD, MS, Kevin Dwyer, MD, MS, Wayne Moschetti, MD, MS, and John Nutting, MD, and learned a number of joint surgery procedures. These included a shoulder arthrodesis (a procedure to fuse the shoulder to prevent motion) and shoulder replacement surgery, which is not common in India. He was also introduced to anterior total hip replacement—a technique that goes through the front portion of the hip and is not yet practiced in India—and learned some new approaches to trauma surgery.
While observing Coe repair a heel bone fracture, Govardhan noted that Coe used a different approach that was minimally invasive compared to the surgical technique used in India. He was also surprised to see Coe use staples during this procedure, instead of screws as they do in India. "Learning these and other things at Dartmouth-Hitchcock added a lot to my skills and helps my career," says Govardhan. "It has been a very good experience."
Combining orthopaedics training with humanitarianism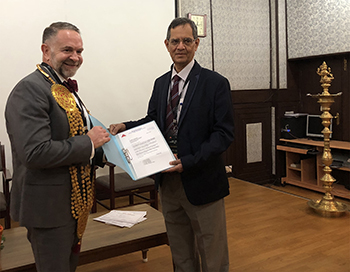 Orthopaedics Department Chair David Jevsevar, MD, MBA, who has developed a number of educational programs in India over the years, initiated the Sri Ramachandra Medical Center international rotation, in conjunction with Dipak Ramkumar, MD, MS, a DHMC Orthopaedic surgery resident. Ramkumar was born in Chennai and did a two-month rotation at Sri Ramachandra Medical Center while he was a student at the Geisel School of Medicine and then did another rotation at the end of his second year in residency at DHMC. Eight DHMC residents have participated in the international program to date, which is an elective for DHMC's fourth-year Orthopaedics residents, and 15 have come to DHMC from India.
The goal of the program is to provide DHMC residents valuable training in a different cultural environment and help them learn how to provide orthopedic care at a hospital where resources may be more limited, while also giving our staff a chance to see different clinical approaches. The Sri Ramachandra Medical Center rotation has been approved by the Accreditation Council for Graduate Medical Education (ACGME) and Residency Review Committee (RRC), which means that the four-week residency counts as training time.
"We're probably one of the few residency programs to offer a month-long, RRC-approved international rotation, so it's a very unique opportunity that is both humanitarian in nature but also provides training," says Ramkumar, noting that most humanitarian programs last a week or 10 days. "I think we can learn a lot from Indian surgeons and Indian surgeons can learn a lot from us. But this is also a great opportunity for our residents to develop cultural sensitivity and learn the importance of really treating the entire patient in a culture where patients may not want to pursue surgical treatment for every ailment. Learning how to manage health care conservatively in a cost-conscious manner and reducing wastage are also important aspects of this rotation."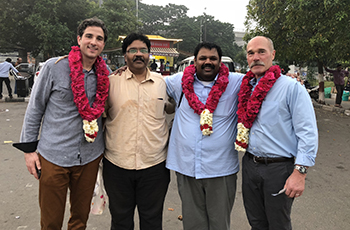 This past January, Jevsevar, Ramkumar, Moschetti and Nutting all traveled to Chennai to teach at an international conference. Nutting, who also helped start the Sri Ramachandra Medical Center residency exchange program, has a long history of international relief efforts and was recognized earlier this year by the New Hampshire Orthopaedic Society for his humanitarian work. While there, Moschetti scrubbed in for a day with Sri Ramachandra Medical Center's staff and trainees. He performed a knee replacement and three hip replacements, teaching them the direct anterior approach for hip replacement approach, which is widely used at Dartmouth-Hitchcock and becoming more common in the U.S. for its perceived improvement in recovery.
"I wore a GoPro camera the whole time because the Orthopaedic team wanted to film everything I did," he says. "The patients were thankful to be getting care and there was a lot of eagerness to learn from us. But our trip and foreign residency programs like this one also afford us the opportunity to learn from the staff in Chennai. They see a different type of pathology there than what we see. The average 50-year-old who has hip pain and wants a hip replacement, like you see in the U.S., does not exist in India. They see much more progressive disease because, often for financial reasons, people in India go a lot further with their disease before they seek medical care."
The importance of international exchanges
Nutting, who has performed international medical missions in countries like Haiti, Rwanda and Kosovo, says this international residency is especially valuable because it is a bilateral exchange. "Having our faculty spend time with the Sri Ramachandra Medical Center residents is a really important part of this, as opposed to us just going there," he says. "And it's also good for us to go there. Not only do we get to observe different clinical approaches, but we are also reminded that we take a lot for granted, both in terms of infrastructure, educational structure and just in terms of taking care of people."
Jevsevar notes that he sees a few additional takeaways from the residency program. "There are diseases that you just don't get to see in the U.S. any more, such as people with leprosy and TB [tuberculosis] of the spine," he says. "The thing I always take away is that although we might have fancier, shinier, brighter places to work, wherever you go doctors and caregivers are dedicated to what they do. They are as excited about taking care of patients as my folks here are excited about taking care of patients and they want to equally do a great job. They may not always have the same ability to provide the level of technology that we do, but they want to provide the same level of care and they're dedicated to doing it, and they love to do it."
Several of the DHMC Orthopaedic surgeons plan to return to Sri Ramachandra Medical Center again this coming January, and the Dermatology Department's Shane Chapman, MD, MBA, and Nicole Pace, MD, made a medical trip to India this past summer. "I think the big picture is that Dartmouth-Hitchcock is viewed as an important representative of U.S. health care," says Jevsevar. "I really appreciate that our Orthopaedics folks are involved and engaged in doing this exchange and that our residents like it. It's great for our program, great for our reputation and great for Sri Ramachandra Medical Center as well."