In This Section
Dartmouth-Hitchcock Health Honored by New Hampshire Hospital Association
By

Rick Adams

October 26th, 2018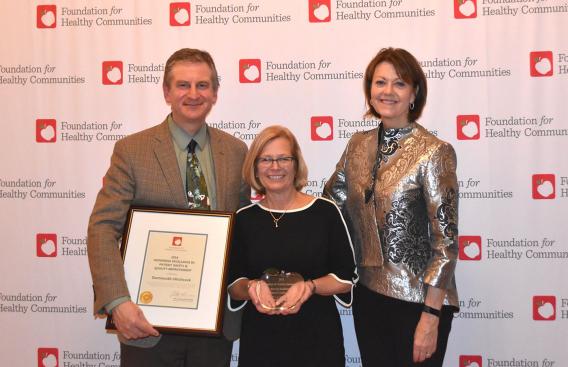 Dartmouth-Hitchcock Health, including Dartmouth-Hitchcock and its member hospitals, was honored Monday, October 22, by the New Hampshire Hospital Association (NHHA) and Foundation for Healthy Communities at their recent Annual Meeting at the Omni Mount Washington Resort in Bretton Woods.  Every year at the Annual Meeting, the Association and Foundation honor health care leaders, executives and partners from across the state who have made significant contributions to their hospital or the health care field.
Dartmouth-Hitchcock and Dartmouth-Hitchcock Health Board of Trustees Chair Anne-Lee Verville was recognized for her exemplary performance in hospital governance with the Outstanding Trustee of the Year Award. Verville was recognized for her commitment, leadership and guidance, which her colleagues have described as invaluable and intrinsic to shaping the organization, as well as her profound dedication to the organization and, by extension, to the health and wellness of the people of the region.
Dartmouth-Hitchcock was named the recipient of the inaugural Honoring Excellence in Patient Safety & Quality Improvement Award. This award honors a team of health care professionals within New Hampshire hospitals who demonstrate a continued commitment to providing quality care to their patients, lead the charge for quality improvement, promote transparency to improve health care and achieve better outcomes through the implementation of a strong culture of safety. Dartmouth-Hitchcock was recognized for its organization-wide commitment to highly reliable, exceptional quality, patient-centered care, and their successful efforts to develop and promote improvements in quality of care for the patients they serve.
Lawrence Schissel, MD, of Newport Health Center and New London Hospital, was the recipient of the Medical Staff Award for outstanding service to his hospital and his community, an honor bestowed upon a medical staff member from an NHHA member institution whose professional performance has strengthened the cooperation between the hospital and the medical staff, and who brings credit to the institution and the community. Revered by his friends and colleagues for his devotion to delivering compassionate, quality patient care, Dr. Schissel was nominated for dedication and commitment to his patients, his community and his colleagues.
Cindi Coughlin, RN, most recently the Senior Vice President of Patient Care / Chief Nursing Officer at Cheshire Medical Center, received the Leslie A. Smith President's Award, bestowed upon an individual who has made an exceptional contribution to the New Hampshire Hospital Association, and in recognition of their dedicated service to the affairs, management and growth of the Association and its affiliates. Coughlin was recognized for dedicating herself and her career to enhancing the quality of patient care in her organization and community, and for her tireless service to high quality care throughout the region.
About Dartmouth-Hitchcock Health
Dartmouth-Hitchcock Health (D-H Health) is a non-profit academic health system primarily serving New Hampshire and Vermont as well as patients from across New England. As the largest health care system and employer in New Hampshire, D-H Health is an integrated health care delivery network of providers and member organizations with the same commitment to provide the highest quality of care to the nearly 2 million community members we serve throughout the region.