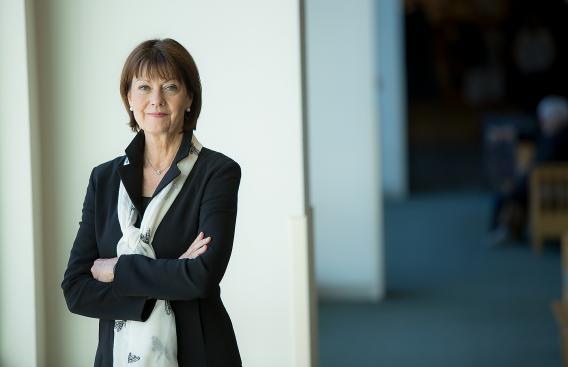 If we are really concerned about health of communities, this should bother us!
More American women are dying of pregnancy-related complications in the U.S. than any other developed country. The rate of women who die during or after childbirth has been rising in the U.S. in spite of a global downward trend elsewhere. From 2011 to 2015, more than 4,000 maternal deaths occurred in the U.S. I asked Dr. Liz Erekson, who is our interim chair of Obstetrics and Gynecology at Dartmouth-Hitchcock, to help shed some light on this topic.
Over the last 15 years, we have seen a 26 percent increase in maternal mortality in the U.S. 18.8 deaths per 100,000 live births in 2000 to 23.8 in 2014. Unfortunately, these rates also reflect a great disparity in care with heart failure and pregnancy-related hypertension disproportionately impacting black women. These rates and other statistics on maternal mortality can be found on the Centers for Disease Control and Prevention website here.
Tennis star Serena Williams is a very public example. She shared her agonizing postnatal experience that demonstrated neither income nor education level make women immune from these complications. Check out this New York Times article for more details about her ordeal. Fortunately, Serena's story has a happy ending of recovery and healing for both her and her family.
As of 2018, New Hampshire ranked 19th among the others states for maternal mortality with 16.8 deaths per 100,000 live births. This is according to the America's Health Rankings website, which is published by the United Health Foundation, linked here.
New Hampshire's two biggest issues are rural obstetric care delivery and opioid use disorder among pregnant women. About 13 years ago, we had 28 hospitals in the state of New Hampshire offering inpatient obstetrical services. Today, we have only 16.
Recent studies highlight that the closure of inpatient obstetrical services in a county actually increase the out-of-hospital deliveries and the number of deliveries in hospitals that have no obstetrics services. Given that 20 percent of U.S. families live in a rural county, this is a significant issue we will be struggling with for years to come.
Our other big issue in New Hampshire is access to mental health services, including the treatment of opioid use disorder among pregnant women. The prevalence of mothers delivering who are suffering from opioid use disorder (either in-treatment or without treatment) is 8 to 12 percent across different hospitals in the Dartmouth-Hitchcock Health system. Our efforts surrounding optimal treatment of opioid use disorder in pregnancy continue. In February 2018, Dartmouth-Hitchcock, led by Dr. Julia Frew, received a $2.7 million federal grant to implement better access and treatment for pregnant women suffering from opioid use disorder across seven different outpatient prenatal care locations in the state. For more on that story, click here.
So, what can we do?
Education for everyone
Women need to educate themselves. Pre-existing conditions, lack of insurance, Hispanic or African-American race, statistically place women at higher risk for a pregnancy-related complications. Knowing the specific issues women face in New Hampshire surrounding rural access to care and mental illness/substance use disorder will help us direct attention and resources to things that can help.
 
Communication & public knowledge around the reasons
Women now face more chronic health conditions such as diabetes, hypertension and heart disease in pregnancy. Celebrating the birth process as a normal physiologic event and encouraging vaginal delivery will help avoid the complications and morbidity of repeat cesarean sections, which put mothers at greater risk for life-threatening complications.
 
Advocate for access
Advocating to increase women's access to health insurance in the first year post-partum instead of just the first six weeks to make sure that mothers and their families have health care they need.
 
Important legislative efforts at the federal level to help combat this issue
Support the development of state Maternal Mortality Review Committees (MMRCs) in every state through the Centers for Disease Control and Prevention (CDC): H.R. 1318, a bipartisan bill introduced by Representatives Jaime Herrera Beutler (R-WA), Diana DeGette (D-CO), and Ryan Costello (R-PA), and S. 1112, a bipartisan bill introduced by Senators Heidi Heitkamp (D-ND), and Shelley Moore Capito (R-WV).

A newer bill, but one that expands a lot of services for pregnant women, is the MOMMIES Act (Maximizing Outcomes for Moms through Medicaid Improvement and Enhancement of Services), which was introduced by U.S. Senators Cory Booker (D-NJ), Kirsten Gillibrand (D-NY), Tammy Baldwin (D-WI), Ben Cardin (D-MD), Richard Blumenthal (D-CT) and Kamala Harris (D-CA). The goal of this bill is to reduce the United States' rising maternal mortality rates, improve maternal and infant health outcomes, and close the disparities that continue to put mothers and children of color at risk by enhancing coverage for pregnant women covered by Medicaid.
Maternal mortality can strike any pregnant woman (or post pregnancy) at anytime, anywhere. And so we have to prepare mothers to celebrate the normal physiologic event of pregnancy, while being aware of potential health risks during and after their pregnancy so they can advocate for their own health.