By

Bonnie Barber

Photography by

Bonnie Barber

November 12th, 2018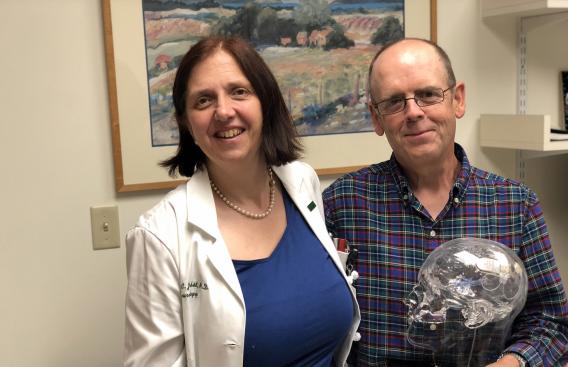 "I am proud to be Dartmouth-Hitchcock's (D-H) chief neurological guinea pig," says Kim Lord, who has volunteered for multiple clinical trials since first becoming a patient of D-H's Epilepsy Center in 1996.
Honoring the Dartmouth-Hitchcock Epilepsy Center for Epilepsy Awareness Month – November 2018
The Epilepsy Center at Dartmouth-Hitchcock is the only Level IV Epilepsy Center in Northern New England (New Hampshire, Vermont, Maine) and north of Boston, as designated by the National Association of Epilepsy Centers. This designation indicates that we have the professional expertise and facilities to provide the highest level medical and surgical evaluation and treatment for patients with complex epilepsy. Our team is privileged to care for over 3,000 adult and pediatric patients with epilepsy every year. Once thought to be a debilitating disease with significant effects on a person's quality of life, there now are numerous treatments that can be offered to help manage the effects of epilepsy. From the NeuroPace responsive neurostimulation device as described in this patient story for Kim Lord to research into wearable technology to detect seizures, the Epilepsy Center team of providers and researchers are bringing the latest options for treatment to the communities we serve, getting people like Kim Lord back to doing what they love. To learn more about the Epilepsy Center visit https://www.dartmouth-hitchcock.org/epilepsy.html.
The now-53-year-old, has suffered from seizures since the age of three. He went through clinical trials for three medications, two of which were approved by the Federal Drug Administration (FDA), and two nerve stimulators, both of which were implanted. The vagus nerve stimulator, which was implanted in 1998, didn't reduce his seizures much, while a different device implanted in 2008, the NeuroPace Responsive Neuro Stimulator, was much more successful. Thanks to the NeuroPace device, Lord's seizures have been reduced by 77 percent; down to about five a month versus the three a day he originally experienced. He is so pleased with the results that Lord now serves as a NeuroPace ambassador, speaking to prospective patients and explaining what life with the device is from a patient's point of view not a doctor's point of view.
"It's improved my quality of life tremendously. It's allowed me to start my own business and though I'm not fully independent I have a much more encouraging life," says Lord, a self-employed landscaper from Brentwood, New Hampshire. "Even though it was experimental, I felt confident that Dartmouth-Hitchcock wouldn't be suggesting this as an option if they didn't have a positive outlook on it."
Barbara Jobst, MD, director of the D-H Epilepsy Center and Lord's neurologist, was one of the principal investigators on the clinical trial that resulted in FDA approval of the NeuroPace device in 2013. "It's basically a computer implanted in the brain that enables us to stimulate that area of the brain and therefore it reduces seizure frequency," says Jobst. "If that area is the seizure focus, the electrical stimulation stops seizures as they begin and prevents their spread to the rest of the brain. The patient is unaware that the device has worked to stop a seizure from spreading and causing loss of consciousness or a convulsion.
Jobst has known Lord since her days as a resident at Dartmouth-Hitchcock Medical Center (DHMC) in Lebanon, NH. She came to DHMC as a medical exchange student from Germany in 1992, returned in 1996 as a resident, and ultimately joined the D-H Epilepsy Center staff as a physician in 2001. "Kim was the first patient I wrote a discharge summary on when I was a resident 22 years ago," she says, smiling. "We've developed a very nice patient-doctor relationship over the years. He always says, 'I have epilepsy, epilepsy does not have me!' He has been dealing with this chronic disease quite admirably."
Lord first came to the D-H Epilepsy Center to see Peter Williamson, MD, the world-renowned epilepsy expert who directed the center from 1991 until his death in 2008. "When I first started coming up to see Dr. Williamson I was in a much worse place," says Lord. "My neurologist at the time said, 'I can't figure you out, Kim, so I'm going to send you up to a colleague of mine at DHMC. If anyone can figure you out, Peter Williamson can.' Well, I even threw Peter Williamson for a loop. I confused the best of the best!"
When he initially came to see Williamson, Lord underwent eight days of tests to determine if he was a good candidate for brain surgery. Unfortunately, he was found to have bilateral onset seizures, meaning that his seizures originate from both sides of his brain, which cannot be addressed through surgery. "When Dr. Williamson walked in after the four pre-tests to explore brain surgery, I could tell by the look on his face that the surgery wasn't going to happen," Lord says. "So, I said, 'If there is anything, at any time in the future, that you feel will be a benefit to me, Dr. Williamson, give me a call and I'll try it."
This was the start of Lord's participation in several clinical trials for both medications and devices. Jobst says that she and all the epilepsy clinicians and researchers at D-H are grateful to Lord, and patients like him, who are willing to participate in clinical trials. And even though he doesn't yet suffer from significant memory issues, Lord is also participating in Jobst's research of cognitive behavioral therapies and self-management tools that empower adult patients to deal with the memory issues that frequently accompany epilepsy. She and her research team recently completed the second phase of a three-part study called HOBSCOTCH (HOme Based Self-management and COgnitive Training CHanges Lives).
"Kim is really a great example of being willing to test something that may help other patients even if it doesn't help him," says Jobst. "It was disappointing that the medication that made him seizure-free was not approved by the FDA, but the Responsive Neuro Stimulator device has helped him get so much better."
When asked what epilepsy sufferers can learn from Lord, Jobst says, "Kim's case shows people that they should never give up. There's always something that will in the end make you better. So, try not to get discouraged by a disease. Be willing to participate in trials because they will ultimately help. Kim is the best example of this. If we hadn't done anything 22 years ago, he would have continued to have many bad seizures. But because he was so willing to participate in clinical trials, he now has only a few small seizures. So, be willing to go for a trial because it will ultimately help move medicine forward."
And what does Lord want prospective patients to know about the care he has received at D-H over the past 22 years? "The doctors and nurses take the time to get to know their patients here," says Lord. "And that really means a lot to me.