In This Section
Dartmouth-Hitchcock Health Teams with Philips on TeleICU Program
By

Rick Adams

November 13th, 2018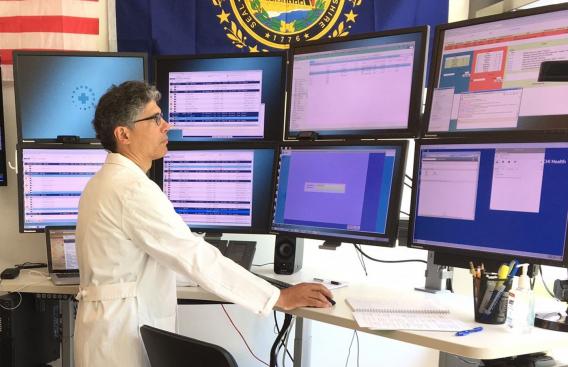 As telemedicine continues to expand, the evidence of clinical and outcome benefits becomes increasingly robust. In the case of TeleICU, the literature suggests that it can decrease mortality and hospital length of stay by 20-30 percent.
Kevin M. Curtis, MD, MS
Critically ill patients throughout northern New England who are in need of intensive care will benefit from telemedicine technology at Dartmouth-Hitchcock Medical Center (DHMC) through an agreement with Philips.
DHMC will implement Philips eICU technology beginning next year. The program aims to help reduce mortality, length of stay, and ventilation days while providing patients the care they need, wherever they are located. Demonstrating the growing global momentum and interest in virtual health care and remote monitoring solutions, Dartmouth-Hitchcock Health is the latest health system to work with Philips to implement a teleICU program.
"As New Hampshire's only tertiary care medical facility, demand for our services is extremely high," noted Dartmouth-Hitchcock Chief Clinical Officer Edward J. Merrens, MD. "The use of telemedicine across the D-HH system and around the region aligns with our mission of providing the best care in the appropriate setting, whether it be at DHMC or at the patient's local hospital and with the support of Dartmouth-Hitchcock specialists."
Dartmouth-Hitchcock Medical Center's program will go live in July, 2019, starting with medical, surgical, and neurology intensive care units at DHMC, as well as at Cheshire Medical Center, a D-HH member hospital located in Keene, NH. The Dartmouth-Hitchcock Connected Care Telehealth program's teleICU hub will also be located at DHMC, where it will leverage Philips eCareManager, the program's source-agnostic software, providing clinicians with a single integrated view of patient data.
With Philips' expertise, the eICU program combines predictive analytics, data visualization and advanced reporting capabilities to help deliver vital information to bedside caregivers. By receiving this remote support, the bedside team is empowered to make better informed, more efficient and effective value-based care decisions.
"TeleICU also supports Dartmouth-Hitchcock's academic mission of advancing health through research and education" says Dartmouth-Hitchcock Connected Care Medical Director Kevin Curtis, MD, MS. "We are constantly seeking to apply the results of research and learning for the benefit of our patients. As telemedicine continues to expand, the evidence of clinical and outcome benefits becomes increasingly robust. In the case of TeleICU, the literature suggests that it can decrease mortality and hospital length of stay by 20-30 percent."
Hospitals and health systems across the globe are facing increased pressures – from lack of beds and overcrowding, to changing reimbursement models and an ongoing intensivist shortage. A 2016 report by the Leapfrog Group showed that only 47 percent of ICUs in U.S. hospitals currently employ full-time intensivists, a number expected to continue to drop. In geographically dispersed communities, leveraging telehealth technology can help rural hospitals increase access to quality care by providing the bedside team with expert guidance and 24/7 monitoring of critically ill patients. By incorporating Philips eICU technology, Dartmouth-Hitchcock will be able to build on its mission of providing patients the best care in the appropriate setting – whether at DHMC, or through Connected Care Telehealth services at local hospitals with the support of specialists based at DHMC.
"It is becoming increasingly clear that the hospital of the future doesn't look like the hospital environment as we know it today," said Felix Baader, Business Leader of Monitoring Analytics at Philips. "For Dartmouth-Hitchcock, the eICU program will help their clinicians better serve their patient population while eliminating the need to travel to get that specialized level of care. This same technology can also help better manage physician burnout, or in other cases, capacity management. Health systems face many different challenges across the globe, and it's gratifying to see how one solution can be adapted to address unique challenges to achieve the same goal: better care and better outcomes."
Following the success of similar programs in the Americas, the UK, Australia, and the Middle East, Dartmouth-Hitchcock is the latest health system to incorporate the Philips eICU telehealth model to enable clinicians to deliver improved critical care support to patients across multiple sites.
About Dartmouth-Hitchcock
Dartmouth-Hitchcock (D-H), New Hampshire's only academic health system, serves a population of 1.9 million across New England. D-H provides access to more than 1,200 primary care doctors and specialists in almost every area of medicine, delivering care at its flagship hospital, Dartmouth-Hitchcock Medical Center (DHMC) in Lebanon, NH. DHMC was named in 2018 as the #1 hospital in New Hampshire by US News & World Report, nationally ranked in gynecology, and recognized for high performance in 14 clinical specialties. Dartmouth-Hitchcock also includes the Norris Cotton Cancer Center, one of only 49 NCI-designated Comprehensive Cancer Centers in the nation; Children's Hospital at Dartmouth-Hitchcock, New Hampshire's only children's hospital; affiliated member hospitals in Lebanon, Keene, and New London, NH, and Windsor, VT, and Visiting Nurse and Hospice for Vermont and New Hampshire; and 24 Dartmouth-Hitchcock clinics that provide ambulatory services across New Hampshire and Vermont. The D-H system trains nearly 400 residents and fellows annually, and performs world-class research, in partnership with the Geisel School of Medicine at Dartmouth and the White River Junction VA Medical Center in White River Junction, VT.