By

Dr. Joanne Conroy

Photography by

Mark Washburn

December 5th, 2018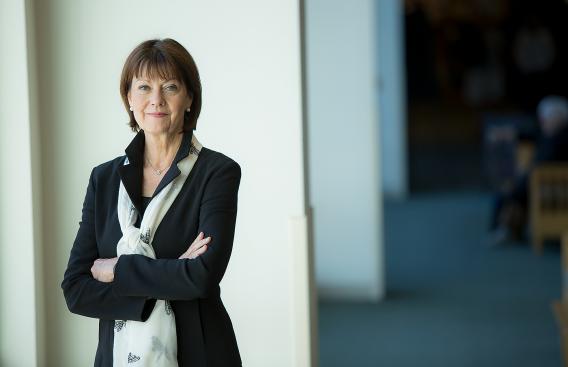 Since the beginning of the year, I've been interviewing some of our leaders at Dartmouth-Hitchcock for monthly Facebook Live sessions. For November, I had the pleasure of interviewing Dr. Sally Kraft, who is our Vice President of Population Health. Probably the question she gets asked most often is…what is population health?
Population health has been defined as the health outcomes of a group of individuals, including the distribution of such outcomes within the group. Health outcomes (measured by the quality of life, as well as the length of life) are affected by clinical care services, but our health behaviors, our socioeconomic conditions and our physical environments actually have a greater impact on our overall health. Population health looks at the whole picture—the combination of clinical care and the conditions that influence our health outside of the clinic or the hospital. And, importantly, population health addresses health equity—how to make sure that every person has the opportunity to reach their fullest health status and no one is disadvantaged due to their social position or circumstances.
Well that really is a mouthful and seems to cover a lot of real estate! It could certainly include the health of our employees, the health of the populations we care for or the health of all of the citizens in New Hampshire and Vermont!! The challenge is where do you start and how do you focus on things that can have a real impact for our community?
There is a growing network of more than 700 leaders nationally who are promoting the engagement of anchor institutions—these are colleges, universities, hospitals, community foundations, libraries, arts institutions and other "anchors" in the community that influence the economic development and health of the community. Anchor institutions are organizations that are rooted in their localities. They are major employers, purchasers and investors in their locations. These "anchors" are agents of community and economic development...the very forces that have big impacts on population health!
The role of hospitals and health systems in creating healthy communities has historically been through increasing access to quality care, research and awarding of community grants. This is now being complemented by a higher impact focus—in what are called health care anchor institutions—to work with other community partners to address the social, economic and environmental conditions that contribute to poor health outcomes, shortened lives and higher costs in the first place.
This approach can improve a health system's quality and cost effectiveness, while simultaneously and significantly benefiting society. We know health is more than health care. According to information that Sally shared with me from the University of Wisconsin's Population Health Institute, clinical care only impacts overall health by 10 to 20 percent. The overall contributions are greater in other areas:
Economic factors (40 percent): education, employment, income and community safety
Social behaviors (30 percent): tobacco use, diet and exercise
Clinical care (20 percent): access to care and the quality of care
Physical environment (10 percent): air and water quality, housing and transit
Three dozen major health systems, which collectively represent 600 hospitals with over 1 million employees in more than 400 cities and towns, have already signed on to the Healthcare Anchor Network, which is sponsored by the Democracy Collaborative, to help address these issues.
So we had a lot to talk with Sally about for our Facebook Live session this month. If you want to learn more about population health, you can view the archived version of our conversation on the D-H Facebook page. And tune into our next Facebook Live on Monday, December 17, at 12 noon. I'll be talking with Dr. Keith Loud, Director of our Children's Hospital at Dartmouth-Hitchcock.