By

Tara Efstathiou, MS, RD, LD

December 5th, 2018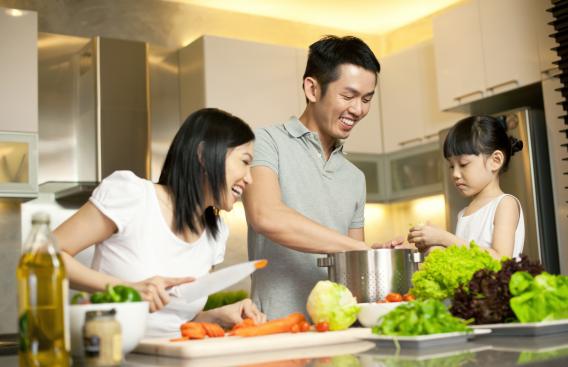 The holiday season is here and with it comes a seemingly endless buffet of seasonal treats. Remembering that healthy cooking for your family is important year-round can be a challenge, particularly this time of year. To help your family maintain healthy eating habits and build balanced plates of food, it is important to keep some key strategies in mind:
Build a balanced plate of food by filling half your plate with vegetables. Kids may prefer them raw with dip or roasted with their favorite seasoning.
Limit your child's free grazing. Too many snacks all day long can reduce the chance your child will come to the table hungry and ready for a healthy meal.
Be a good gatekeeper. Keep sweets and treats out of sight or out of the home to help your child be successful with making healthier choices.
Role model making healthy choices. Children are more likely to eat healthy foods when they see their parents doing the same.
Be prepared. This time of year finds us on the road more often so be prepared with healthy snacks that travel well—apples, Clementine's, cheese sticks and small servings of nuts with dried fruits are good choices.
Plan ahead for holidays and special occasions. There likely will be many treats offered at a friend's and relative's home, aim to stay on track in your home.
Getting your family involved in making healthy holiday choices and preparing family meals encourages the whole family to choose well. One approach can be to ask the question, "What vegetable would you like with dinner tonight?" Involving children in making decisions gives them a healthy sense of control and might encourage them be open to trying new foods.
Some children may struggle with limited food preferences; to help broaden food preferences offer one food that your child likes while introducing them to the new healthy foods you wish them to eat. The goal is to avoid a food battle at the table, but you might encourage a "polite bite" or a "no thank you bite" as it may take many tries before your child may accept a new food. The author of How to Get Your Kid to Eat: But Not Too Much, Ellyn Satter, MS, RD, CICSW, BCD, notes, "The rule to good gatekeeping is to remember that it is the parent's job to offer the what, when and where, and the child's job to decide if and how much they will eat."
Holidays are a wonderful time of year and we want to fill them with family fun. Many of our traditions are centered on special foods instead try making new traditions by taking a family walk, making a snowman, sledding at your favorite childhood hill or even making a tasty home-cooked healthy meal.

Tara Efstathiou, MS, RD, LD, is the lead clinical dietitian for Dartmouth-Hitchcock's Weight and Wellness Center.