Photography by

Mark Washburn

December 10th, 2018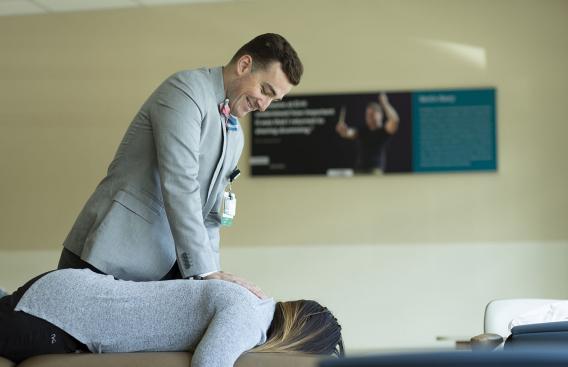 Cyn Barrette knocks on wood. Aside from some occasional neck and hip pain, she's been generally healthy for most of her life. Yet, she says, only in recent years has she come to fully appreciate what it means to be responsible for her overall health and well-being.
It's a discovery she's eager to share with others. Four years ago, Barrette became a patient of Louis A. Kazal, Jr., MD, a family physician at Dartmouth-Hitchcock (D-H) and an associate professor at the Geisel School of Medicine and of The Dartmouth Institute for Health Policy and Clinical Practice. She'd heard about Kazal's comprehensive approach to primary care and his interest in creating a program that combines primary care and integrative medicine. Like other types of primary care, integrative medicine tends to the whole person—body, mind and spirit—taking into account all aspects of a patient's lifestyle. But it incorporates evidence-based complementary therapies, such as chiropractic and acupuncture, with an emphasis on the patient-clinician partnership.
"I found in Dr. Kazal someone who would work with me the way I wanted to be worked with," Barrette says, "and we have explored many alternative ways to help me feel energetic and happy and healthy as much of the time as possible."
Barrette's deepening belief in Kazal's philosophy and practice grew into a shared sense of mission. Learning that Kazal was seeking philanthropic support to test the hypothesis that primary care combined with integrative medicine will yield better results for patients than either alone, Barrette didn't think twice. "I told him, 'Sign me up. I want to be a part of this,'" she says.
Her gifts enabled the hiring of the clinic's first chiropractor, Justin Goehl, DC, MS, a clinical assistant professor at Geisel, who began seeing patients in January 2017. Goehl's approach to the care of spinal pain disorders emphasizes functional restoration that minimizes the use of medication. In fact, a study coauthored by Goehl and Kazal and published this year in the Journal of Alternative and Complementary Medicine found that patients with low-back pain who received chiropractic care were less likely to fill prescriptions for opioid painkillers—a finding with significant implications for a nation struggling with an opioid crisis.
"Evidence-based integrative medicine can benefit everyone—people who are healthy and want to stay healthy, and patients with chronic conditions," says Kazal. "Cyn has been a true champion of this type of personalized, patient-centered care and instrumental in helping us to bring it to Dartmouth-Hitchcock."
As Kazal and his team work with D-H leadership to develop this program, Barrette stands poised both to continue her support and to encourage others in the community to lend theirs.