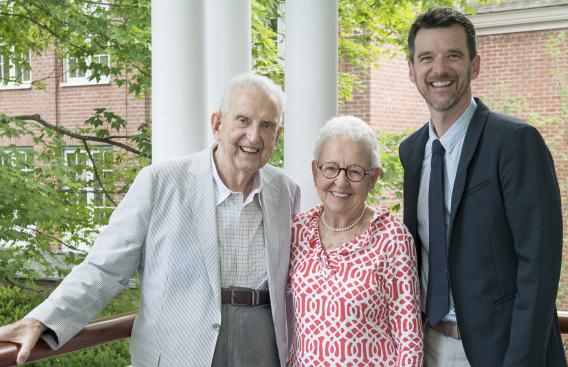 Harvey Watson's heart was giving him trouble again. A second aortic valve had worn out, 34 years after his first open heart surgery. He was 95 years old and needed oxygen 100 percent of the time.
Harvey and his wife, Lois, were at their winter home in Stuart, Florida. The doctors there thought it would be too risky to treat Harvey, so Lois called Hugh Hermann, MD, the physician they saw during their summers in Woodstock, Vermont. Hermann reached out to James DeVries, MD, director of interventional cardiology, of endovascular cardiology, the cardiac catheterization laboratory at Dartmouth-Hitchcock and the assistant professor at the Geisel School of Medicine and .
"Dr. DeVries phoned me and said, 'Hugh Hermann told me about your husband. Can you get him here in five days?'" Lois, 89, recalls. "I said, 'No, but I can get him there in 10 days."
It's been three years since DeVries performed the successful transcatheter aortic valve replacement (TAVR) procedure on Harvey, now 98, and the Watsons have shown their gratitude by establishing a planned gift to benefit the section of cardiology in honor of DeVries. "If not for Dr. DeVries and his ability, Harvey wouldn't be here. He's given us these three years and we enjoy every day," says Lois.
Enjoying every day is what the Watsons have been doing since they met in 1982. Both of them surviving spouses—Harvey's first wife passed away after suffering a heart attack, and Lois's first husband lost a long battle with Hodgkin's disease—they understand the importance of living in the moment. Former pilots, they used to fly a Piper Twin Comanche, lunching on a whim in Montreal, Bar Harbor or Martha's Vineyard. They also share a passion for fishing and went once a year to Canada to cast for salmon.
Today they appreciate the simpler pleasures of driving back roads in their convertible, dining out locally, and welcoming guests to their home for tea and cookies or wine and cheese. Lois kayaks with a women's group, and Harvey likes to cut the grass on his riding mower, tend to his vegetable garden and follow the New York Yankees.
Marveling at Harvey's continued good health, Lois says, "I got him back." Then she teases, "And how do you feel about me?"
"What do you mean, 'How do I feel about you?'" Harvey says with a grin, his voice full of heart.