Photography by

Mark Washburn

December 10th, 2018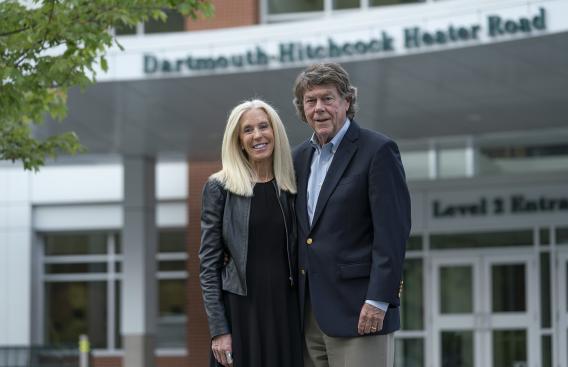 Dermatologist Richard Baughman, MD, now retired from a 50-year career at Mary Hitchcock Memorial Hospital and Dartmouth-Hitchcock Medical Center, is fondly remembered by many of his former patients for the superb care he provided. But as a physician-researcher, Baughman also touched lives through his efforts to improve the understanding and treatment of disease and his mentoring of younger doctors and scientists. Today, Baughman's mentee and successor, Section Chief of Dermatology Shane Chapman, MD, is doing the same.
Someone who has benefited from the care of both Baughman and Chapman is Dick Couch, founder of the Hanover, NH-based business Hypertherm. In recognition of Baughman's dedication to patients and research, as well as the impact he's had on younger colleagues like Chapman, Baughman and his wife, Barbara Couch, made a $1 million gift to establish the Richard D. Baughman, MD, Scholar Fund. The fund will support clinical research by a Dartmouth-Hitchcock dermatologist and junior faculty member at Dartmouth's Geisel School of Medicine.
"I appreciated the consistency of being treated by Dr. Baughman for over 30 years," says Dick Couch. "And when he retired, Dr. Chapman took over with an authentic interest in my care." Barbara Couch, who is on both the Dartmouth-Hitchcock Board of Trustees and the Geisel School of Medicine Board of Advisors, adds, "We were interested in supporting research that can lead to better understanding and treatment of skin disorders, and in supporting young researchers, who can have a hard time obtaining funding resources."
Starting in January 2019, one Baughman Scholar will be named annually and granted protected time outside the clinic to work on a year-long research project. Baughman Scholars will likely focus on skin cancer prevention with photodynamic therapy, treatments for aggressive forms of skin cancer, and immunotherapies for skin cancers and inflammatory disorders such as psoriasis—and they'll build on existing collaborations with Dartmouth's Thayer School of Engineering, The Dartmouth Institute for Health Policy and Clinical Practice, and the Tuck School of Business.
"I felt tremendous joy when I heard about the gift," Baughman says. "'Buying time' is a phrase we use a lot. Clinician-researchers need dedicated, uninterrupted time when trying to accomplish something important. This endowment will help the Section of Dermatology attract, nurture and retain young doctor-investigators, which is a great asset to the institution and the community."
Chapman, who arrived at Dartmouth-Hitchcock as a resident in 1996 and stayed because of Baughman, says, "Dr. Baughman taught me to always look for solutions, which is what the Baughman Scholars will be doing, too." Reflecting on Baughman's career, Chapman says, "You can't do all that he's done without truly caring. And the same goes for Dick and Barbara Couch. This gift—and the good that will come out of it—is the result of what happens when good people come together and care together."