By

Lauren Seidman

December 10th, 2018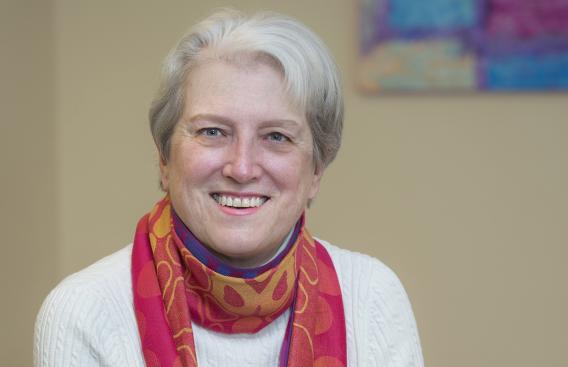 Barbara H. Jones is no stranger to Dartmouth-Hitchcock's Aging Resource Center in Lebanon, NH. Staff greet her warmly as she makes her way to the kitchen for a cup of coffee. She knows to check the lending library for new material and could also recommend old favorites. After looking at the list of upcoming programs that's posted on the wall, Jones may settle down on one of the couches in the cozy reception area. "The center," she says, "is like a second home.
The Grantham, NH, resident started coming to the Aging Resource Center in 2008, shortly after her partner of 28 years, Willmott "Bin" Lewis, Jr., suffered a stroke and was diagnosed with Alzheimer's disease. The center's mission is to improve the mind, body and spirit of older adults and their families by providing over 100 free programs a year to the community. Barb and Bin—the former publisher of the regional Valley News daily newspaper—both took advantage of the center's exercise and memory health classes, and Jones attended various support groups.
"It was a godsend," she says. The support groups were expertly led by chaplain Jeanne Childs, who fostered a comfortable, nonjudgmental atmosphere, and Barb developed lasting friendships with other group members.
"The center provides a safe and compassionate place to turn to for help," she says.
Aging with Dignity
Grateful for the support she and Bin received through his illness and death in 2012, Jones chose to return that support by establishing two Charitable Gift Annuities to benefit the Aging Resource Center. Thinking about the aging population and rising costs of health care, Jones understands that the free programming provided by the center is a tremendous value to the community, and that private individuals must do their part to see that such programming continues. "My hope is that families struggling with the many challenges around aging can keep getting the type of help Bin and I got," she says. "No matter how much a person makes—or doesn't make—these services will remain available."
When she's not at the center taking a nutrition, movement or technology class, Jones is working in the community to help improve the lives of seniors. She serves on the leadership team of the Osher Lifelong Learning Institute at Dartmouth College and is involved with Eastman Cares and United Valley Interfaith Project, two organizations dedicated to helping older people age with dignity. Cherishing her own continued good health, Jones also likes to ski, play tennis, bike and travel.
"I have one life, I'm in charge of it, and I'm going to take care of it," she says. And for her, giving back is just as important as exercise, nutrition and intellectual enrichment. "I give because it returns so much. I'm blessed with all that I have, and giving is a duty, a responsibility—and a pleasure."