Photography by

Mark Washburn

December 10th, 2018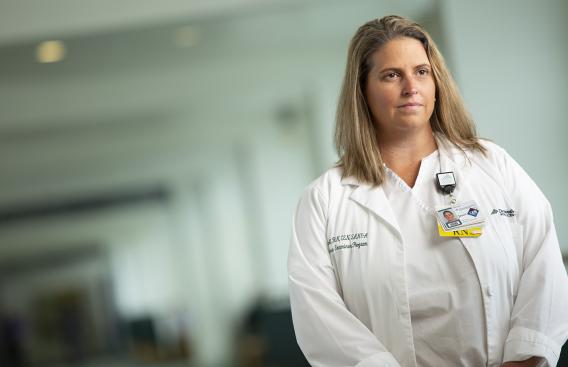 Janet Carroll never imagined her career in nursing would lead her to be doing the specialized work she does now. But while employed at another hospital years ago, she says, "We had a patient who had been terribly sexually assaulted, and I didn't feel that anyone was able to give her the one-on-one care that she needed."
Carroll recalls that the physician treating the patient was able to spend only 10 or 15 minutes with her, which included everything from consultation to evidence collection. "And I thought, we need to do better for these folks."
Since 2006, Carroll has served as clinical coordinator for Dartmouth-Hitchcock's (D-H's) sexual assault nurse examiner program (SANE). Made up of a group of specially trained nurses, the program provides comprehensive medical and forensic evaluations to patients who have experienced violence such as sexual assault, intimate partner violence, and elder abuse.
A recent grant from an anonymous family foundation has supported the training, certification and hiring of additional nurses into D-H's SANE program. The gift underscores the need to invest in specialized and continuing education for nurses, so that all patients get the particular care they need.
"The grant has helped us hire new nurses much more quickly than we would have been able to without it," says Carroll. Since 2017, seven nurses joined D-H's SANE team, and funds from the grant covered the costs of their certification process, including a 64-hour training course, hands-on clinical simulations, and an extensive orientation period.
Carroll and her team feel empowered by the funder's acknowledgment of the attentive, compassionate care they provide to this uniquely vulnerable population. "When a SANE nurse goes in to see a patient," she says, "it's generally three or more hours of one-on-one time."
While the grant has helped D-H increase the number of SANE staff, Carroll hopes for additional funding to make ongoing nurse training possible, to allow for the purchase of state-of-the-art equipment for forensic documentation, and to hire even more staff, especially as the caseload continues to grow. "There's a constant need for more SANE nurses in this very intense, important work."