Photography by

Mark Washburn

December 10th, 2018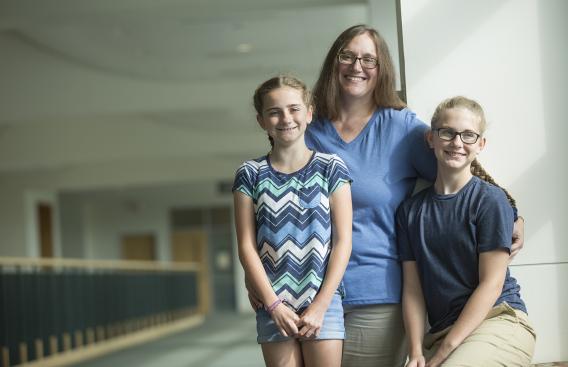 "There's so much anxiety that goes with bringing your child to a specialist," says Darcy Oakes, a single mom of three from Bennington, Vermont. So when she learned that the Children's Hospital at Dartmouth-Hitchcock (CHaD) provided gas cards, courtesy of Irving Oil, to families in need who have to travel long distances for their appointments, she was relieved. Two of her three daughters see multiple specialists at CHaD due to a genetic condition. "There were lots of times when we planned far in advance of an appointment to make sure we had enough gas for the trip—three hours each way. Now, I can come home and not worry about gas for the work week."
Since 2004, Irving Oil's Fuel the Care program has provided CHaD families with more than $655,000 in gift cards. Irving Oil has also given generously to cancer research at CHaD and Dartmouth-Hitchcock's Norris Cotton Cancer Center, as well as to the STAR program at CHaD, which helps teens with chronic health conditions transition to adulthood.
"We are proud to partner with the team at CHaD and to see the wonderful work that they do every day in helping so many," says Sarah Irving, executive vice president and chief brand officer for Irving Oil. "It's a privilege to be part of this community and be able to offer the Fuel the Care program to help families when they need it most."
Fuel the Care partners with six other hospitals in New England, Atlantic Canada and Quebec, and has helped more than 50,000 families since 2002.
"We've been coming to CHaD for the girls' entire lives," says Oakes. "There's such a value in having all their doctors in one place." Her daughters' specialists can communicate easily with one another, she explains, and various appointments can be coordinated for the same day. As for her daughters' health: "They're doing fantastic!"