In This Section
D-H's Moms in Recovery Program Benefits from Harley Owners Holiday Cheer
By

Rick Adams

December 18th, 2018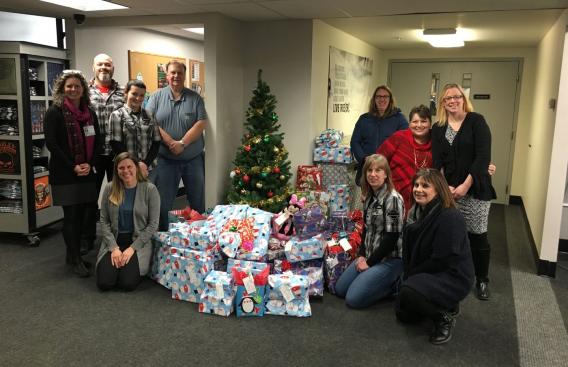 The Giving Tree was a labor of love.
Kevin Blake, UV HOG Director
At a presentation Friday, Dec. 14, the Upper Valley Harley Owners Group (UV H.O.G.) and Twin States Harley-Davidson made the holidays merrier for participants in Dartmouth-Hitchcock's Moms in Recovery program, delivering gifts for 80 children of the women in the program, based at the Rivermill Complex in Lebanon.
UV H.O.G. Activities Officer Bonnie Holbrook presented the idea to the chapter members as the group's annual holiday giving project. Holbrook then worked with Moms in Recovery program Administrative Coordinator Stephanie Gray to get a list of children's ages, gender and preferences. A Christmas "Giving Tree" went up at the Twin States Harley-Davidson dealership and Santa's elves went to work.
"The Giving Tree was a labor of love" said UV H.O.G. Director Kevin Blake, a Unix Systems Administrator in D-H's Technical Services division. Members of the H.O.G. chapter, dealership staff, and community members stopped by and selected tags, purchased presents and returned them to the dealership. Nearly $1,000 was also donated for the project. The gifts were delivered to the Moms in Recovery offices on Friday, for distribution to the kids this week.
"Parenting and recovery can each be challenging and difficult," noted Moms in Recovery Clinical Director Teri LaRock. "The expectations and stressors of holidays often add to this challenge. Parents love their children and want to give them the best holiday possible. The gifts given today will help alleviate this stress for our families. We, and the mothers in our program, are deeply grateful and appreciative of the support from the HOG Chapter."
About Dartmouth-Hitchcock
Dartmouth-Hitchcock (D-H), New Hampshire's only academic health system, serves a population of 1.9 million across New England. D-H provides access to more than 1,200 primary care doctors and specialists in almost every area of medicine, delivering care at its flagship hospital, Dartmouth-Hitchcock Medical Center (DHMC) in Lebanon, NH. DHMC was named in 2018 as the #1 hospital in New Hampshire by US News & World Report, nationally ranked in gynecology, and recognized for high performance in 14 clinical specialties. Dartmouth-Hitchcock also includes the Norris Cotton Cancer Center, one of only 49 NCI-designated Comprehensive Cancer Centers in the nation; Children's Hospital at Dartmouth-Hitchcock, New Hampshire's only children's hospital; affiliated member hospitals in Lebanon, Keene, and New London, NH, and Windsor, VT, and Visiting Nurse and Hospice for Vermont and New Hampshire; and 24 Dartmouth-Hitchcock clinics that provide ambulatory services across New Hampshire and Vermont. The D-H system trains nearly 400 residents and fellows annually, and performs world-class research, in partnership with the Geisel School of Medicine at Dartmouth and the White River Junction VA Medical Center in White River Junction, VT.