In This Section
Dartmouth-Hitchcock Leaders Chosen for Prestigious Carol Emmott Fellowship
By

Rick Adams

December 18th, 2018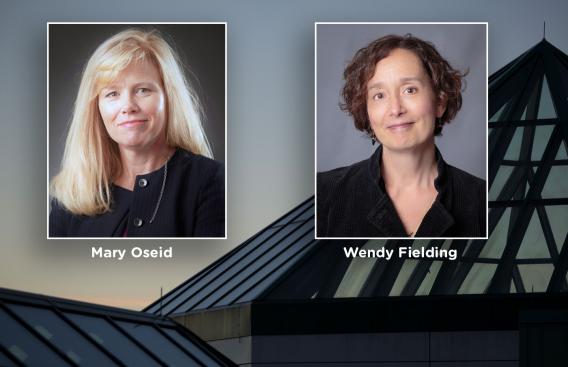 I'm extremely proud of the leadership that Wendy and Mary show, on a daily basis, and I look forward to their continued development as leaders through the Carol Emmott Fellowship.
Joanne M. Conroy MD, CEO and President
Two members of the Dartmouth-Hitchcock Health (D-HH) leadership team are among 18 women from 16 health organizations nationwide chosen for the prestigious Carol Emmott Fellowship.
Vice President for Financial Planning Wendy Fielding and Vice President of Regional and System Integration Mary Oseid were chosen for the Emmott Fellowship, for "their ability to deliver results within their organizations and potential to advance to senior executive roles in health."
The Emmott Fellowship expands the connections and experiences that top leadership candidates require to have the most influence in improving health for all.
"Investing in women leaders will transform healthcare," said Christine Malcolm, executive director of the Carol Emmott Fellowship. "The fellowship's mission is shared by the men and women who hold executive positions today, see the gaps created by gender disparity, and are committed to serving as our advisors, mentors, and partners."
Fielding has been vice president of financial planning for D-HH since 2009. Her responsibilities include providing business and analytical decision support, overseeing the annual financial planning cycle for system, and developing long-term financial projections that align with the D-HH's strategic vision. "Health care finance covers rapidly changing territory," said Fielding. "The complexities of our industry and how we support the efforts of our providers, for the benefit of our patients, requires the ability to adjust quickly, while maintaining the long view of our institutions' vision and values. I look forward to learning from my classmates in the Emmott Fellowship as we find new ways to improve the health of our communities."
Prior to joining D-HH, Fielding held positions as the chief financial officer at Mt. Desert Island Hospital in Bar Harbor, ME, and director of financial reporting and analysis at Boston Medical Center.
Oseid has 25 years of experience in health care finance, operations, and leadership. In her current role as vice president for integration and regional services, she leads D-HH's efforts to integrate clinical and support services across system member locations.
"Delivering care to patients, especially in rural areas like ours, requires innovation and collaboration," says Oseid. "Our integration efforts, across the D-HH system, will benefit from the deep well of experience and expertise reflected in my classmates in the 2019 Emmott Fellowship. The networks that Wendy and I will build, and the experience we'll gain, will strengthen our efforts across the system."
Oseid is also D-HH's leadership liaison to out-of-system regional partners, manages the New England Alliance for Health, and has responsibility for D-HH's growing telehealth program. She joined Dartmouth-Hitchcock in 1994.
"In dynamic organizations, the role of leaders is evolving," said D-HH CEO and President Joanne Conroy, MD. "Instead of commanding or directing, management's role is focused on supporting and leading. I'm extremely proud of the leadership that Wendy and Mary show, on a daily basis, and I look forward to their continued development as leaders through the Carol Emmott Fellowship."
Dartmouth-Hitchcock Medical Center Chief Medical Officer Maria Padin, MD, was also an Emmott Fellow, in the class of 2018. And DHMC Inpatient Pharmacy Director Marva Williams-Lowe is a member of the Emmott Fellowship class of 2017.
Carol Emmott Fellows are nominated by their sponsoring organization and compete for acceptance into the program with a proposed impact project that transcends their current role to advance an area of health. They continue to work for their organizations during the fellowship, which provides them with more opportunities to increase their visibility in their health communities while building a network of relationships with other top leaders as they implement their impact projects.
About Dartmouth-Hitchcock
DARTMOUTH-HITCHCOCK HEALTH (D-HH), New Hampshire's only academic health system and the state's largest private employer, serves a population of 1.9 million across Northern New England. D-H provides access to more than 2,400 providers in almost every area of medicine, delivering care at its flagship hospital, Dartmouth-Hitchcock Medical Center (DHMC) in Lebanon, NH. DHMC was named in 2019 as the #1 hospital in New Hampshire by U.S. News & World Report, and recognized for high performance in 13 clinical specialties and procedures. Dartmouth-Hitchcock Health also includes the Norris Cotton Cancer Center, one of only 51 NCI-designated Comprehensive Cancer Centers in the nation; the Children's Hospital at Dartmouth-Hitchcock, the state's only children's hospital; affiliated member hospitals in Lebanon, Keene, and New London, NH, and Windsor, VT, and Visiting Nurse and Hospice for Vermont and New Hampshire; and 24 Dartmouth-Hitchcock clinics that provide ambulatory services across New Hampshire and Vermont. The D-H system trains nearly 400 residents and fellows annually, and performs world-class research, in partnership with the Geisel School of Medicine at Dartmouth and the White River Junction VA Medical Center in White River Junction, VT.