By

Rick Adams

December 21st, 2018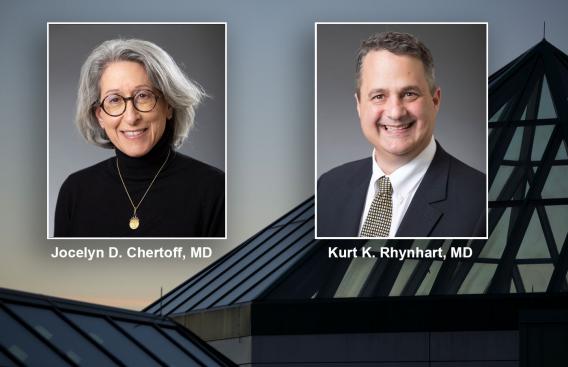 Dartmouth-Hitchcock's Board of Trustees elected two new physician members during the Board's meeting Dec. 6-7, 2018.
Dr. Jocelyn Chertoff and Dr. Kurt K. Rhynhart will serve a three-year term beginning on Jan. 1, 2019.
"The perspectives and expertise of our physician trustees is critically important to our work as a Board," said outgoing Board Chair Anne-Lee Verville. "We are pleased to welcome Dr. Chertoff and Dr. Rhynhart to the Board, and we look forward to working with them as Dartmouth-Hitchcock moves forward."
Dr. Chertoff is Professor of Radiology and of Obstetrics and Gynecology at Dartmouth-Hitchcock Medical Center. She is Chair of the Department of Diagnostic Radiology, Director of the Section of Gastrointestinal Radiology, and Assistant Medical Director for Medical Staff Affairs for Dartmouth-Hitchcock Medical Center. She was the Program Director for the Diagnostic Radiology Residency for 17 years. She is past Chair of the Board of Directors of the Hitchcock Foundation.
She graduated from Brown University, then from University of Vermont College of Medicine. Following a Transitional Internship at Hartford Hospital and a Pediatric Internship at University of Connecticut Health Sciences Center, and after spending two years in a physician shortage area in New York State, and serving as the Medical Director for Vermont EMS, she returned to the Medical Center of Vermont for a Residency in Radiology and a Fellowship in Cross-Sectional Imaging. She came to Dartmouth-Hitchcock Medical Center after completing her training in 1991. She was a 2003-2004 Fellow of the Hedwig van Ameringen Executive Leadership in Academic Medicine (ELAM) Program for Women, and she received a Master's degree from the Center for the Evaluative Clinical Sciences at Dartmouth College in 2005. She recently completed a Master's of Health Care Delivery Science a joint Master's program between the Tuck School of Business at Dartmouth College and The Dartmouth Institute.
Dr. Rhynhart received his undergraduate degree from Tufts University and his medical degree from Boston University School of Medicine. He completed his surgical internship at Walter Reed Army Medical Center and his surgical residency at Brigham and Women's Hospital. He served with the U.S. Army Reserve Medical Corps where he was deployed with the 115th Field Hospital to Baghdad, Iraq. Upon return, Dr. Rhynhart completed his vascular surgery research at Beth Israel Deaconess and his Surgical Critical Care fellowship at Dartmouth-Hitchcock Medical Center.
Dr. Rhynhart joined the Dartmouth-Hitchcock Medical Center staff in November of 2008 as a trauma Surgeon. In 2010, he became Associate Trauma Medical Director and in 2012 became the Trauma Medical Director. In June of 2014, he became the Division Chief of Trauma & Acute Care Surgery for the Dartmouth-Hitchcock Medical Center. In addition, Dr. Rhynhart has served as an Associate Flight Director for DHART since 2012.
About Dartmouth-Hitchcock Health
Dartmouth-Hitchcock Health (D-H Health) is a non-profit academic health system primarily serving New Hampshire and Vermont as well as patients from across New England. As the largest health care system and employer in New Hampshire, D-H Health is an integrated health care delivery network of providers and member organizations with the same commitment to provide the highest quality of care to the nearly 2 million community members we serve throughout the region.