In This Section
Dartmouth-Hitchcock, Northeast Delta Dental Collaborate on "REACT" Cards for NH Law Enforcement
By

Rick Adams

December 21st, 2018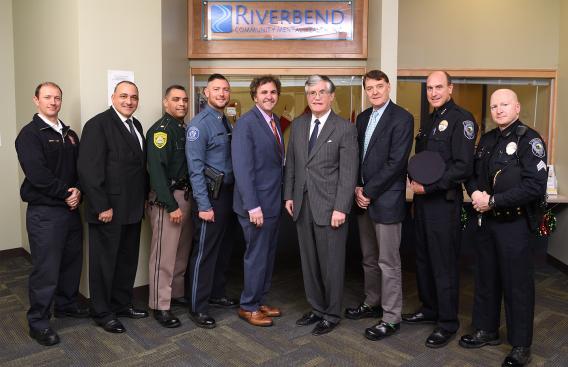 We are delighted to have the opportunity to help the police and many New Hampshire residents who might not know where to look for help.
John Broderick, D-H Senior Director of External Affairs
Dartmouth-Hitchcock and Northeast Delta Dental are collaborating with the NH Police Association in making substance misuse and mental health "REACT" cards available to law enforcement officers in the field around the state, who encounter citizens in need of mental health and substance misuse services.
REACT focuses attention on changing the stigma of mental illness. Dartmouth-Hitchcock and the New Hampshire Department of Education joined together last year to create REACT, an awareness campaign that includes tips, resources, and support to deal with the five signs of emotional suffering: agitation, personality change, poor self-care, withdrawal, and hopelessness. Originally created for use in schools, REACT is an acronym to Recognize the signs, Express concern, Act now and talk to someone you trust, Care enough to follow through and follow up, and Text "signs" to 741-741.
"These REACT cards will be a great tool, because they contain succinct contact information on where mental health and substance misuse services can be found," said Londonderry Police Captain Patrick Cheetham, speaking for the NH Police Association. "Directing people to the help they need when they need it will ease a lot of suffering and keep officers safer. Everyone wins."
The REACT resource cards will be available at all State Police barracks throughout New Hampshire, as well as at the police stations in Londonderry, Manchester, and Concord and at Riverbend Community Mental Health's offices in Concord. They will most often be used by police in the field, however. New Hampshire Public Safety Commissioner John Barthelmes echoed his support for the resource cards: "These cards fill a real need for our officers in the field. They are a welcomed resource and we are grateful to have them," Barthelmes said.
John Broderick, Senior Director of External Affairs at Dartmouth-Hitchcock and former Chief Justice of the NH Supreme Court, said the cards were a valuable next step to Dartmouth-Hitchcock's statewide campaign to increase knowledge and awareness around mental health and to reduce stigma.
"We are delighted to have the opportunity to help the police and many New Hampshire residents who might not know where to look for help," Broderick said. Tom Raffio, CEO of Northeast Delta Dental, added that he and his company are proud to be a part of the initiative. "Mental health, like oral health, is an important part of overall health, and our police officers often encounter people in need of mental health and substance misuse services who don't know where to turn."
About Dartmouth-Hitchcock
DARTMOUTH-HITCHCOCK HEALTH (D-HH), New Hampshire's only academic health system and the state's largest private employer, serves a population of 1.9 million across Northern New England. D-H provides access to more than 2,400 providers in almost every area of medicine, delivering care at its flagship hospital, Dartmouth-Hitchcock Medical Center (DHMC) in Lebanon, NH. DHMC was named in 2019 as the #1 hospital in New Hampshire by U.S. News & World Report, and recognized for high performance in 13 clinical specialties and procedures. Dartmouth-Hitchcock Health also includes the Norris Cotton Cancer Center, one of only 51 NCI-designated Comprehensive Cancer Centers in the nation; the Children's Hospital at Dartmouth-Hitchcock, the state's only children's hospital; affiliated member hospitals in Lebanon, Keene, and New London, NH, and Windsor, VT, and Visiting Nurse and Hospice for Vermont and New Hampshire; and 24 Dartmouth-Hitchcock clinics that provide ambulatory services across New Hampshire and Vermont. The D-H system trains nearly 400 residents and fellows annually, and performs world-class research, in partnership with the Geisel School of Medicine at Dartmouth and the White River Junction VA Medical Center in White River Junction, VT.