In This Section
Suffering with Chronic Knee Pain? Surgery Isn't the Only Solution
Photography by

Mark Washburn

December 24th, 2018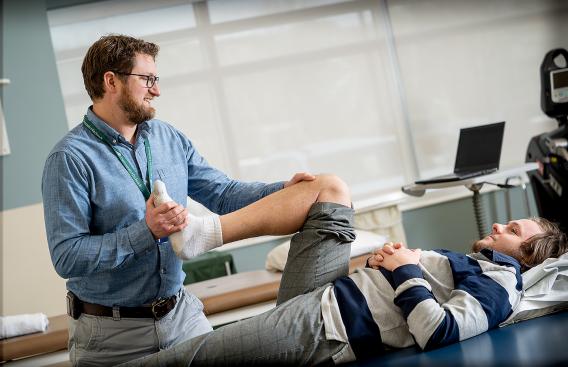 We all know arthritis affects a significant number of people, but recent data indicates New Hampshire and Vermont residents have a higher incidence of the disease. While the Centers for Disease Control and Prevention (CDC) reports that 25.8 percent of adults nationwide have been told they have arthritis, 27.6 percent of New Hampshire adults and 28 percent of Vermont adults have been diagnosed with arthritis.
Some patients may be diagnosed with arthritis based on an image but they have no pain or physical limitations. Research shows that 19-43 percent of all adults over the age of 40 have osteoarthritis changes in their knees without pain or other symptoms.
People suffering with life-altering chronic knee pain symptoms often worry surgery is inevitable. It is typically necessary when severe arthritis causes decreased function and increased pain. Patients with mild to moderate arthritis can breathe a sigh of relief—physical therapy often delivers the strength training and lifestyle education that significantly improves symptoms and prevents or delays surgery.
The power of physical therapy
When meeting new patients, we immediately assess their condition and determine where they fall on the "Arthritis Ladder" to develop individual treatment plans and goals. Patients on the bottom "rungs" benefit from conservative management techniques, including physical therapy and the use of over the counter anti-inflammatory medications. Those at the very top of the ladder require total joint replacement. After joint replacement, successful physical therapy and subsequent at-home exercise can move patients from a higher "rung" to lower one.
We work closely with our patients to design the most appropriate physical therapy approach given their symptoms and impairments. Depending on their condition and desired outcomes, options include non-impact aerobic exercise (walking, biking and/or aquatic), stretching and strengthening. Strengthening the abdominal core, hips and quadriceps improves shock absorption and force transfer, which alleviates knee stress and pain.
We believe physical therapy should be the first line of defense against worsening arthritis symptoms. The treatment we provide is highly effective for improving flexibility, balance and muscle strength. The gains made in physical therapy are beneficial for post-surgery for patients that eventually need surgery.
Aquatic exercise and land-based strength training
Many of our patients participate in aquatic therapy. The water's fluency provides resistance to strengthen muscles and improve joint functionality. Water reduces weight on the lower extremities by 50 percent when a patient is waist-high, chest-high lessens to 30 percent and neck-high reduces the force to only 10 percent. For instance, a 200-pound patient weights just 100 pounds in waist-deep water, 60 pounds in chest-deep water and 10 pounds in neck-high water. With this reduction in weight, it is easy to see how exercise in the water may be easier on knee joints.
At Dartmouth-Hitchcock Lebanon, an aquatic therapist teaches patients exercises and equipment usage, including floats and weights, to train them for independent aquatic exercise for a home program. Exercises include learning to walk and squat correctly. Ultimately, many aquatic therapy participants can advance to land-based exercises after meeting strengthening and conditioning goals in the water.
Some of our patients struggle with proprioception, which is a sense of joint position and space (knowing where a body part is without looking). When proprioception is decreased, patients can have poor balance. Our targeted PT exercises work to increase safety and strength, and include standing on one leg, standing on uneven surfaces and walking heel-to-toe. These exercises can be done in a pool or on land.
Most land-based exercises we instruct can be done in the pool. Examples of some effective knee-strengthening exercises include calf raises, wall slides, step-ups, lunge poses, and various hip stretches. Many of our patients with knee pain achieve relief—and avoid surgery—by strengthening with aquatic therapy or land-based exercise.
Pain management tips
In addition to physical therapy, there are other solutions that alleviate arthritic knee pain. If patients are overweight, we always recommend weight loss. One extra pound of weight equates to four extra pounds of force through the knee joint. This means that an extra 20 pounds of weight puts 80 additional pounds of force on the knees.
We do not recommend knee braces. There is limited research on their effectiveness, and they can make the muscles around the knee "lazy" because the muscles do not have to work as hard when you are wearing a brace. Sometime, braces can further weaken the muscles we want to strengthen in order to ease arthritic pain.
Some patients use off-loading tools, like canes, hiking poles and walkers. Many are surprised to learn canes and hiking poles should be used on the opposite side of the painful knee. By using a cane on the opposite side, the force on the painful knee is reduced by seven to 10 percent. Using these tools on the same side of pain actually increases force on the painful knee by 40 percent.
Arthritic knee pain does not have to worsen. By leveraging physical therapy, subsequent regular exercise and pain management strategies, arthritis symptoms can actually improve—along with overall strength and well-being. Physical therapy does not change the actual arthritis at the knee joint (arthritis will still show on an image) but it can decrease symptoms.
This article was written by Dartmouth-Hitchcock Rehabilitation Medicine's Aimee Burnett Greeley, Physical Therapist and Outpatient Supervisor, Physical Therapy and Alison Trow, Physical Therapist and Certified Strength and Conditioning Specialist. Burnett Greeley and Trow are part of a 15-member physical therapy team at D-H's Heater Road Rehabilitation Medicine facility in Lebanon, NH, where they serve patients from both New Hampshire and Vermont.