By

Dr. Joanne Conroy

Photography by

Mark Washburn

January 2nd, 2019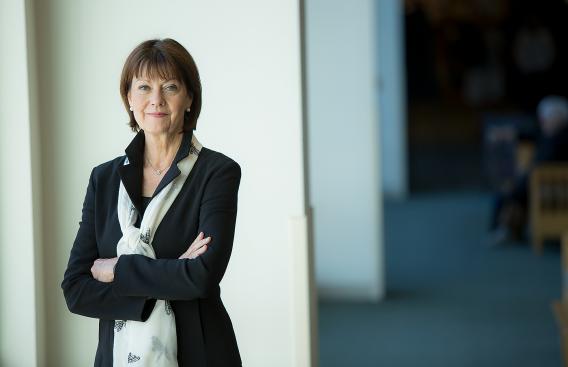 Ringing in a New Year provides an opportunity to reflect back on what we've accomplished in the past 12 months and look forward to what we hope will be a meaningful and productive new year. At Dartmouth-Hitchcock, we have had a very busy year, which includes exciting planning for two major expansion projects—one at our D-H Manchester clinic and a new inpatient tower and parking garage at Dartmouth-Hitchcock Medical Center in Lebanon.
With these two announcements, I have heard questions from patients and community members, asking: "Why are you building—you already are big." My answer is: "We don't want to just get bigger, we want to get better." And in these two communities, Manchester and Lebanon, we need this growth in order to better serve our patients.
Our current facilities in both locations are not adequate to meet the demand from the communities we serve. Let's face it—no one wants to wait to have a surgery they need, or be turned away because there is not enough time to be seen in a busy schedule. And we don't want that for our patients. As the only academic medical system in the state of New Hampshire, our commitment is to our patients and that commitment means that we need to invest in creating the right environment for those who seek our care. And that's what we plan to do!
In addition to serving our patients, our commitment also extends to our communities. The role of hospitals and health systems in creating healthy communities has historically been through increasing access to quality care, research and awarding of community grants. This is now being complemented by a higher impact focus—in what are called health care anchor institutions—to work with other community partners to address the social, economic and environmental conditions that contribute to poor health outcomes, shortened lives and higher costs in the first place.  As an anchor institution for all of our locations throughout the region, we know health is more than just providing health care. Working with community partners to address economic issues, such as education, employment and housing are just as important as addressing social behaviors, such as tobacco use, diet and exercise. All of these factors and more affect the health of our communities, and we are dedicated to being a part of the solution.
A lot is happening at Dartmouth-Hitchcock. It is an exciting time for us as a health system and as a community member. As we look to the coming year, I—along with our senior leadership team and all of our employees—reaffirm our commitment to you. Our commitment is to you on a personal level, making sure you and your families are healthy, and our commitment is to our local communities, to be a good citizen and partner for the health and well-being of our whole region. Happy New Year!