In This Section
Providers and Patients Both Benefit from Improved Access to Interpreter Services
Photography by

Mark Washburn

January 1st, 2019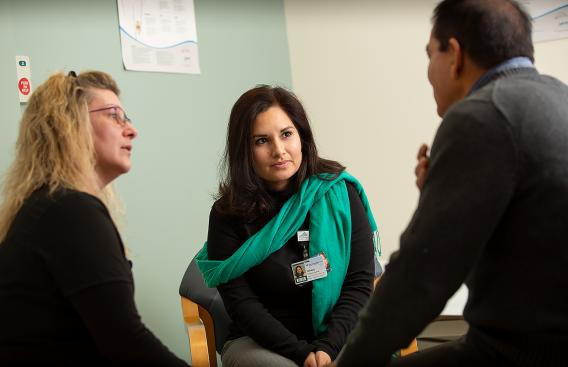 Good communication between doctors and their patients is critical to providing the greatest benefits of quality, safety and wellness. For a patient with limited English proficiency, having an interpreter present to explain important medical information in their preferred language reduces stress and transforms the experience into an effective interaction. For physicians and medical personnel, being able to clearly understand what the patient is communicating optimizes that patient's clinical outcome.
Carol Majewski, MHCDS, MS, RN, CPXP, associate chief quality officer for Patient Experience, explains that interpreters are there to assist everyone involved in a patient's care. Interpreter Services is available through the Office of Patient Experience, and the goal is to create an environment where patients and families with limited English proficiency, as well as the providers treating them, have access to every resource and technology available.
"Communication is a two-way experience for both the provider and the patient. The role of the interpreter, first and foremost, is to act as a communications facilitator. They are a neutral partner that is present to facilitate, clarify and share different cultural norms, promoting mutual understanding," says Majewski.
Dartmouth-Hitchcock contracts with spoken language and American Sign Language interpreters who complete a Certified Medical Interpreter or Licensed Interpreter requirement. To be certified, the interpreters must demonstrate that they are proficient in both English and the second language, and that they have competence in medical terminology for medical interpreting. The Office of Patient Experience is expanding its scope and the use of technology; including offering more Video Remote Interpreters (VRI) and making them available in key locations such as reception desks, labs, pharmacies, Emergency Departments, and as needed, on inpatient floors. These devices use tablets and web cameras to remotely connect patients to an offsite certified medical interpreter. The VRI technology provides a remote interpreter who can immediately provide trained medical interpretive services and communicate with the patient or caregiver. Both in-person and Video Remote Interpreter services are available to patients at no cost.
Patients may schedule appointments and access services with the help of the Office of Patient Experience, and physicians are encouraged to utilize interpreting services and technology at every opportunity.
Majewski believes that improved access to interpreter services will help providers be more prepared to address patients' clinical needs. "The goal now is to always use Certified Medical Interpreters and not to rely on hospital personnel or a patient's family member to interpret for them," she says and adds, "We want to close those gaps, assure compliance with regulatory standards and best practices and make these services as accessible as possible."
As communication between doctors and patients improves, so do the odds that patients will have the best clinical outcome and the most positive and effective experience, where language is a tool, not a barrier.