By

Dartmouth-Hitchcock's Culinary Medicine Program

January 1st, 2019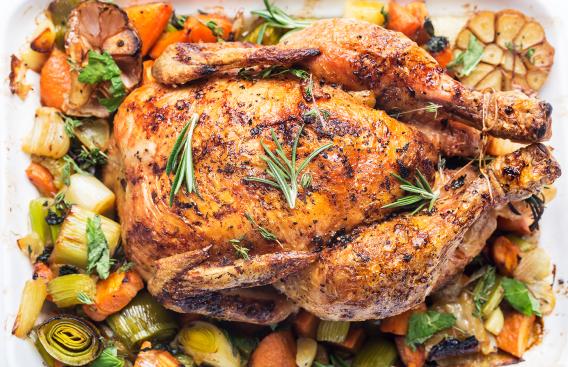 Servings: 6
Prep Time: 15 min
Cook Time: 40 min
Ingredients:
4 tablespoon olive oil (divided)
½ teaspoon salt (divided)
½ teaspoon pepper (divided)
1 teaspoon cumin
6 boned chicken thighs, skin removed
1 butternut squash, peeled, seeds removed, cut into two-inch cubes
½ pound Brussels sprouts, cut in half or quarters
1 red onion
1 lemon, juiced
4 teaspoons Dijon mustard
1 tablespoons chopped almonds
Directions:
Heat oven to 400 degrees. Lightly oil a sheet pan with 1 tablespoon of olive oil.
Toss chicken and butternut squash with 2 tablespoons of olive oil, cumin, salt and pepper. (Optional Step: Heat a skillet on stovetop to medium-high heat and brown chicken skin side down for 5 to 8 minutes until skin is golden brown.)
Place chicken skin side up with squash onto sheet pan and roast for 15 minutes.
In medium bowl, toss Brussels sprouts and red onion with remaining 1 tablespoon olive oil, lemon juice, mustard, salt and pepper. Move chicken to the side of the pan, while tossing vegetables on sheet pan. Roast 20 to 25 minutes more, until chicken is cooked through, butternut squash can be pierced with a knife, and Brussels sprouts are "al dente" and crispy in places.
Serve roasted vegetables with chicken and chopped almonds.
Healthy Eating Tips:
Substitute favorite and/or on-sale vegetables such as broccoli and seasonal winter.
Serve on a bed of lettuce or whole grain (brown rice, millet, farro) for alternative meal ideas.
Nutritional Information (per serving):
Calories: 256 Total Fat: 13.1 g; Cholesterol: 57.3 mg; Sodium: 355 mg; Total Carbs: 19.6 g; Dietary Fiber: 5.8 g; Protein: 17.2 g
Download a PDF of this recipe here.
Find more recipes and healthy eating tips in the Cooking Up Health section of D-H Health and Wellness News.