In This Section
Advance Directives Empower Patients to Make and Share Critical Health Decisions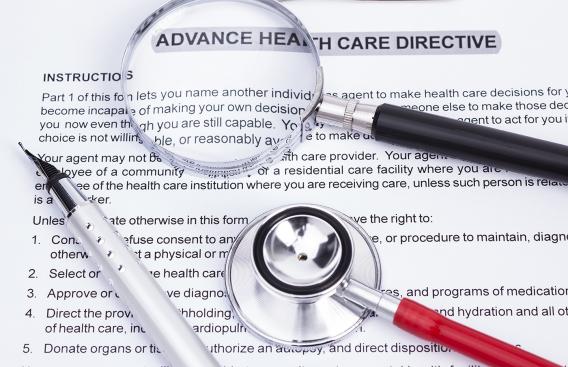 Dartmouth-Hitchcock's Honoring Care Decisions program in the Center for Shared Decision Making empowers families to create plans for their future health care. The objective is to create a plan that respects your goals, values and wishes, and to designate a health care agent, such as a family member or friend, to communicate your decisions in the event you cannot.
The Center for Shared Decision Making is the first center in the U.S. dedicated to encouraging doctors and patients to make decisions together, and the staff of the Honoring Care Decisions program focuses on supporting and advocating for advance care planning.
Sanders Burstein, MD, a consultant for Honoring Care Decisions, calls advance care planning "a gift." He encourages patients to have conversations about what matters most to them, and to designate a health care agent.
"You may lose the ability to speak for yourself, so prepare someone to speak for you. Prepare them to be informed and to be an advocate," he advises.
Terri Desrochers, RN, BSN, CCM, a program coordinator for Honoring Care Decisions, and a certified advance care planning facilitator and instructor, believes that many people do not want to talk about end-of-life decisions so they do not take steps to prepare, but they should.
"There is a big difference between a family that knows and understands a person's goals and decisions and one that doesn't. It is really distressing to not know. You are relieving family members of additional stress by communicating ahead of time," says Desrochers.
Additionally in New Hampshire, the state's Surrogacy Law will dictate who will make decisions for you if you have not completed an advance directive designating a health care agent, explains Jennifer McCalley, MSW, ACHP-SW, a program coordinator for Honoring Care Decisions. Not having a health care agent may lead to someone whom you would not have chosen to speak for you and who may be unaware of your wishes having to make decisions. Even if the state appointed surrogate is the person you would have chosen, after 90 days they will have to go to court to become your legal guardian. You can avoid this situation by designating a health care agent in an advance directive.
The advance directive process starts with a conversation between you, your family and your physician about your choices, so that those caring for you will have the peace of mind of knowing that they are advocating on your behalf according to your wishes. The Center for Shared Decision Making offers several ways to start this conversation:
Contact the Honoring Care Decisions program to schedule a free individual or group planning session with a trained facilitator: 800-730-7577
Make an appointment with the Center for Shared Decision Making to have a conversation with a staff member or volunteer: 603-650-5578
Contact the Aging Resource Center if you are an older adult and need help completing the appropriate forms: 603-653-3460
Advance care planning documents are also available at the New Hampshire Foundation for Healthy Communities, the Vermont Ethics Network and Prepare for Your Care an online self-guided advance care planning tool. These sites offer resources, guides, and tools to help you understand and develop advance directives. Additional resources are available on the Dartmouth-Hitchcock Advance Care Planning Resources webpage.
Consider using times when your family is gathered together to have important conversations about care decisions. Empowering yourself to create an advance directive may be the most meaningful gift you can give.