In This Section
Facebook Live with Joanne Conroy, MD, and Mark Creager, MD - Wed., February 13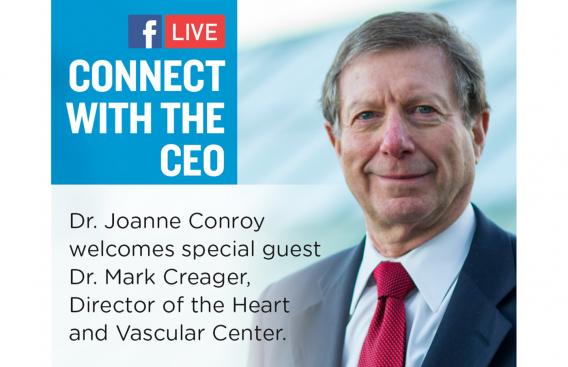 The next in a series of Facebook Live sessions, Joanne Conroy, MD, CEO and President of Dartmouth-Hitchcock (D-H), will talk with Mark Creager, MD, Director of the D-H Heart and Vascular Center, and past president of the American Heart Association. They will discuss heart disease and what people can do to keep a healthy heart.
This Facebook Live session will be held on Wednesday, February 13, at 12 noon.
For those who want to tune in, go to the D-H Facebook page at the above date and time. To comment on or share the video, you will need to have a personal Facebook profile, but you can view the D-H Facebook page even if you are not logged in. On that day, if you are logged into your Facebook account and already "like" the D-H page, you will likely see a notification that the session is live. Submit questions in advance to social@hitchcock.org.
For those who are unable to tune in live, you can view an archived version on the D-H Facebook page. Dr. Conroy hosts the Facebook Live sessions monthly, featuring special guests to discuss topics of interest to the D-H Community. If you have suggestions for upcoming guests, please send your suggestion to social@hitchcock.org.