In This Section
Joanne's Journal Digest February 2019- Bringing Innovation to Life
By

Dr. Joanne Conroy

Photography by

Mark Washburn

February 7th, 2019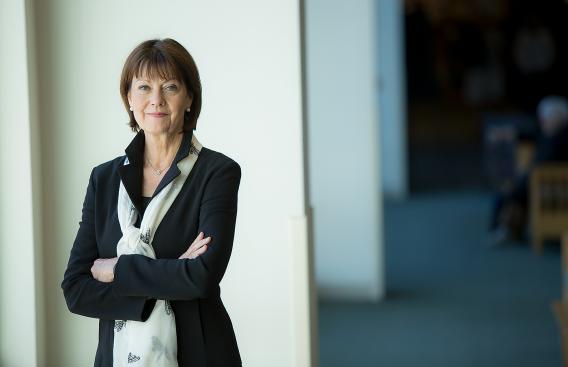 At Dartmouth-Hitchcock, it is important to us that we are able to translate our medical research discoveries into practical applications that can help our patients. This kind of translation is often called "technology transfer" – how we share skills, knowledge and technologies, to ensure that scientific and technological developments are accessible to a wider range of users who can then further develop the technology into new products, processes, applications, materials or services.
Innovation is not a new concept for Dartmouth-Hitchcock and our partners in the Geisel School of Medicine at Dartmouth College. In fact, we've been at the fore-front of medical discoveries for years. Here are some examples:
The Dartmouth-Hitchcock Norris Cotton Cancer Center and Geisel are well known for their work in immunotherapy…think of the treatment that allowed former president Jimmy Carter to survive malignant melanoma. Immunotherapy disrupts a very complex balance between stimulatory and suppressive blood cells.
Aaron Kaplan, MD, head of Research for the Heart and Vascular Center at Dartmouth-Hitchcock, founded The Dartmouth Device Symposia to provide a forum to examine issues central to the clinical development and commercialization of medical devices. Held each fall, he brings together an invitation-only group of thought leaders from the clinical, business, governmental/regulatory, financial and legal communities. It is one of the most sought-after invitations in this field.
Celyad is a company that licenses immunotherapy (CAR-T) technology for cancer treatment from researchers at Geisel. This is an example of immunotherapy that enlists and strengthens the power of a patient's immune system to attack tumors.
Dean Madden, Dartmouth's vice provost for research, is also a professor of biochemistry and cell biology, and leads a Dartmouth biomedical laboratory that conducts research on molecular recognition and cystic fibrosis and directs the campus-wide Institute for Biomolecular Targeting. In these roles, he has seen firsthand the vital link between academic research, patent development and bringing innovations to the marketplace.
We recently launched the Innovation Project to help educate and showcase some of the great research performed here at Geisel and Dartmouth-Hitchcock. The Innovation Project videos show our researchers "pitching" their research ideas – think of it as our version of the TV show "The Shark Tank." Here is link to the Innovation Project website that has a short trailer video and the individual video clips for the investigators. The passion and the expertise they bring to their research is really phenomenal. The basis for the partnership between Geisel and D-H is to make sure we support these investigators through institutional funds or philanthropic support as a supplement to their external funding. You only have to view a few of these clips to realize how fortunate we are to have these investigators in the Upper Valley. We have committed to recruiting additional talent for these teams over the next five years.