By

Dartmouth-Hitchcock's Culinary Medicine Program

February 7th, 2019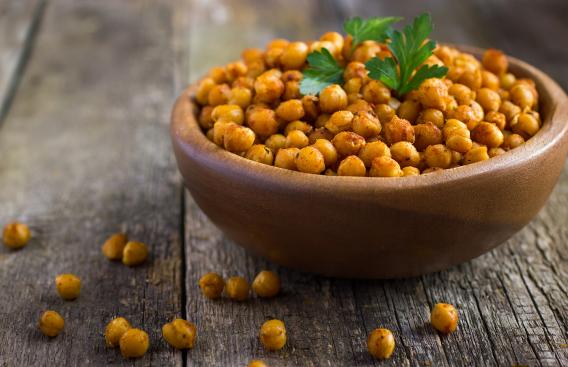 Try these roasted chickpeas for a healthy snack or add to salads to increase fiber and protein.
6 servings
Serving Size: 1/2 cup
Ingredients
2 cans (15 ounce) chickpeas
4 tablespoons olive oil
1 teaspoon salt, pepper to taste
Instructions
Rinse and drain chickpeas, and dry with a clean cloth.
Toss chickpeas with olive oil, salt and pepper.
Roast at 400 degrees until toasted brown, about 20 minutes, stirring every 5 to 10 minutes.
Nutritionist tips
Use in salads to increase protein and fiber.
Nutrition (per serving)
Calories 83.4, Total Fat 3.9 g, Protein 2.2 g, Cholesterol 0 mg, Sodium 279.9 g, Total Carbohydrate 10.2 g, Dietary Fiber 2 g.
Download a PDF of this recipe here.
Find more recipes and healthy eating tips in the Cooking Up Health section of D-H Health and Wellness News.